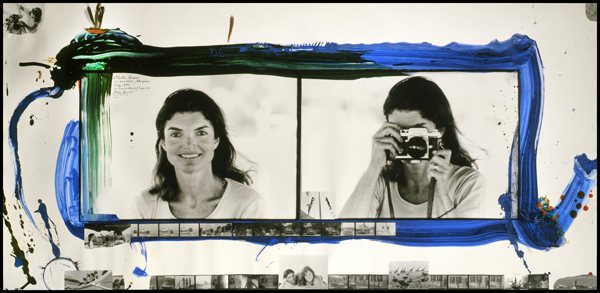 From African wildlife to Jackie Kennedy and the Stones, Peter Beard brings his subjects to life — but, he tells Anthony Haden-Guest, he's not a 'serious' photographer…
Peter and Nejma Beard live in Montauk, Long Island, which is the Hamptons — but it's as far from New York City as the Hamptons get. The Beard property ends at a cliff that drops precipitously down to a beach, so you might as well be on a different planet from the Hamptons of the gossip pages, with the mansions, helipads, beach clubs and — it's a pool culture hereabouts — the under-used beaches. I dumped my bag in my sleeping quarters, a wood-shingled cottage with an orange lifebelt on the front door, took note of a photograph of a dead cormorant on a ping-pong table, and walked past boulders lying, cairn-like, on bigger boulders, knotted lengths of rope and fishing buoys, hazard-yellow or pink, hanging from tree branches beside the path to the main house.
Peter Beard was at a table heaped with news stories scissored from the New York Times or the tabloids, and unreliable PR screeds about African wildlife, all vigorously underlined in blue ballpoint, and a picture of two models from — I promise — the swimsuit edition of New York Dog magazine. Around us were knobby Masai clubs, skulls, antlers, decayed driftwood, splendiferous exotic flowers rescued by Nejma from the local garbage — 'People don't know,' she says — and a dog obedience training award won by their daughter, Zara. Also, of course, rippling sheaves of Peter's own photographs and images with personal resonance for him — for instance, one showing Picasso standing next to Jean Cocteau. Here and there I unearthed pictures of various Kennedys, of Mick Jagger and Ron Wood, and stuff referencing his former next-door Montauk neighbour, Andy Warhol. Indeed, the sheer visual density of the place made it feel like a real world equivalent of Beard's later photo-pieces, a collage you can live in.
Beard got to his feet of a sudden and clumped energetically over the room to fetch another image — 'clump' being the appropriate verb here, because he has two dodgy ankles, the fruit of a trampling by a she-elephant in a nasty mood while he was on a safari in 1996. Africa and photography have both been dominant themes in the life of Peter Beard, but there's a difference, which is that he can seem to take the form as lightly as he takes the subject passionately. You will note that I write 'seem'. I met him not long after I moved to New York, I have known him somewhat for 40 years, and I still find him both as open and as enigmatic as ever.
Beard's great-grandfather, J J Hill, founded the Great Northern Railroad, so he inherited a trust fund in the low seven figures. He went to Buckley, a prep school on the Upper East Side, an English public school, Felstead, and went on to study art at Yale.
I asked him years later which photographers had interested him. 'I never really had much of an interest in photography,' he said. He had been given a camera when he was a child, and snapped pictures of his dog jumping, fun stuff like that. He continued at Yale, but as a hobby. Nonetheless, he got a contract from Vogue after leaving Yale: $1,000 a month. Did this make him take it more seriously? Uh, no. 'I wouldn't call it work. If you exercise your index finger it's not terribly exacting. You know!' he told me of his photography on another occasion. He simulated the sound of a shutter. 'Kkkkkkk! There goes another one! I never thought of it as a career. I was very busy trying to avoid anything that might entail illustration of my feelings.' This supposedly British self-control seems actually more characteristic of certain posh Americans these days. As Ethel Kennedy put it in a documentary, 'Introspection! I hate it.'
Africa is another story. It began when Beard was commissioned to work on a documentary about black and white rhinos by Quentin Keynes. That was in 1955. 'Quentin Keynes's mother was Charles Darwin's granddaughter,' he said. 'But Darwinian realities had not yet sunk in. He took me through Basutoland, Hluhluwe and Umfolozi, Mozambique, Madagascar and Kenya.' That was where he became aware of the MauMau uprising. That, he says, is where his 'bloodiest thought processes began'.
Kenya had cast a spell. Beard returned in 1960, contriving to visit the reclusive Karen Blixen on a coffee plantation. Blixen — a Danish baroness and the author of Out of Africa, a well-received memoir of her life there, under the name 'Isak Dinesen' — would become one of those whom Beard would adopt as influences, individuals whose images are part of the pictorial vocabulary of his work.
He wound up buying a 40-acre farm on the corner of her spread and called it the Hog Ranch. I knew Kenya, too, around then. The Rift Valley looked like the beginning of the world, and it was teeming with wildlife, but its doom was closing in. His self-imposed task was to be the photo-chronicler of the stunning mishandling of Tsavo National Park — 'Starvo' is Beard's fierce word — which caused the dying-off of 30,000 to 40,000 elephants.
These photographs were published as a book, The End of the Game: The Last Word from Paradise, in 1965. One huge admirer was Francis Bacon. (Beard remembers leafing through the book with Bacon and his former art teacher at Yale in the Clermont Club on Berkeley Square.) Bacon would write of the pictures: 'For me the most poignant are the ones of decomposing elephants where, over time, as they disintegrate, the bones form magnificent sculptures which are not just abstract forms, but have all the memory traces of life's futility and despair.' Beard also says that Bacon was motivated by the book to try his hand at sculpture but this attempt went nowhere.
Bacon, who became another of Beard's icons, painted him something like twenty times, and Beard taped interviews with him at length in Bacon's Reece Mews studio in 1972. He calls the series 'The Dead Elephant Interviews'. 'It was a long, seven-hour interview,' he said. He gleefully read an extract in which Bacon was scalding about the Abstract Expressionists. He picked up a large print of a specific Jackson Pollock he had shown Bacon: 'That's a beauty, eh? That's when he had to relent. I got all this right off the tape recorder.'
With The End of the Game, Beard had nailed his big story and from then on he would spend half his time in Kenya, half in New York, living the good life or on assignments. In 1972, for instance, he was commissioned by Rolling Stone to photograph a Rolling Stones tour, the writer being Truman Capote. He also accompanied Capote to San Quentin for Life, that being the publication's last monthly issue.
The trampling by a sulky she-elephant in 1996 was another turning point. It had been not long before a major show in the Centre National de la Photographie in Paris. Beard had been flown back to a New York hospital to be pieced together — his pelvis was broken in five places — and he decided to kill the time by going though the zillion negatives he had accumulated in 35 years, which he had never troubled to sort out before. So he was in good shape when the long dormant photography market began to pick up speed soon after.
So, to the pictures. The photographs in The End of the Game are serious reportage photographs; likewise, in a different way, the photographs of the Stones. But Beard has always been splendidly dismissive of 'serious' photography, the sort associated with the Magnum Agency, photographers like Henri Cartier-Bresson, or New York's International Center of Photography (ICP). 'I never wanted to do Magnum photographs,' he told me on one occasion. 'I met Cartier-Bresson and I found him very pretentious… That "Decisive Moment" kind of thing… It's not the way things are at all. I was with him once in a very important show in Paris. And he was making such a fuss about nothing photographs. I thought, "This is really pathetic."'
And the ICP? 'I think the Concerned Photographer is the tragedy of photography. What are they concerned about? That it is a hobby?'
The images for which Beard is now known, which fetch escalating prices, are seldom single images. When they are single images they are written upon but mostly they are collages, sometimes also embellished with drawings by Kamante and other workers on the Hog Farm, and slathered with one of his favourite art materials, animal blood. Beard had always written and illustrated diaries. 'I was doing diaries as opposed to doing my homework when I was at Yale,' he says. 'And I actually handed them in.'
And his art remains diaristic, collaged with beauties, and with the faces of his icons, as also, with pictures of the ferociously alive, the dead, and the dying beasts and birds of Africa. It's an intense art, at once objective and intimate, private and public, and it's an art which can so easily be read as writing on the wall for our world also.