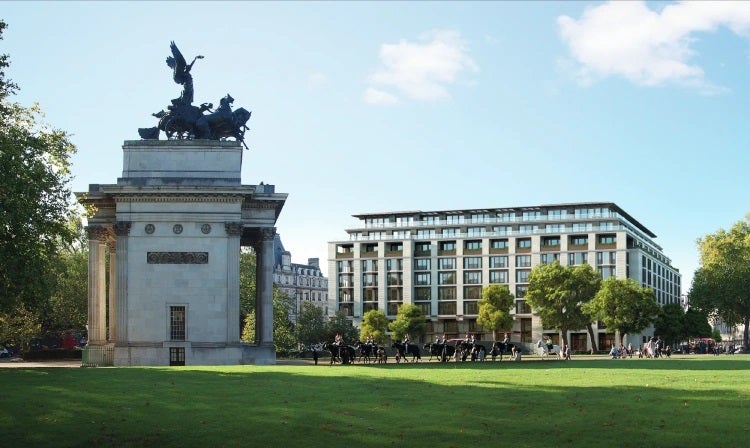 The Peninsula London is a beautiful new hotel in an enviable position – and for those who want a more permanent base in this unique setting, there are 25 ultra-luxe apartments
Between Grosvenor Place, Halkin Street and Hyde Park Corner is an elegant hotel with a deceptively simple beauty. Cast in a timeless white stone, in keeping with the distinctive architecture of Belgravia, The Peninsula London is the culmination of a 30-year quest for the perfect location and intricate planning by one of the world's oldest hotel companies, The Hongkong and Shanghai Hotels, an industry stalwart for a century and a half.
Four generations of the Kadoorie Family have been involved with the group since its early days and remain majority shareholders today. The new hotel in London is ready to welcome guests almost a century after The Peninsula Hong Kong first opened its doors in 1928.
A collection of 25 ultra-luxe intimate residences form the jewel in its crown – a lovingly crafted collection of one- to four-bed apartments, complemented by a destination spa and looked after by the same team caring for the hotel's 190 guest rooms.
Designed by architect Peter Marino, renowned for his curation of Chanel's boutiques, The Peninsula sits a stone's throw from three royal parks and stands next to the neoclassical Wellington Arch.
'In Tokyo we are overlooking the Imperial Palace, in between the Marunouchi business district and Ginza, and in Paris we are very close to the Arc de Triomphe,' says Clement Kwok, CEO of HSH of the importance placed on creating hotels that are intertwined with the surrounding neighbourhood and history.
The 19th-century Wellington Arch, which was originally designed as a gateway into Buckingham Palace, is rather like The Peninsula – at once a very public monument of exquisite architecture and a window into a deeply private setting.
An intimate and spacious home
Ranging between 2,500 and 4,000 square feet, The Peninsula's spacious residences are unique as new builds – size restrictions implemented by Westminster City Council in 2019 (which came into force after work had begun on The Peninsula hotel) now limit the size of new homes to 1,615 square feet.
Starting from scratch in 2017 allowed designers to add cutting-edge internal specifications with the help of a full-size replica Peninsula hotel suite, ergonomically sense-checking each socket and switch for functionality and aesthetically refining each feature, meeting the unrivalled standards for which The Peninsula has long been recognised.
'The living rooms are very spacious, as are the bedrooms, with special attention given to ceiling heights. Space is a luxury, and that's what we want to give our residents,' says Kwok.
Particular importance is placed on discretion, privacy and security. 'To know that you're in an environment where security is taken very seriously, where we have the equipment and the security cover – all of that is part of the trust as well,' says Kwok.
Residents can visit a set of private gardens for relaxation away from the public parks, while a secluded side entrance on Halkin Street offers discreet access for security-conscious UHNWs. 'We are very in tune with their desire to be safe and protected,' says Lydia Varaona, who serves as the Director of Residences at The Peninsula, having previously curated services for guests at One Hyde Park.
'We are one of the very few companies that are the owner, the developer and the operator. We have created a super integrated service, yet it's a very private building. [Residents] have their own lobby, their own concierge, their own security. We have connected everything, while making sure that security is there with the residents at all times.'
The Peninsula London's exceptional service and enriching amenities
Varaona says the hotel's personal touches help 'hypermobile' residents to feel at home when they arrive. In The Peninsula's dining room, chefs have curated a globally oriented menu, tailored to all manner of nutritional needs, while the hotel's vitality pools, spa and treatment rooms allow for a further spot of unadulterated comfort.
'They have homes everywhere in the world, so they want a service that goes beyond that,' she says. 'We go into such detail in the services we offer, watering the plants, doing their grocery shopping, making sure that the fridge is filled before they come back to London, and making sure that they have their favourite flowers – when they arrive, their whole home is beautiful and fresh.'
Aiming to create a 'seamless and exquisite' experience, Varaona relishes the fact that residents feel comfortable seeking her assistance out of hours, which always 'brings a smile to my face'. At the front entrance, a regal fleet of Rolls-Royce motorcars sits waiting to chauffeur residents.
Planners have opted for a traditional driveway, which was rigorously road-tested with different supercars prior to installation. While requiring an extensive investment and greater square footage than a car lift, it ensures easy vehicle access at all times.
Varaona adds that staff are excited to share the hotel's special relationship with Rolls-Royce, through documenting stories which highlight the customisation of the car fleet, and the intimate relationships with managers at the automobile maker.
'We film it, and we interview all of the managers of Rolls-Royce. And we create this story for our colleagues, so that they are proud of the journey and they understand the values,' she says.
A loyal clientele and a lasting community
Kwok notes many of The Peninsula's loyal clientele have expressed interest in the new London residences.
'In many ways, I call it a relationship. The Peninsula Beverly Hills is one of the greatest examples of any hotel in the world with that customer relationship, and the return rates of the clientele there are phenomenal.'
With more than 60 per cent of the apartments already purchased off-plan, interested UHNW buyers will find themselves in good company with long-standing global fans of The Peninsula. 'That's the relationship we're seeking with the residential buyers,' says Kwok.
The Kadoorie family aim to take a 100-year perspective with their developments, and only ten hotels have been opened over the past 90-odd years to maintain the peerless commitment to quality. In its new London hotel and residences, The Peninsula has created an intimate community and relaxing spaces, which it hopes UHNWs will enjoy for the long haul.
More from Spear's
How an entrepreneur uses Instagram to help her Ukrainian homeland
Ultra-luxe piano maker Steinway & Sons is preparing for a potentially lucrative IPO
Billionaires' Bay is bringing sustainable luxury to the British Virgin Islands