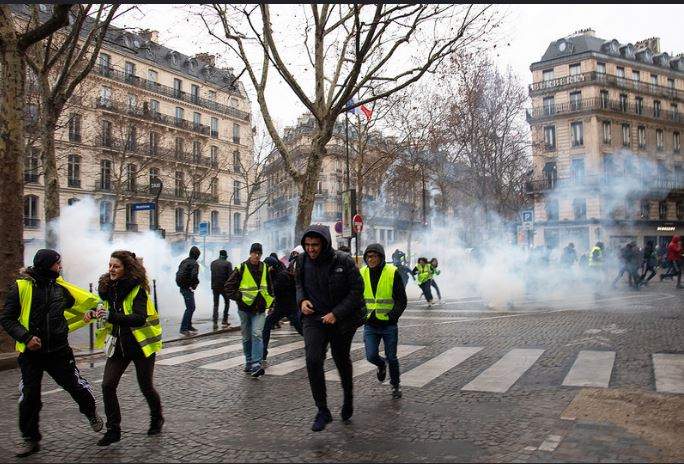 Even when it burns amid political unrest, the French capital still manages to retain its innate coolness, writes Nick Foulkes
As i sit writing this instalment of the Pleasure Dividend, the tang of tear gas hangs in the air of central Paris, its noble boulevards are clouded by the billowing smoke of burning cars, and its national monuments are covered with graffiti.
Inevitably the 'gilets jaunes' situation is being compared to May 1968 – a time of public disorder so destabilising that for a while de Gaulle left the country to consult the battle-hardened General Massu, chief of the French armed forces in Germany, to reassure himself of military support should he need it.
Viewed at a distance of half a century, those events have a quaint period charm about them: back then it was all about freedom, communism, and what have you (today it is the rather more pragmatic issue of the price of fuel that has set the centre of Paris ablaze).
But even at their most idealistic, the French never forget to be chic. One of my favourite vignettes of May 1968 is the reported exchange between Françoise Sagan and one of the revolutionaries occupying the Odeon Theatre. 'Have you come in your Ferrari, comrade Sagan?' he sneered. 'No,' came the whip-fast response. 'It's a Maserati.'
Tear gas will blow away, burned-out cars will be towed away, and the Arc de Triomphe probably needed a wash anyway. It will take more than street battles and a breakdown in law and order to rob Paris of its style. I grew up with a notion of Paris as the locus classicus of glamorous women in haute couture; blue, silver and black cylindrical canisters of YSL Rive Gauche; Café de Flore, Brasserie Lipp, and Ricard-branded ashtrays brimming with the butts of Gauloises or Gitanes. It is an image that has stuck with Jesuitical stubbornness.
I visit Paris many times a year, and every time I am still always slightly in wonder at the Frenchness of it all. Just the sirens of emergency vehicles or the sight of someone sitting at a pavement café sets off a Pavlovian response. Even hopping off the Eurostar into the Gare du Nord, sometimes having to walk past addicts taking a nap after the exertion of injecting themselves or resting after an over-invigorating pipe of crack, does not dent the cherished picture I carry of Paris. People who live in Paris tell me I would hate it if I lived there and maybe they are right, but at least then I would be able to see more of Henri Zaks – the man who makes my leather blousons. Zaks is the sort of person who makes Paris worth visiting, and he has resisted globalisation with a superb, patriotic nonchalance.
Forget about opening stores around the world – if the world wants to see Zaks and his jackets, it can come to Paris and find him behind his desk on the first floor of a corner office overlooking the Quai de Valmy, as I do. Although he makes clothes – really good clothes – he is not 'in fashion'.
Instead he is an artist in deerskin and elk hide, and visiting his workshop is to visit a painter's studio. Whatever time I visit there is always work taking place, and sometimes I linger and gaze at the hundreds of skins rolled, labelled and looking in some way how I imagine the celebrated library of ancient Alexandria to have appeared. Séraphin, his company, has made for some of the biggest names in luxury, but this has had little visible effect on his humility.
While I may go into raptures and accuse him of being a poet in whisper-light Eritrean lambskin or heavy suede from Afghanistan, he prefers the simpler simile of a farmer, who nurtures his garments from seed to harvest. And sometimes those seeds take a while to germinate. I was in Séraphin the other day, taking an espresso and passing the time of day, when my eye alit on a chestnut jacket with a shearling collar.
It was somewhere in between a blouson and what I might have called a car coat in length, with two flap pockets. As soon as I mentioned how much I liked it, he ran off and came back with a jacket in black horsehide that had clearly seen better days, maybe as long ago as the 1950s – the lining was torn, and although horsehide is tough it was not exactly in new old stock condition.
But in that battered old horsehide there was a nobility that Henri had translated into the contemporary sartorial idiom. It came into his possession some time in the early 1990s and had remained patiently hanging in a corner until one day, after maturing quietly for a quarter of a century, it flowered with the inspiration for a garment that I have decided I am unable to live without.
I have been scrupulous about not engaging Henri in discussions about politics, so I have no idea of his opinion of the gilets jaunes – but I can't help thinking they would look a whole lot better if they ditched the hi-vis vests and started wearing Séraphin.
Nick Foulkes is a Spear's columnist
This article originally appeared in issue 66 of Spear's magazine. Click here to buy.