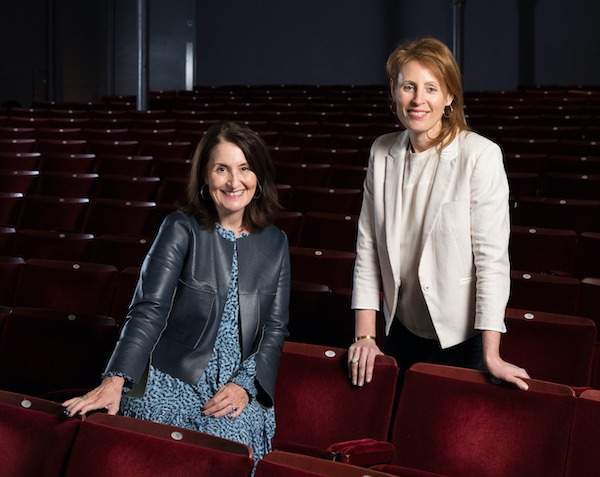 Without philanthropy, the Old Vic wouldn't exist. The show must go on, say two of its leading lights
Tina Alexandrou & Kate Varah, Donor/trustee and executive director, The Old Vic
TINA: First and foremost, I'm a fan of the Old Vic. I've been coming for years and years and it's my favourite theatre in London. So when the theatre was looking for trustees to work with it on its education and outreach work, it just felt like a great fit. But I wouldn't call myself a 'philanthropist'.
KATE: Tina is the most self-effacing person I know. She will underplay it, but her role has been completely seminal. We are not Arts Council funded, so philanthropy is fundamental to the organisation: roughly two-thirds of our income is through box office and the other third is raised. So the philanthropists we have are literally paying to turn the lights on and open the doors; without them, the Old Vic would be a car park or a block of flats.
TINA: The lack of Arts Council funding is one of the travesties of the Old Vic. To get around it I worked with Kate and Matthew [Warchus, artistic director] to come up with a public fund, where we try to raise some money every year so that they can put on the work they want.
KATE: We struggle to programme work that is overtly non-commercial. Tina's idea was a public fund for philanthropists who come together and say: 'I believe this work is important, I'm going to propel that show on stage.'
TINA: Any extra money we make can help us grow, especially on the social mobility side; we can run more programmes for isolated people or children. We have an over-sixties matinee programme, for example; for five pounds they can come and see something incredible on stage.
KATE: We do an amazing programme called Take the Lead, which works with sixth-formers to give them the confidence and skills to look for a job or a university place. The young people engage with it in a way that they wouldn't if you just sat them down in a school hall and said: 'Right, we are now going to do interview skills.'
TINA: I was in one of the Take the Lead workshops and watching the students come alive was amazing. The teacher told me that one of them had hardly talked for a year and a half; he came in here for the programme and we couldn't stop him talking. I mean, how great is that?
KATE: The next thing we're working on is the Annex. It was prompted by the work that we're doing not really having a proper home; we have this perfect performance space, but for the work that we do from a social mission perspective we have to beg, borrow and steal a hall or a church or a school gym. We have this building at the back of the Old Vic that we want to develop into a cultural, creative, social hub with a learning space, studio theatre capability and a writer's room. We need £12 million to do it, and we are going out to top-tier prospective partners to see if they're interested. This is not about bricks and mortar, this is about enabling the most exciting social mobility projects that are out there.
TINA: People might say, 'I don't support the arts, I'm not interested in the Old Vic,' and I say, 'This isn't about the arts. That's the front of the building. The back of the building is about social mission.' The Annex just feels so necessary. People are picking kids up outside children's referral units to sell them drugs. They could be here in the Annex doing their homework.
KATE: The most important thing with our philanthropists is that it needs to be a dialogue. One of the brilliant things about our relationship with Tina is that she truly understands the work. She is hugely experienced in her field, an absolute master in social mobility imperatives. She is in a far better position than me to identify and highlight things that we should be finding programmes for in terms of the demographic and the beneficiary group.
Since this interview, the coronavirus pandemic has changed the world beyond recognition. Spear's got in touch with Kate Varah to discuss what the crisis means for the Old Vic:
KATE: Closure of our building is financially devastating for the Old Vic. We have no safety net, and our reserves will only last for a few months. As such, we are working hard to raise the additional finances we need to stay open.
We have furloughed the majority of our staff, and all (regardless of furloughing) will take a 20 per cent pay cut for the next six months. These were not decisions we made lightly, but now it is about survival.
During the period of closure, we will devise a programme of digital content, as well as continuing to provide to the beneficiaries of our education, employability, social mobility and community projects – the people most in need at this time. Although the lights may be dimmed, we are committed to emerging stronger than ever.
For more information about supporting the Old Vic, click here
This piece first appeared in issue 74 of Spear's magazine. Click here to buy and subscribe
Photography by David Harrison 
Read more
How philanthropists can 'amplify impact' during the coronavirus pandemic
Charities need 'unrestricted' donations right now – Covid-19 appeal from the Charities Aid Foundation