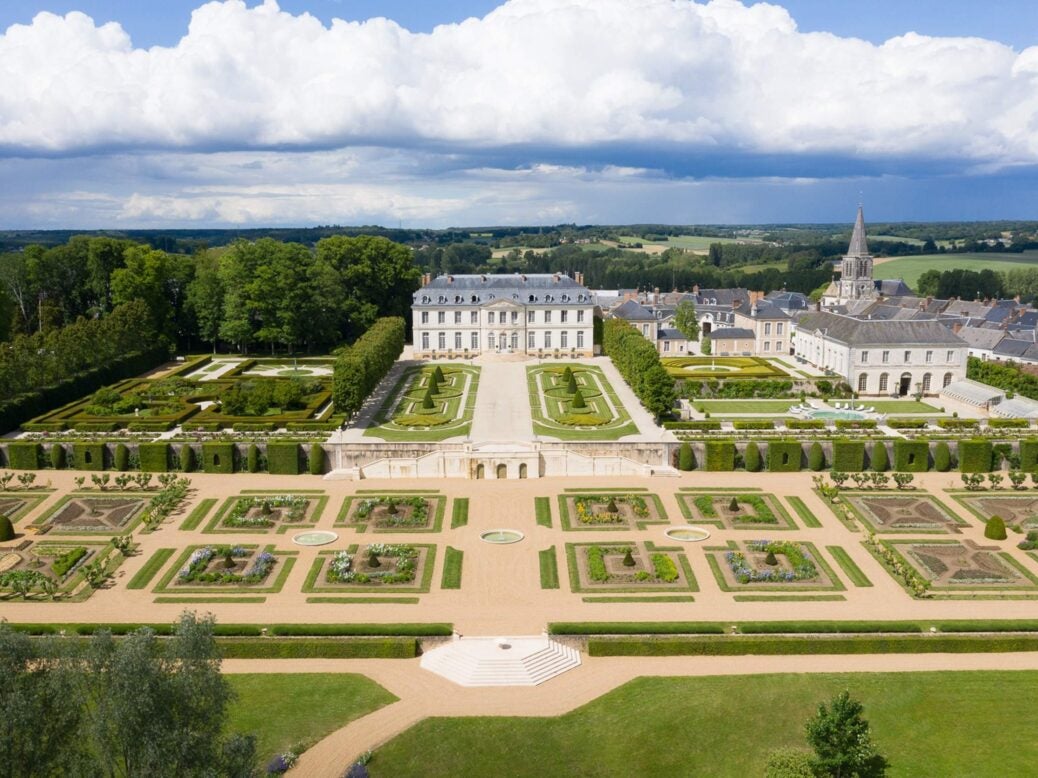 Andrew Harris heads to the Loire Valley and discovers that the meticulous renovation of Château du Grand-Lucé is neither staid nor stuffy
A challenging business, the château business. I remember the one bought by a friend of a friend perched atop a rocky plug in the Limousin, where we gazed down with aristocratic affectation, onto the villagers below. What were they thinking gazing back up? Probably best not to know. Or the imposing pile in Brittany that I was guided to by a pre-AirBnB handbook enabling long-term château dwellers to open a window into their rarefied world. They certainly looked like they needed the money but were struggling with the concept of needing strangers in the house to access it.
Tim Corrigan, A-list interior designer and decorator with bases in L.A. and Paris is as qualified as anyone to tackle the tumbledown turreted remnants of pre-revolutionary rural France. His meticulous renovation of Château du Grand-Lucé, purchased in 2004, was documented in his 2013 book.
But even a value-adder as accomplished as Corrigan has had to confront selling at a loss, noting 'someone's going to get a good deal' when he placed it on the market in 2016.
The village of Grand-Lucé in the centre of which the chateau sits is 90 minutes north of the Loire Valley and its Unesco listed slew of several hundred châteaux. It's closer to the city of Le Mans, famous for its 24-hour race, which for visitors not inclined toward motorsport, is possibly 23 hours more than they need. Le Mans does, however, have a 55-minute TGV connection from Paris, where Eurostar (with car rental also an option at Gare du Nord) stands out as perhaps the most attractive conduit into the region from London.
The isolated location conveys an irresistible allure, a bucolic backwater languishing in undulating landscapes and slowly baking baguettes. A place where everybody minds their own business along with everybody else's.
The château, whose guests have included Voltaire, Mozart and Rousseau, is enclosed by enormous and sensuous curved walls from an earlier medieval structure. Huge foreboding gates protrude right into the heart of the village as if placed there specifically for d'Artagnan to abseil down.
Corrigan chose well; the château constructed in 1764 for Baron Jacques Pineau de Viennay, a confidant of Louis XV, while quite dilapidated, had survived the centuries with many features intact. The woman who has just bought it from him, fellow Californian Marcy Holthus, may have chosen better.
She probably did get that good deal. Hotel Château du Grand-Lucé is the second property in newly formed Pilot Hotels, following on from her successful debut with the Washington School House in Park City, Utah in 2011.
Marcy, a Big Little Lies middle-aged mother of five, disguised as a willowy blond surfer girl, is as down to earth and as Californian as they come. With her equally unpretentious husband Tom, this disarmingly affable couple walk me around the château where it becomes clear that the seriousness underpinning the blond ambition isn't to be underestimated. The hunt for a third property I am informed, is well underway.
With a background in finance and real estate, the new châtelaine has her own perspectives on interior design and restoration. Working with designers Paul and Shannon Wehsener, with whom she successfully collaborated in Utah, Corrigan's restoration has been moulded toward a more personalised style statement, with shabby-chic expunged from the vocabulary. Shabby is notable by its absence, although chic is thrust to the fore.
The grounds of the 80-acre property are mostly intact and subject to heritage oversight, though the interiors are not. Under the watchful eye of general manager Michael Gregory, who helped set up and run the Utah property, there are eight full-time gardeners and the fruits of their labours are immediately apparent from the manicured maze to the kitchen garden and the lovely old greenhouse. The large neoclassical statues scattered around were a housewarming gift from Louis XV.
The main building, boasting 17 rooms and suites, successfully juxtaposes the historical inheritance nurtured by Corrigan, with contemporary design flourishes, toward a period property that feels neither staid nor stuffy.
Stunning original features like the salon chinois, painted by Jean Baptiste Pillement, who decorated Marie Antoinette's rooms in Versailles, sit seamlessly with Pierre Frey fabrics, Roche-Bobois furniture and huge marble walk-in showers. The notable take-away from spending time with Marcy Holthus though was that her burgeoning hands-on assault on the world of top-tier hospitality is grounded in personal experience.
Her high expectations of the many luxury hotels she checks into are precisely why, as a hotelier, she's worth checking out.
The terrace of the small restaurant was a delight, drenched in late summer sun. Interestingly, dinner was also served in one of the more palatial rooms, at the magisterial 20 place dining table, still in situ from Corrigan's house-party period, under the watchful gaze of a life-sized Napoleon III and Empress Eugenie.
Service was exemplary, though the menu, while competently executed, was very limited. In a part of the world where the culinary bar tends to be set high, management will need to remain alert to guest's gastronomic expectations, with a clear perspective on how a dining experience at Grand-Lucé is to be choreographed.
Legend has it that when the Baron de Viennay came to view his finally finished château, he stood in front of it and promptly dropped down dead.
No one's quite sure why, but when those gates on the little village square swing open, the magnificent spectacle at the other end of the gravel certainly gets the pulse racing. Hopefully not quite as quickly as the barons.
chateaugrandluce.com.   Rooms from £410
eurostar.com   London-Paris from £29 each way
Read more