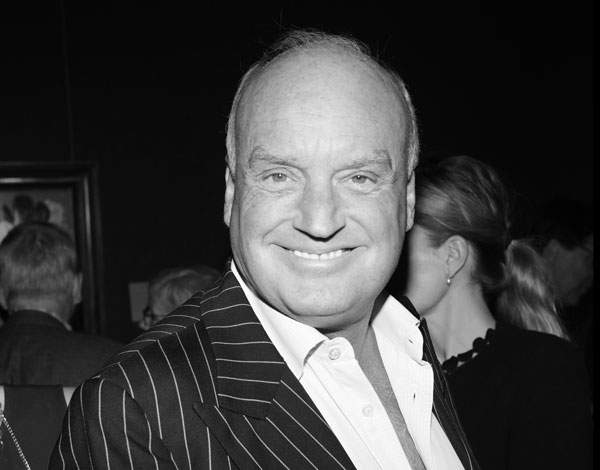 The retiring (but not so shy) chairman of Condé Nast, Nicholas Coleridge, on festivals, social media, ponds and wool
I am spending all of October and half of November on the literary festivals circuit, regularly doing four or more talks a week. You can become heartily sick of the sound of your own voice, telling the same anecdotes over and over. But as a way of seeing Britain, criss-crossing the country, nothing beats it. You feel like a travelling salesman, which indeed you are, promoting and selling your new book, measuring the success of each talk by the number of copies sold.
The worst thing is when a acquaintance looms up in the middle of a long line of book buyers, asking for a dedication and signature. Who is this? Your mind goes blank. 'Just make it out to me,' she trills. Excruciating embarrassment. 'Remind me how you spell your name.' She looks surprised. 'E-M-M-A.' 'Of course… no H on the end,' I reply.
There are 360 literary festivals in Britain now, and growing at a rate of 25 a year. Soon every hamlet will have one. The largest, like Cheltenham and Hay, are bigger than rock festivals, with similar queues for the portaloos. Two of my favourites are tiny and select. The Stuckeridge Lit Fest in Devon takes place in a friend's front hall, with some visitors perching on the stairs. It attracts top speakers. And the new Upton Cressett festival near Bridgnorth in Shropshire, held in a 10th-century Norman church, holds barely 100 people, presided over by Spear's founder William Cash, author of the excellent new memoir Restoration Heart.
The snazziest lit fest is Cliveden, surely the most glamorous hotel within striking distance of London. Cliveden had the neo-con American commander General David Petraeus, Rory Stewart, Robert Harris and Emily Maitlis this autumn, plus me. As Bryan Ferry used to sing, 'All styles served here.'
Going postal
Spear's readers may be too astute to fritter away hours on Instagram. Perhaps they retain social media managers to do the job for them? Social media manager (SMM) is one of the new professions helping keep unemployment figures down, like personal trainers and personal shoppers. The SMM has full access to your diary and camera roll, from which they select flattering portraits and write accompanying witty and right-on posts, having first agreed your brand positioning. They are bonused for rising numbers of followers. I am eccentric and still choose to do my own Instagram. Recently, I reached 5,200 followers, which feels like plenty, especially since half are total strangers. Several friends have more than 100,000 followers, and one of my goddaughters has 41 million. I'm not sure what a respectable number of followers is. Too many feels flash and indiscriminate, but you don't want to be a Johnnie-no-friends either.
Body politic
When is a lake a lake, and when is it just a pond? So far as I know, there is no agreed dimension. We have just such a body of water in Worcestershire, a Victorian lake/pond – a lond? – which we are dredging of 150 years of mud and decomposing leaves. During the war, territorials apparently used the lond for grenade-throwing practice, so we hope there aren't too many unexplored ones lurking in the silt for the digger to ignite. If anything explodes, I'm sure the newspapers will report it as a lake.
Wild and woolly
I am writing this diary in the Shetland Islands, the northernmost part of the United Kingdom. What an otherworldly place it is: no trees at all, Norwegian-style wooden chalets, puffins, seals and 150,000 sheep to 23,000 humans. The weather changes every 20 minutes, from blinding sunshine to raging storms.
Unlike mainland Scotland, there are no big turreted houses, no estates, no lairds; just crofters tending their flocks and stir-crazy oilmen over on the razzle from the drilling platforms. I was in Lerwick (pop. 6,900) to see Shetland Wool Week, which is a phenomenon. One of my gigs is to be chairman of the Campaign for Wool, an organisation set up by the Prince of Wales 10 years ago.
We stage 17 'wool weeks', from Milan to Tokyo, but the Shetland one is vibrant: more than 400 wool lectures and fiestas, with 1,000 visitors from America, Australia and China. Every last room on the island is sold out. If the direst predictions of Extinction Rebellion prove to be correct, I shall move to Shetland, where fresh water will never run out, and live off lamb chops and dress myself in sheep fleeces.
Nicholas Coleridge's memoir, The Glossy Years (Penguin), was published in October. He is chairman of the Victoria and Albert Museum
Read more