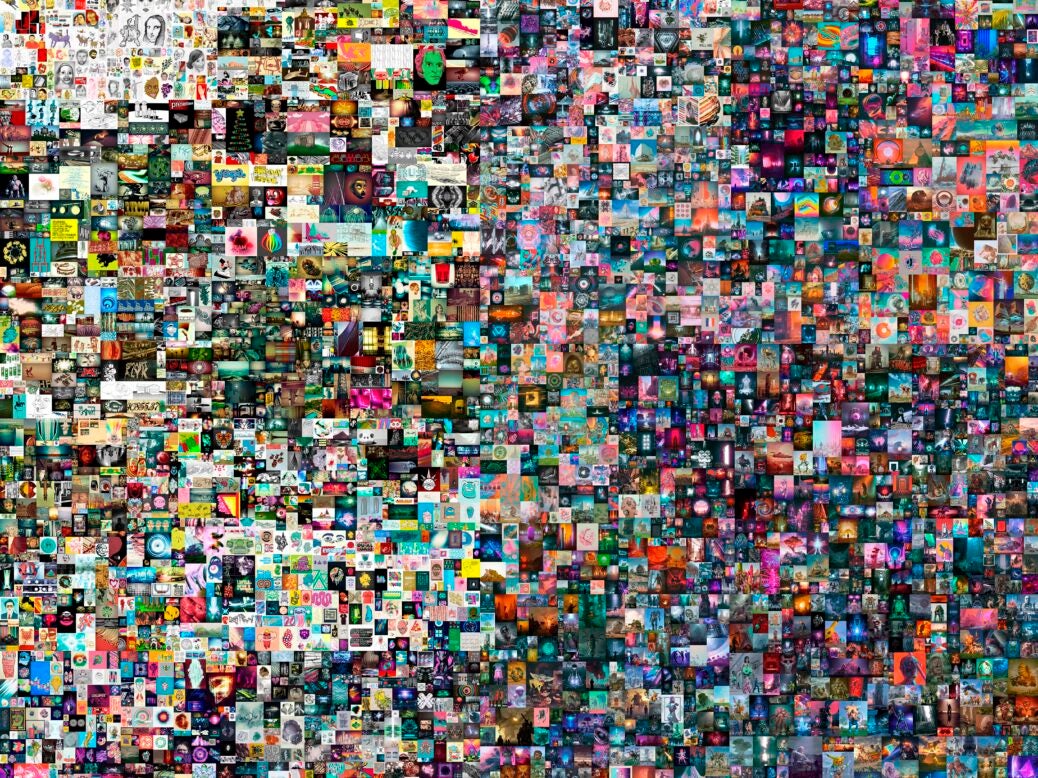 The $69 million sale of an NFT at a Christie's auction in March made headlines around the world. For art market investors, it also heralded the arrival of a new asset class – one that is already beset by scams and doubt
The normal rules of economics do not apply to the art market. But even by its own unusual standards, one sale earlier this year was unprecedented.
In March Christie's sold a digital work called Everydays: The First 5,000 Days (pictured above) by Mike Winkelmann, aka 'Beeple', for $69.3 million. The astronomical price is more than the record sales figures for works by artists including Turner and Goya.
In fact, Beeple is now third to only David Hockney and Jeff Koons for auction prices achieved by living artists.
But unlike the winning bidders for the Hockney and Koons sales, the buyer did not receive a physical painting or a sculpture; all they got was a digital certificate of ownership known most commonly as an 'NFT' – a non-fungible token.
NFTs have exploded in popularity over recent months, raising the eyebrows of collectors and investors alike. A recent report by NFT analyst NonFungible.com found that the market quadrupled in 2020, with the total value of transactions increasing by 299 per cent year-on-year to more than $250 million.
Beeple is not the only one to have benefited. A work called Nyan Cat, an animation of a cat with a pop-tart as a body, sold for nearly $600,000. YouTube star Logan Paul sold $5 million worth of NFTs in a day, and a clip of basketball player Lebron James was put up for sale by the NBA for $210,000.
The list of established brands and celebrities minting tokens of their own is growing rapidly.
Gucci has expressed an interest, while luxury watch brand Jacob & Co recently created an NFT for its SF24 Tourbillon timepiece and sold the digital watch for $100,000 at auction on the online platform ArtGrails.
What was once a small part of the niche world of crypto is fast becoming impossible to ignore. What's more, its emergence could have major, far-reaching implications for established players in fields from wealth management to intellectual property law and, of course, the art world establishment.
***
NFTs are non-physical, one-of-a-kind digital assets that serve as certificates of ownership. They exist on a blockchain, the distributed ledger technology that underpins cryptocurrency, and rely on complex cryptography to ensure that tokens cannot be forged.
The vast majority of NFT transactions use Ethereum, a cryptocurrency whose value has (at the time of writing) risen 24-fold since the start of 2020. The purchaser of an NFT gets the right to transfer the token to a digital wallet of their choosing, which may be hosted by a reputable provider such as Coinbase.
These wallets can also be created and encrypted independently and are often stored offline, to guard against hacks.
For the art market, perhaps the most significant consequence of the advent of NFTs is their ability to create scarcity of assets that could otherwise exist infinitely.
While the jpeg image of Beeple's 5,000 Days can be shared and presented anywhere, there is only one digital certificate that signifies ownership.
As an asset class, traditional fine art 'already lives as a scarcity model', says Rob Anders, CEO of digital art marketplace Niio. 'Therefore this has helped to legitimise digital art as a concept. It's thrown it into the mainstream and made it much more acceptable. NFTs and digital art are a perfect mix.'
Major players in the art market have been toying with the possibilities offered by blockchain for a number of years. At its 2018 Art and Tech Summit, Christie's gave 300 attendees a unique tokenised frame of a digital artwork by Robbie Barrat, which could be claimed with a gift card. Only 12 were claimed, and three years later some are reportedly being sold for more than $10,000.
'Four and a half years ago, we realised our whole industry was going to be digitised,' says Dirk Boll, president of Christie's EMEA. 'That meant distribution channels and distribution techniques. And at some point, we asked ourselves, "What will it mean for the content and for the art?"'
NFTs can seem counterintuitive. The tokens are proof that their holder owns the 'original', just like a physical object with a corresponding certificate. But for a collector accustomed to buying works on paper or canvas, the thought of stumping up £50 million for a work and receiving only a digital token might seem perplexing.
Just as digital currencies have created a new breed of investor, NFTs are bringing a new type of collector to the art market. Boll notes much of the interest in NFTs has been driven by 'crypto owners and believers in this world rather than by classic art collectors'.
For the Beeple sale 58 per cent of bidders were millennials, according to Christie's, and UBS says 60 per cent of bids on the auction houses' NFT sales have been made by those under age 40.
The Beeple auction was contested by 33 bidders who made more than 180 bids in its final hour. The eventual winner was 'MetaKovan' (real name: Vignesh Sundaresan), a Singapore-based blockchain entrepreneur and angel investor.
'The big opportunity here is to take a very large market, which is art collecting, and bring it into the digital realm for the first time,' says Jonathan Perkins, a co-founder of SuperRare, a digital art marketplace that hosts and curates NFTs.
Arguably the most prominent firm of its kind, SuperRare was founded in 2018 and in March this year closed a $9 million series A funding round with backers including entrepreneur Mark Cuban and SPAC king Chamath Palihapitiya.
'Where we're trying to go with this is to really allow anyone in the world to be an art collector,' Perkins tells Spear's. But questions are already being raised about the sustainability and stability of the NFT market.
In April, the average price of NFTs plunged by 67 per cent from a record high of $4,300 in February, according to Bloomberg. Beeple himself has described the market as 'extremely speculative' and an 'irrational exuberance bubble'.
The art world is a gamble at the best of times, says Astrid Rosetti, director of Rosetti Firmenich art advisory: 'When you buy something, I can never guarantee to any of my clients they're going to make a return, because this is not something any of us can guarantee… It's a playground.'
But there are even more risks with NFTs. 'There's no intellectual property protection, there's no regulatory structure in place for copyrighted materials being minted,' she notes.
There's also no guarantee that what one buys is legitimate: 'I can just mint anything – there's no copyrights or regulation here.'
Indeed, scams are already rife. Several artists have found out that work they have shared online has been minted as an NFT without their consent and posted on major exchanges. In one recent case, artist Corbin Rainbolt deleted all tweets of his art and reposted them with watermarks after finding out someone had tagged an NFT account on one of his paintings.
'I am not pleased that I have to take this sort of scorched earth policy with my artwork, frankly I am livid,' he posted. 'But given the circumstances it seems like the only morally defensible and the most secure option.'
On top of these issues that are specific to NFTs, there are also regulatory concerns with the underlying cryptocurrency, which is not only volatile but has also been viewed as attractive to criminals due to the degree of anonymity it affords – a key obstacle to institutionally managed investment portfolios.
Amrita Sethi, a digital artist who has sold a number of NFTs, compares the current boom to the dotcom bubble: the infrastructure that grew along with the bubble will remain even after it has popped.
NFTs will still exist, but the fervour over them will subside. 'The minute this market normalises, it becomes exactly like a traditional art market,' she says.
A former wealth manager herself, Sethi understands the investment potential in the NFT market and says she has spoken to several large private banks that are interested in the field but maintain a reticence about engaging in crypto.
But, she notes, many are interested in learning about them on behalf of clients: 'Wealth managers realise now that if they don't speak to their clients about it, then someone else will.'
***
So where to start?
Boll recommends that interested collectors should learn about NFTs by opening a crypto wallet of their own and buying some lower-priced works.
Much like in the way art is collected and invested in, it helps to understand the medium itself. Not every piece is expensive – on SuperRare, prices range from $41 to the hundreds of thousands.
The site also makes it very easy to begin collecting and guides collectors through the process of setting up a wallet, buying Ethereum and placing a bid.
'In ten years' time,' says Boll, 'people will go back to it, refer to it, look at it and still try to understand it. It might well be that the prices go down again because the crypto world isn't faring as many seem to expect.
But in hindsight, art history will say that has been an interesting period, because a lot of artists have used NFTs as a medium for their artistic language.'
Invest now and, who knows, you could be buying a piece of history – even if you can't hang it on your wall.
Main Image: CHRISTIE'S IMAGES LTD. 2021
Read more
The best cryptocurrency advisers for high-net-worth individuals
How the crypto revolution is changing wealth management
To the victor, the spoils: When UHNW divorce becomes a battle, this is how top lawyers win