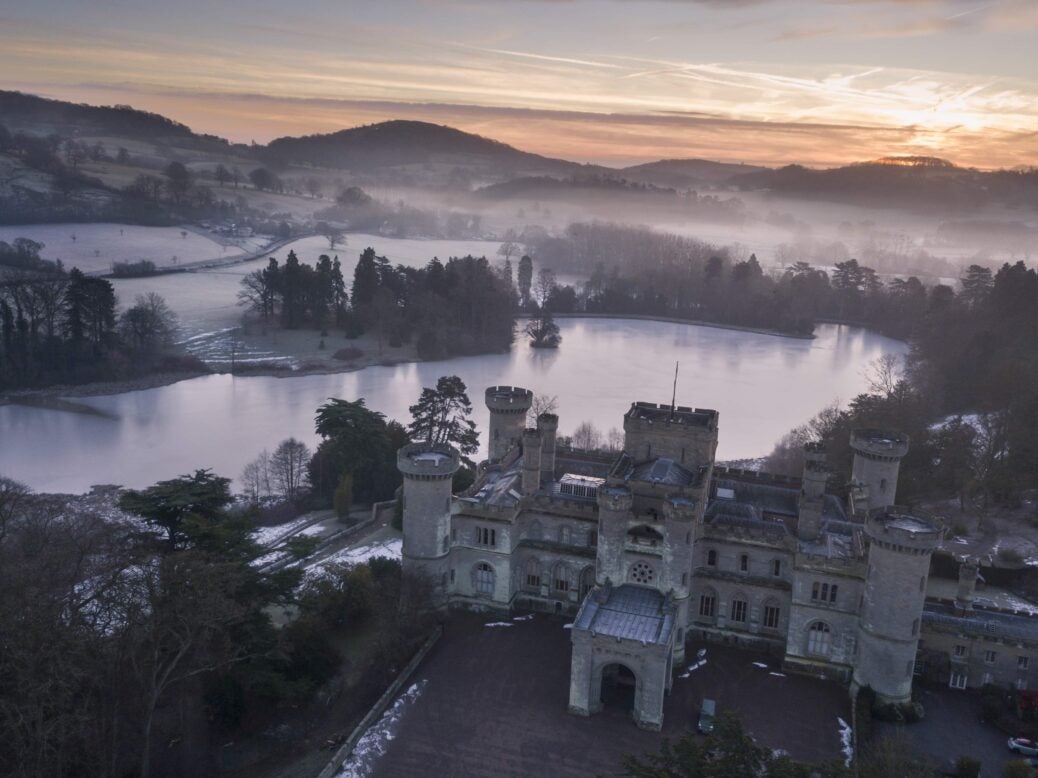 Owners of estates are proving increasingly entrepreneurial as they look for ways to cover their high running costs, writes William Cash
'It was like a good wake combined with a Shropshire drinks party,' says James Nason of the first day of the Pitchford Hall house sale in September 1992, when the contents of his wife Rowena's family house near Shrewsbury – one of the finest black-and-white timber mansions in England – were spread out on the south lawn of the house, with the best items laid out in a fête-like marquee. Her parents, Oliver and Caroline Colthurst, were forced to sell the historic 42-room house – with 76 acres – following catastrophic Lloyd's losses.
Before the sale, a representative from Christie's came to see the family and advised them – rather like notifying a patient with a terminal illness – that they should probably not be around when the porters, like a team of undertakers, showed up for the traumatic sale of 500 years of family his- tory. Rowena was just 19 at the time and booked herself into a Champneys health spa.
'My parents went to Mexico,' recalls Rowena in front of a roaring fire at Pitchford 25 years later. 'It was extremely traumatic and felt like a bereavement. But when we lost the house James and I made a vow that we would try to buy it back. We felt a "wrong" had been done and we wanted to set that right.'
Which is exactly what 47-year-old James, who is a partner at a lobbying firm, and Rowena, a headhunter, managed to do last year. The house plus 76 acres was sold for just £700,000 back in 1992, when the market appetite for buying such grand country houses – and living in them – was at an all-time low. Land prices were also very low back in the early Nineties, at around £1,200 an acre, so the family did keep 1,000 acres, which turned out to be a huge blessing as agricultural land prices rocketed to £10,000 an acre over the next two decades. With Rowena gifted these 1,000 acres by her mother, she and James were able to have the security to buy back the badly neglected house and 'marry it back' to the estate.
The house was bought by a Kuwaiti princess who had plans to turn the manor into an equestrian stud farm. But the princess never spent a single night in the house after buying it. She allowed the house to slide into disrepair. When James took me on a tour after the family moved back in, there was still a yellowed copy of The Daily Telegraph from the week the Colthurst family moved out in 1992.
However, the family are not planning on living in the house as Rowena's parents did. Back in the Eighties, the Colthursts – like many country house owners – lived mainly huddled by the Aga in the kitchen. The rest of the house was rarely used. In what serves as an excellent example of the revolution going on in country houses today, Rowena and James have related that they can't rely on farming to keep the house going. So they are converting one large wing – known as 'The General's Quarters' – into luxury holiday accommodation for up to 14 guests.
As I am shown around by James, he explains that they are 'giving over' one of the finest rooms in the house – the pan- elled ground floor dining room – to the holiday let, which will be geared towards hosting long weekends for family reunions or special house-party-style anniversaries, with catered dinners in the grand dining room.
'People think we are crazy,' says James. 'But we have others in the house. The market we are looking at is multi- generational, affluent, and although they won't bring butlers with them they might bring a nanny. They don't want the hassle or cost of flying 14 members of a family to Tuscany or France. But they do want one or two big, special dinners, which is why we are including the candlelit dining room as the centrepiece of the weekend.'
Rowena and James are certainly 'on trend' as owners of stately country houses look for other ways to make their houses pay for themselves. Indeed, the entire country house model is changing as a new generation of owners start to embrace holiday lets, festivals, corporate events and de luxe country house party tours, with guests (often HNW Amercian, Chinese or Russian) sleeping in four-poster beds and owners 'playing host' at black tie dinners. The going rate can be up to £1,000 per night per person, so the rewards can be highly profitable (much more so than selling grain by the tonne), even if it is like a very exclusive form of Airbnb – call it 'Aristobnb'.
One reinvention of the idea of the modern country house estate is Eastnor Castle in Herefordshire, owned by James Hervey-Bathurst. Thanks to corporate events, 'fairytale' weddings (with accommodation), festivals such as its annual chilli festival, the Eastnor estate now has revenue of around £1.6 million a year.
Building a business
The new renaissance of the English country house is about making the main house and outbuildings, rather than the acres, work for an income. If you have an Elizabethan gatehouse (such as my own gatehouse at Upton Cressett Hall or the one at West Stow Hall in Suffolk) which can be rented, so much the better. With annual tenant rental incomes being very low, being able to make a few thousand renting from a folly, coach house or wing of the house for a long weekend is much more attractive.
An example of this is Roshven House near Fort William, a majestic Victorian mansion by the sea that can sleep 20 and has been restored into a luxury holiday rental by Scottish serial entrepreneur Angus MacDonald and his wife Michie. The estate was bought in 2007 as a wreck. The exhaustive and minutely detailed renovation has created not only 'an atmosphere of extreme comfort and peace' – suiting the west coast of Scotland location – but also a commercial revenue stream that helps the house pay its way. 'It's our home and, if you feel you would like to sample its atmosphere and take a holiday here, we hope you will treat it with care and consideration,' says Angus.
Another good example is a house that is now relying on art rather than acres for its renewal. Hopwood Hall, which is seven miles from Manchester and has no farm, is being renovated by American actor and screenwriter Hopwood DePree. Hopwood has an exclusive legal agreement with Rochdale Council to enable him to have up to five years to rescue the Hall.  He will then assume full possession which will mean that he has his family's home handed back to him, thus reclaiming this beautiful piece of heritage for the nation. and wants to turn it into a unique '21st-century creative hub' with accommodation attached. Lord Byron completed Childe Harold's Pilgrimage in the house.
Depree's vision is to create a Manchester version of Robert Redford's Sundance Institute. He envisions Hopwood Hall as a place that 'has the same spirit' as the Utah institute. The hall will be restored to its 'former glory' but with 21st-century amenities: it will be an art venue and filming location as well as a venue for music, digital, media, art and fashion shows. There will be lectures from 'the great and the good' and 'thought leadership' programmes to en- gage and educate and accommodation for artists-in-residence. 'It will be a driver for those who wish to increase their cultural knowledge as well as a cultural hub,' DePree says.
Yet another house that has reinvented its model is Ballywalter Park in Northern Ireland, thanks to the vision of Lord and Lady Dunleath. 'Welcoming the high-end tour market is from our experience a thoroughly worthwhile operation,'
Lord (Brian) Dunleath told Historic Houses Association (HHA) members at a seminar devoted to exploring new ways of making the 'Big House' pay its way.
After a 60-week programme of restoration and renovation, Brian and his wife thought that it was 'about time' the house started to pay for itself. Ballywalter Park is in a truly fabulous setting on the Ards peninsula, 20 miles east of Belfast. On a clear day, Brian and his wife can see the Scottish coast from their bedroom windows.
Ballywalter is an Italianate palazzo-style mansion house with 30 acres of pleasure grounds and an estate of around 1,300 acres in total. It was mainly built between 1846 and 1852. The owners decided to go after the top corporate end of the market, together with what he described as 'groups on the de luxe tour of historic houses'. They were put off the idea of weddings after an HHA neighbour and friend had detailed 'every horror you can imagine'.
The key, he said, was to try to limit events to no more than one a month and adopt a 'hands-on', personal approach. 'Discerning clients want to "live the dream",' he told HHA members, 'and part of that includes the country house experience, including hosting dinners and lunches. Coming with that dream is also the expectation that everything will be clean and well maintained – shabbiness is a total turn off.'
Back at Pitchford Hall in Shropshire, James Nason says that while Rowena's parents thought it was perfectly normal to live in a vast 42-room mansion on their own, he and Rowena are much more relaxed about sharing their house, although he points out that guests will have their own walled private garden.
Following help with grants, including from the Country House Foundation, and some complete strangers loaning or donating furniture (such as a set of 12 regency dining chairs that arrived out of the blue from somebody who had read about their story), they should have the General's Quarters ready for holiday rental by the spring.
Dark days
What is especially telling about the Pitchford Hall rescue story is how attitudes towards the saving and renaissance of country houses have changed. In 2002, the National Trust refused to take on this extremely architecturally important Grade I house unless it came with a £10 million 'bequest'. The government behaved in an even more philistine manner, with heritage secretary David Mellor saying the house wasn't significant enough to be 'saved'. This was despite Queen Victoria staying there for a week as a 13-year-old and Churchill putting Pitchford on the shortlist of houses to evacuate the royals to in 1940 had Hitler invaded.
'Not even one of Mellor's juniors came,' Rowena's mother Caroline told an interviewer the day before the Christie's porters showed up to start putting auction labels on all their furniture and contents. She was described as 'grimacing and talking at breakneck speed to conceal anger and tears'.
This was just another example of how successive Conservative postwar governments failed to preserve the nation's heritage. Fortunately such attitudes seem to be changing, as the government realises how important heritage tourism is as we head towards Brexit. Heritage tourism is worth around £26 billion to the UK economy.
Pitchford will be charging around £2,000 for a five-night stay in the General's Quarters. On an even higher-end lux- ury scale, the Duke of Richmond is charging guests £10,000 a night to stay in his ten-bedroom Hound Lodge, in what was the Goodwood estate's former 'luxury' kennels. This is another nail in the coffin of that Seventies idea: the self-catering holiday. Self-catering for HNWs is now as déclassé as camping holidays around France.
And just as today's luxury B&Bs bear little resemblance to the Fawlty Towers-style experience of the Seventies and Eighties – when water trickled out of a plastic shower head and 'coffee' was a sachet of Nescafé – so today's HNW guest expectations of country house rentals have changed, partly as a result of the private members' club revolution which has caused a blurring of the lines between private and public social spaces. Hotels are simply too public for most UHNWs today.
Wealthy and international clients increasingly want to buy into the ideal of what I call the 'full-service' English holiday in an English country house, and they want to retreat to a home that is decorated in the new style of what I call 'Mayfair country house chic'. That means nickel-plated bathroom taps from Lefroy Brooks or Burlington and oak neo-Edwardian lavatory seats from Drummonds in London – no exceptions. On my tour of Pitchford, huge boxes of Burlington bathroom fittings were waiting to be installed.
This ideal has little to do with the reality of English country house life – at least as I have ever known it. Thus, at Hound Lodge, each luxury mattress is hand-stuffed with wool from Goodwood's own flock; every en suite bathroom gleams with chrome Perrin and Rowe floor-mounted taps that flow with water so hot and fast it would put the Savoy to shame; in case you forget your razor, an 'emergency jar' of bathroom supplies includes a 'Cose della Natura' wooden razor; my bedside table reading was Siegfried Sassoon's Memoirs of a Fox-Hunting Man in an original edition.
There is, of course, a 'butler buzzer' in each room – some- thing you'll almost never find in a real country house today. Service bells went out in the Sixties. But such is the demand for 'room-service' that it works very well as part of the new country house fantasia that is so beloved of the interna- tional rich, whose idea of English country house living is probably based on a combination of Downton Abbey, Ralph Lauren ads, and a few lunches at Mark's Club.
This faux fantasy is a potent and lucrative brand to sell. Evelyn Waugh always said that the English country house – and its ideal – was our country's greatest contribution to Western civilisation. Marketing 'full service' country or coastal properties to HNWs – who regard £5,000 a week as a bargain compared to a week in Mustique or the Maldives – is a good idea. Not least because families now want 'multi-generational' holidays (bring the grandparents) with some educational, cultural and sporting appeal.
For international HNWs, especially for those with children at school in London, 'serviced' renting – rather than buying – is second nature. So is being surrounded by uniformed staff. After your Friday night drive from London, would you rather be met by pretty uniformed staff at Pitch- ford who greet you with a smile, an open log fire, and a stiff drink after your journey – or would you want to be told to lug all the suitcases and the Tesco bags into the kitchen be- fore starting to cook dinner for ten?
William Cash is the founder and editor-in-chief of Spear's
Related