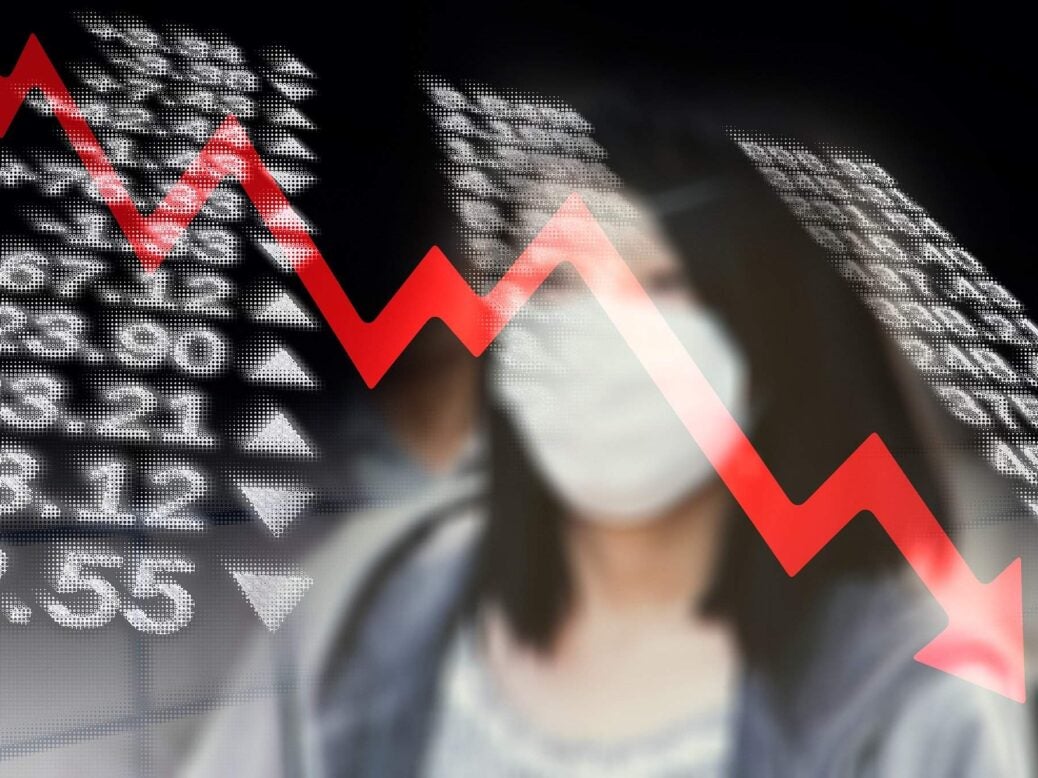 New IFS figures show public finances slipping deeper into the red as the economic impact of the coronavirus looks increasingly bleak, reports Arun Kakar
A British national deficit in excess of £200 billion in the coming financial year is 'within the bounds of possibility', according to new estimates from the Institute of Fiscal Studies. The figure is far higher than the £158 billion of public sector borrowing in the year after the 2008 financial crisis, and nearly four times the amount forecast by the Office for Budget Responsibility just two weeks ago.
The figures do not take into account the measure for self-employed workers announced by the Chancellor, Rishi Sunak, yesterday, set to cost an estimated £9 billion.
'Large increases in borrowing are well-advised to address the crisis, but the consequences for the public finances will be felt long after the public health emergency has hopefully passed,' says Isabel Stockton, a research economist at the Institute. 'Debt, which is already high by recent historical standards, will jump up again and is likely to remain elevated for some time to come.'
The IFS figures seem relatively optimistic in light of other forecasters such as Capital Economics, who earlier this week said that Britain's current account deficit would soar from 1.9 per cent of GDP in 2019/20 to 10.8 per cent next year – fully six percentage points higher than the deficit peak of 2009/10.
The figures are a result of the Covid-19 economic counter-measures announced by the government, chalked up by Capital Economics at around £110 billion, equivalent to 4.9 per cent of GDP. As a result the debt-to-GDP ratio is set to balloon from 80 to 104 per cent in the next fiscal year, and public finances will take a further blow from its direct tax and spending measures and lower receipts, it said.
While most economists are in agreement that the UK is heading into a drastic recession, the extent of its severity is unclear as the coronavirus pandemic evolves.
A further decline in the health of Britain's national finances will do nothing for sterling's fortunes, already run ragged over the past weeks. In trading this morning the pound pushed above $1.22 and to €1.1, but volatility remains high and the pound had dipped to a 35-year low earlier this month.
According to Capital Economics, unemployment is also set to rise from 3.9 per cent to six per cent in Q2 – short of the eight per cent rate after the financial crisis.
The government has signalled that it is prepared to go further to mitigate the economic impacts of the crisis – 'whatever it takes,' in the words of our chancellor – making the overall shape of the economy increasingly hard to predict.
'As happened following the financial crisis, the changes in the public finance landscape that the outbreak has brought about will remain with us long after the immediate crisis has passed,' said the IFS report. 'By the end of 2020–21, we will have much-elevated government debt. Hopefully the Covid-19 outbreak will be behind us, but the tax and spend trade-offs facing policy makers will be made more stark for years, and more likely for decades, as they strive to bring debt back down over the longer-term.'
Arun Kakar writes for Spear's
More coronavirus coverage
Our doctors and nurses are the 'new Few'
'Don't panic' – wealth managers react to Covid-19
Covid-19: A message from Spear's to our readers
How the Coronavirus outbreak exposes the 'central weakness' of China's regime
The very best London restaurants offering home delivery and takeaway during the coronavirus crisis
Charities need 'unrestricted' donations right now – Covid-19 appeal from the Charities Aid Foundation
Doctors' advice to HNWs: Stop jetting around and don't buy tests over the internet