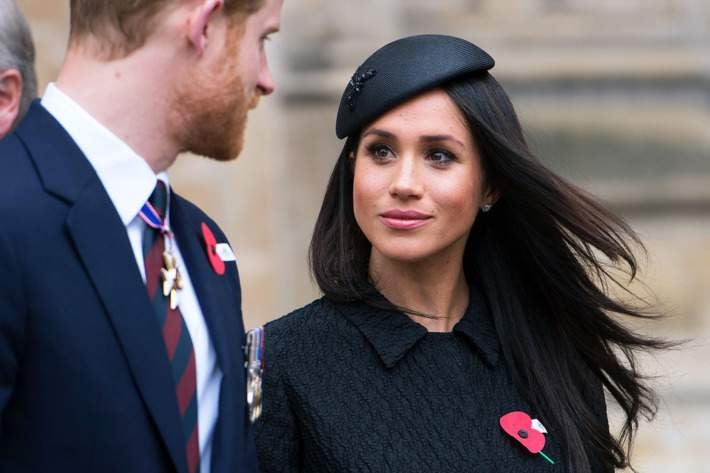 Our monarchy is facing a series of plot twists that may even lead to cancellation, writes Tanya Gold
A royal prince is marrying an actor called 'Meghan from Suits!'. Or rather, that is what she is called in Channel 4's brilliant parody The Windsors, in which Meghan Markle is always 'Meghan from Suits!' and the Duchess of Cambridge is a former gypsy who has 'tarmacked my last drive!'.
The marriage is good news if you want to live in a decaying republic, rather than a decaying constitutional monarchy. One day, when a member of the family is caught doing something devilishly corrupt, and the monarch isn't as loved as the present one, then the question will come, and it will be simple and mortifying: what are they for, this family with their £56,000 dresses and weird addiction to spectator sport?
I liked the idea of 'Meghan from Suits!' until I read that she posed for an engagement photograph in a £56,000 dress. It looked like bad grouting, but that is not the point. Then I didn't like the idea so much; or, rather, I no longer saw her as the social justice warrior she has been presented as by newspapers keen for something to say beyond 'rich man marries beautiful woman wearing dress that looks like bad grouting'.
I suppose marrying into the British royal family was a clue as to the truth of her social justice credentials. She isn't Rosa Luxemburg, then; she isn't even Emma Goldman. Perhaps she doesn't know how awful it will be when the lust runs out.
Monarchy is sacrifice. It has nothing to do with tourism or buses or tea towels, or a bicameral legislature, or Grinling Gibbons, or diamonds, or dogs. That is incidental. It is the last, ebbing religious element in our public life, although most people, who have not seen the coronation ceremony, do not know that. They think it is entertainment and thus welcome 'Meghan from Suits!'. But it has a real purpose. Or rather, it did in the days when people feared God, and the sword. It is sacrifice.
The monarch exists to both save and embody us, like Jesus, and Harry Potter, and Frodo, and Aslan. The Queen has far more in common with Aslan, a fictional lion, than with you or me, and she knows it. That is why she cultivates an aura of Tupperware mystery. She is beloved because she has either suffered by being nibbled by mice (a metaphorical example), or, more likely, pretended to have been nibbled by mice. I expect she has been very bored, quite often, but that is hardly the gulag or the jungle. It just feels like it.
This is the very definition of a noble calling; projecting victimhood from under a crown is skilled work. Hot people with small heads and thin legs are all very well on TV and in the Connaught Hotel bar, but they won't run as long in a throne room. They might not even make it past the pilot.
If monarchy is a story, they have begun to step out of its pages and write it for themselves, and this is dangerous. Perhaps I am wrong, and we will end up with a modern egalitarian monarchy in which everyone is happy and equal. That is, no monarchy at all.
Tanya Gold is a restaurant critic for The Spectator and a freelance columnist