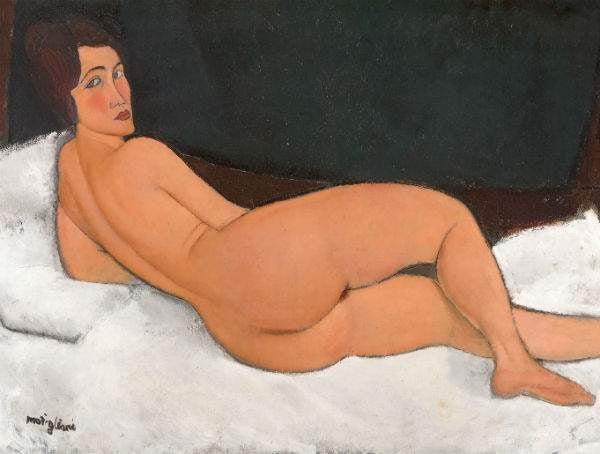 Robert Dunt looks past the mythical reputation of Modigliani to discover an artist of real stature and complexity
Flesh, flesh, flesh. One room of this stunning Modigliani exhibition is literally packed with nudes that this mythical artist first exhibited almost exactly one hundred years ago today, and when he did the police shut the show down.
It was the only solo show he had in his short life and and the police commissioner closed it on grounds of indecency. He took offence to seeing pubic hair in the paintings, at this time nudes were meant to be idealised, plastic and hair free.
It's this kind of story that keeps the myth of Modigliani alive. This and the stories of his short relationship with writer Beatrice Hastings and how their volatile romance was marked by drunken arguments.
Add to this how he died at just 35 with his pregnant financée Jeanne Hebuterne killing herself just days later.  But somehow he still left an extraordinary legacy.
As a painter myself he's always seemed more like a rock star than a classic artist. He's part Jim Morrison from The Doors, part Brian Jones from the Rolling Stones and part Jimi Hendrix. Stars who burnt bright and quick.
But when I interviewed Emma Lewis, one of the co-curators of the show, she said this mythical legacy was really only one part of the man and that he was in actual fact someone far more complex.
Certainly one question you have to ask is whether he was an alcoholic or a workaholic? This show has 100 paintings by the artist that he produced in a relatively short period of time. So whatever entertainment he was getting up to he was still prolific.
The exhibition also displays some absolutely superb examples of his sculpture. Many think of Modigliani as just a painter, but as Emma Lewis explained he would introduce himself as a sculptor.
The sculptures are stunning and a highlight of the show. They have an extraordinary stylised feel to them. Long elongated faces that subtly reference Egyptian face masks.
But this stylisation is not used as an easy way out of depicting something in stone. It's not used as a quick way of representing something or a shorthand. This stylisation has the feel of an artist trying to find the essence of something.
As you look at the sculptures you can almost feel reality being bent by them. These monolithic stone faces stare impassively at you, imbued with a regal authority. But as the faces depicted become stretched into thinner and thinner sculptures the regal authority begins to take on a psychedelic other worldliness.
When Modigliani left Italy in 1906 at the age of 21 and travelled to Paris he was plunged into a world that would change his ways of thinking, seeing and behaving.
Paris was a heady place at that time. Modigliani met Picasso and saw paintings by the recently deceased Cezanne. He lived in bohemian Monmartre and started to exhibit his work which was bought by his first patron Paul Alexandre.
The cinema was a new attraction and Modigliani and his friends would enjoy this novel attraction in the evenings. In the day he'd visit Paris museums such as the Louvre where he'd look at the Old Masters and sculpture from Cambodia and Egypt. The Egyptian styles fed back into his sculpture.
Indeed a decade after moving to Paris he was a well-known figure in an artistic community of poets, actors and musicians, but in some ways he still remained distant. He was committed to portraiture when it was unfashionable and gained no support from critics.
Nevertheless patronage from a new dealer, Loepold Zborowski, allowed Modigliani in 1916 to return to painting the female nude. The exhibition has a group of 12 nudes, the largest ever shown in the UK, and this section is one of the key points of the exhibition.
At the press view I attended the all female curating team said that on one hand the nudes had to be looked at – their utter sensuality demanded that they be seen.
But they had also wanted to place them in the context of the time, with a backdrop of the way the lives of women were changing. Modigliani paid his models five francs per sitting. Twice the daily wage of a factory worker, so sitting as model was an empowering act in some ways.
As Modigliani's health deteriorated he moved to the French Riviera and painted portraits of his closest friends. One of his final paintings is a poignant self portrait of himself as the successful and accomplished painter.
This is a genuine Tate Modern blockbuster of an exhibition. The quantity and the quality of the works themselves reveal much more about this man than the provocative stories we like to hold onto and revere.
Modigliani communicates elegantly and poignantly through his paintings and sculptures, as if he is trying to tell us that he really was much more than just an epic myth. He was in fact a real artist.
Robert Dunt is a painter and Founder of art review website and YouTube channel ArtTop10.com – www.robertdunt.com