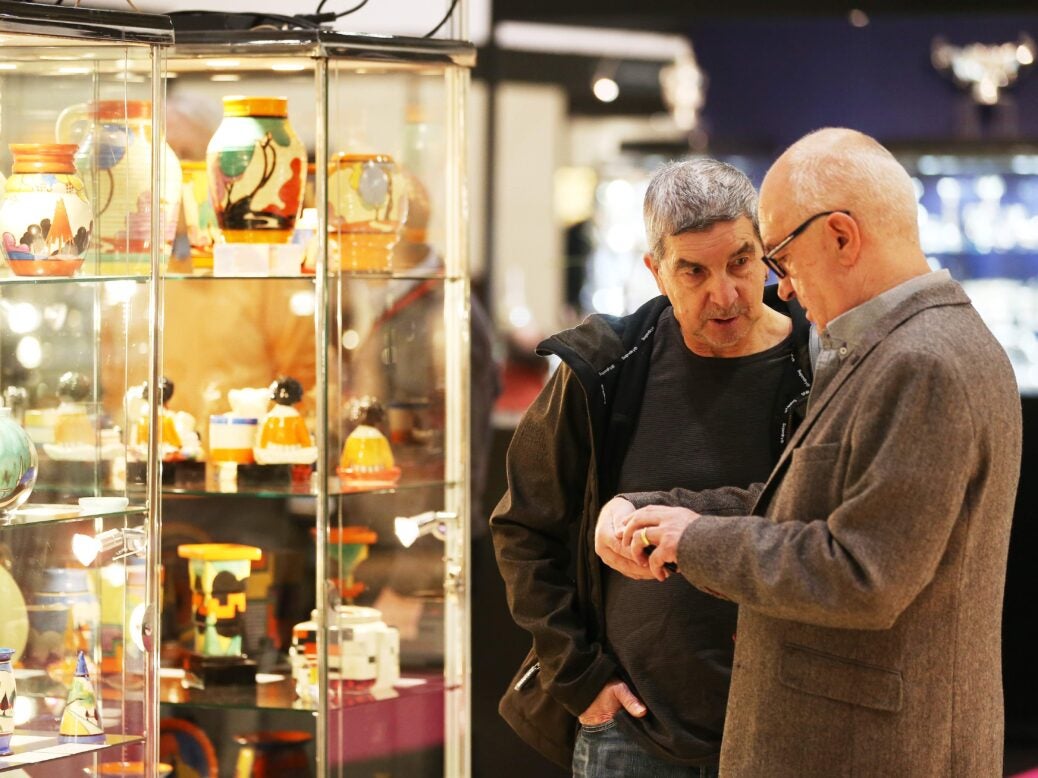 Drawing from a diverse mix from classic to contemporary, the London Art, Antiques and Interiors Fair shows that antiques don't have to gather dust, writes Sophie Killip
Now into its second year, the London Arts, Antiques and Interiors Fair was the UK's first major event in the 2018 art and antiques calendar – and it certainly knew how to draw a crowd. From a painting of The Battle of Navarino Circa 1827-1828 worth £21,500, to a rusting pitch fork that probably would have been better suited to a car boot sale, the fair covered an extensive mix of furniture and artworks, and a surprising mix of everything in between.
We settled into a crowd at one of the Fair's stands, unaware that we had accidentally joined a tour hosted by The Antiques Diva, Toma Clark Haines. However, Haines' highlights were drops of gold for first time antique buyers. As we watched, she pointed out a booth that held a fascinating, vibrant range of folk art and furnishings from across Europe. The hand-painted pieces sat in startling contrast to the polished furniture within their neighbour's stand; a collection of sophisticated, 19th century Normandy Antiques.
'Don't be afraid to admit what you don't know,' Haines advised, 'Dealers love to talk about their inventory – admitting [an area] where your knowledge is weak allows you the opportunity to bond with the dealer, which might result in additional discounts.' It was invaluable guidance – the fair invited over 80 expert dealers to the event, with organisers boasting that there is an overwhelming '30,000 unusual and desirable items' for sale within the hall.
Next, Haines introduced her all-female following to Mark Hill, only to be instantly overshadowed by his passion and knowledge. An expert on the BBC's Antiques Roadshow and antiques' dealer in his own right, Hill's speciality is 'post-war Czech glass'. He animatedly discussed the 'increasingly valuable and desirable designs' and their importance with the crowd; tour-guide Haines was unable to get a word in edgeways as Hill showed the group piece after piece of the modern, brightly coloured glassware.
But what is his advice for first time buyers? Buy what you love, because then it will always feel like a good investment. Fellow Roadshow expert, Judith Miller, agrees. 'My advice to the novice antique shopper [is] look, look, look!' she declares.  'Go to antiques fairs, dealers' shops, museums, exhibitions ; and if you see something you love and can nearly afford – buy it!'
'It's the things I didn't buy that I regretted,' Miller adds, before delving into a story about an auction – an event she sees as the holy grail of the antiques' world, auctions are places where it is always possible to find unique and interesting antiques for the best prices. Her recommendation? 'Look for the detail [within the piece] for [its] quality,' Miller suggests, revealing her trade secret – a simple CARD test: Condition, Age, Rarity and Desirability.
So what's hot? Items from 'the 1950s and 1960s are becoming very desirable', Miller notes. And while these pieces are not true 'antiques' – considering for many the time periods exist in living memory – mid-century modern is a design trend that continues to be on the rise. 'They're in vogue,' insists Miller. Mary-Clarie Boyd, the fair director, agrees. The mid-century modern period remains 'ever popular' – this mass trend is not over yet.
While the fair featured a huge selection of design choices – from traditional and vintage to Art Deco and contemporary – there seems to be at least one new trend heating up. The First World War. Poster Persuaders from World War One was the fair's feature exhibition; featuring the private poster collection of British collector Maurice Collins, the exhibit commemorates 100 years since the end of the War.
Made up of forty propaganda posters from the First World War, the poignant collection portrays British life before the modern phenomena of political correctness.
'If your young man neglects his duty to his King and Country,' a poster targeted at young women writes, 'the time may come when he may neglect you'. The emotionally manipulative posters couldn't be further from the current politically correct climate: 'What if I get emotional in the Army?' a recent television advert for Army recruitment askes, with a voiceover answering, 'There's always someone there to talk to'.
The collector puts it in context: 'In Britain [during the War], you were unable to move without seeing the call to arms in colourful presentations, patriotic words and even the negative approach of being branded cowards if you didn't sign up for the King's shilling,' he says. Today, meanwhile, the posters are 'of huge historical value…  In this 100th anniversary, seeing the original posters as would have been seen a century ago is, I hope, a real eye opener to present generations.'
A must-attend event for design-conscious home owners and intrepid collectors alike, the London Arts, Antiques and Interiors Fair presented visitors with stunning pieces that could suit both the most adventurous, and the most cautious of buyers. If you're sorry to have missed it, be sure to visit The Art & Antiques Fair Olympia in June – and it might just be worth keeping these expert tips in mind.
Sophie Killip is an online writer for DesignCurial and a regular contributor to Spear's