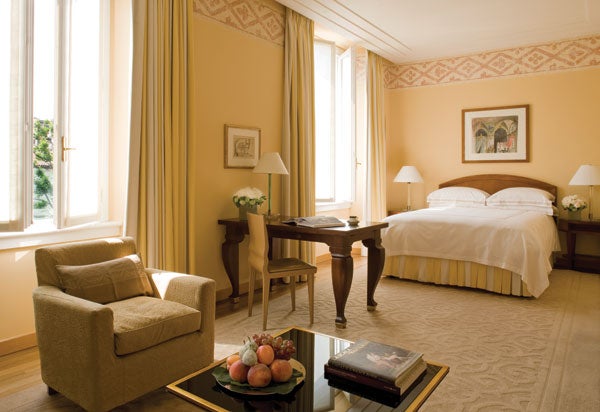 For tourists without the flair of Donatella or the style of Ermenegildo or, more significantly, the bank balance of Berlusconi, Milan bristles, appearing slightly intimidating and unapproachable. However, with the right shops and restaurants and the perfectly placed hotel, the city is actually a dynamic destination, and with its new mobile application, the Four Seasons is hoping to help you find Milan as exciting as Rome, Paris et al.
Using its newly launched app, the hotel allows you to check in prior to arrival, book dinner at its sumptuous courtyard restaurant or reserve a treatment at its impressive new spa located in the basement of the property, which used to house barrels of wine used by monks in its former incarnation as a monastery.
With an in-built city guide, the Four Seasons app has redefined 'concierge' for the 21st century, allowing you to browse options while retaining the use of the hotel's actual concierge service, so knowledgeable about the history of the city they themselves could be classed as specialists.
The hotel is situated in the thick of all the top designers. Stylish and slender personal shoppers ferry hangers and rails dripping with haute couture from the likes of Prada, Gucci and Armani from their flagships to the hotel; where a summer clientele, predominantly made up of Middle and Far Eastern tourists, gorge themselves on the best of Italian design and culture in a piranha-esque frenzy.
For the chicest lunch, where Milanese high society sit intimately in a covered secret courtyard delicately enjoying tuna belly with fresh pasta and tomato sauce, book in advance for Bacaro del Sambuco on the via Montenapoleone. Exquisite, refined and charming, this bolthole for those in the know has been manned for decades by a husband and wife team, now well into their seventies.
For dinner, head over to Langosteria 10 where, in the next up-and-coming part of the city, models, footballers and entrepreneurs scoff the finest sea food, a benefit of Milan having one of the world's oldest and most successful fish markets.
In Milan, fashion is god. Head to Excelsior for avant-garde style and a unique shopping experience, but prepare for everyone to be more fashionable. Eral 55 is the concierge's top pick for men's apparel, combining vintage flair and modern fashion in the world capital of style.
After a heavy day of eating and shopping, the hotel is waiting for you, ready to relieve you of your newly purchased goods, surround you with marble, scented candles and unfussy luxury, feed you baby octopus and the finest Montepulciano and then send you on your way to the bar, where a pianist serenades you into the night. For an indulgent shopping weekend, Milan can't be beaten.