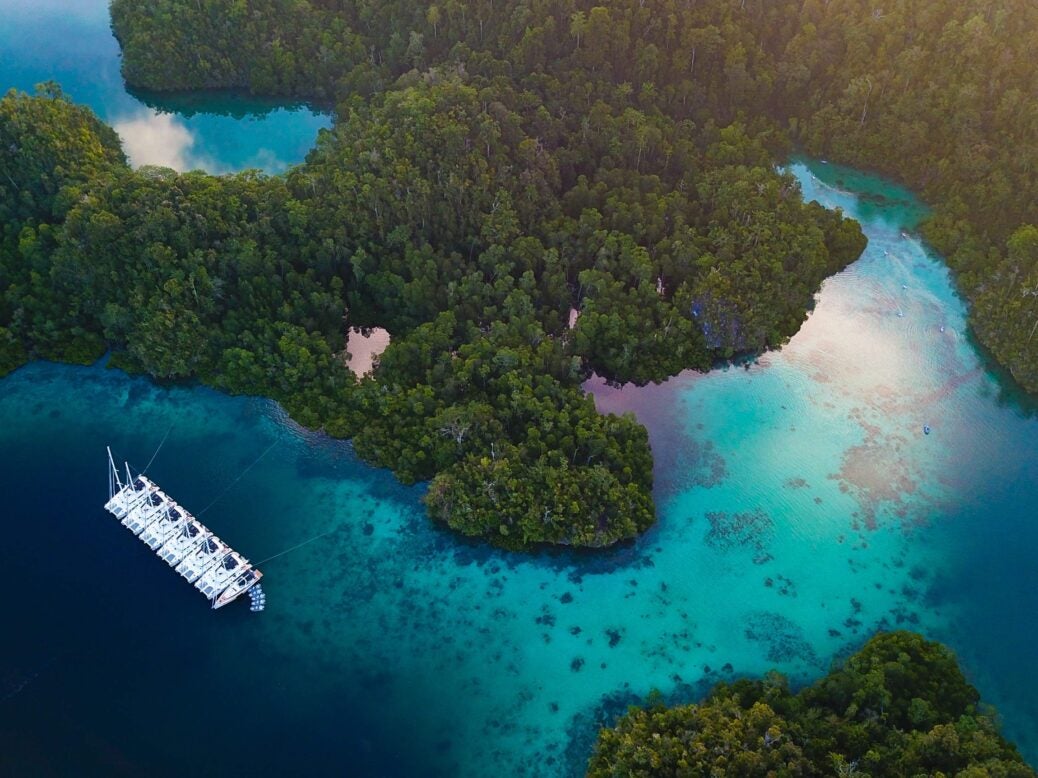 Meridian Adventure SAIL (sail.meridianadventures.com) is a new, ultra-exclusive private explorers club creating tailor-made and meaningful voyages in the world's most remote and unspoilt ocean locations aboard a fleet of sleek sailing catamarans. Each journey immerses guests in an authentic ocean adventure.
A Meridian Adventure SAIL itinerary encompasses the beauty of the destination below the water, taking guests deep within the interiors and along the shorelines for natural and local cultural immersion. For 2020 the catamaran fleet will be based in Raja Ampat, Indonesia, an epicentre of unspoilt natural beauty, coral and marine diversity.
Leaving a limited footprint is critical to each voyage. The environmentally friendly ethos means sailing from place to place pushed by mother nature. Semi-custom built, the Meridian Adventure 62' Catamaran delivers a smooth sailing experience from the stability of its two hulls. Low-emissions allow low-impact navigation of hidden coves and sails are raised at every possible opportunity to allow the catamaran to glide with silent ease thanks to the equatorial winds.
Meridian Adventure SAIL is uniquely tailored to offer multiple catamarans for a group voyage, whether a multigenerational family adventure, a special celebration or a corporate getaway. Departures feature from one to six catamarans, with up to 32 guests. When operating as the full fleet, up to 24 exceptionally trained crew are on hand throughout the sailing, alongside three high-tech dive boats and nine dive masters.
Choose to relax and enjoy the breath-taking scenery, or gain a first-hand seafarer's experience assisting the crew with the rigging. A wide range of activities are included in the voyage, from top-of-the range diving equipment and custom Gemini dive-boats, PADI qualifications, paddle boards and rocket wake surf boards to Seabobs and fishing gear. Daily menus and an impressive wine list reflect the food available locally and in a sustainable manner.
About Raja Ampat, Indonesia:
Raja Ampat is one of Indonesia's most captivating cruising grounds and is a paradise on earth with thousands of isles, pristine waters and rugged landscapes. Majestically named the 'Four Kings', it boasts crystal-clear waters for diving and snorkelling thanks to the Indonesian Through-Flow. This biological hotspot hosts the most abundant marine life in the South East Asian region. Nestled in the heart of the Coral Triangle, around 75 percent of the world's coral species are found in Raja Ampat, with more than 3,000 fish species.
Explore Indonesia's captivating geography, diving, wildlife and culture on custom built itineraries. Each is curated according to the guest profile, weather conditions, tidal streams and wildlife migratory patterns. The experienced team will take guests on an intrepid exploration of the Raja Ampat Region including destinations such as Misool, Waisai and Wayag.
For further information, please visit https://sail.meridianadventures.com
Photo-credit-sail.meridianadventures.com_.jpg