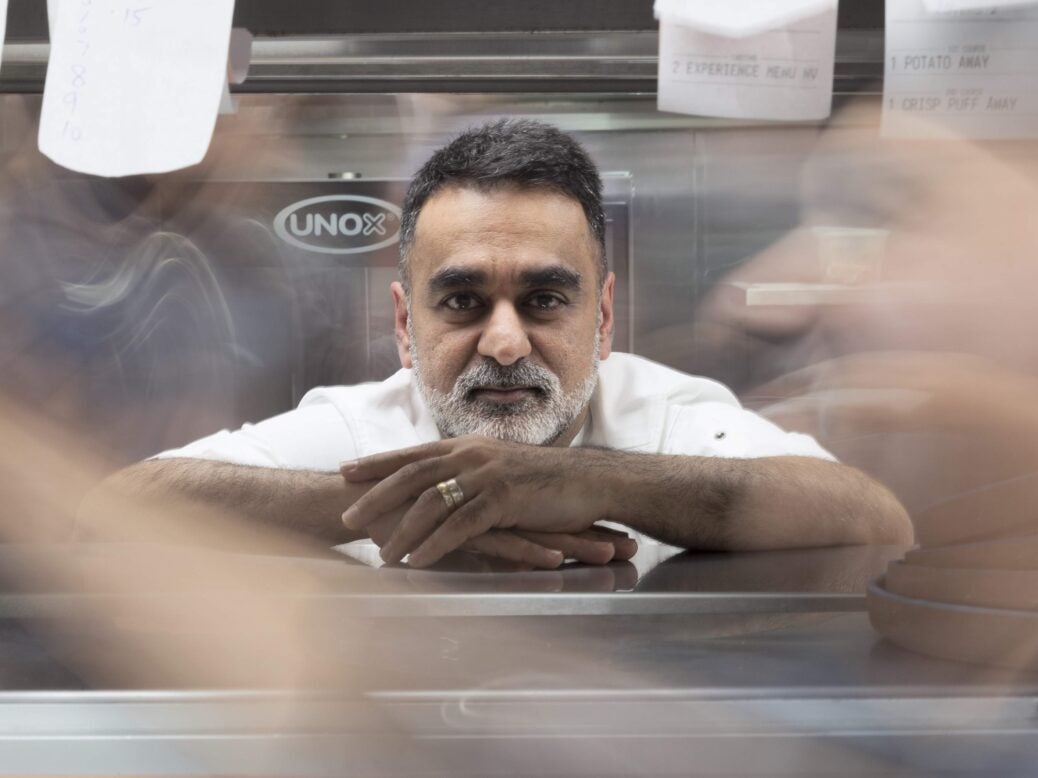 From jotting down recipe ideas during holidays to working in his 'dungeon', Vineet Bhatia never switches off, writes William Sitwell 
A beach on the coast of Mauritius. The sun beats down, waves gently lap the sand and tourists lie spread-eagled on sunbeds tanning hard. But there, among the sun-worshippers, is a man who sits quietly beneath a large parasol, doing his utmost to keep out of the sun. Knees bent, his back upright, his focus is on a notebook resting against his thighs. He scribbles, sketches, then looks up from time to time, staring with intent out at the ocean. Then it's back to his work.
This is Vineet Bhatia 'on holiday'. While his kids (who are in their late teens) mess around in the ocean and his wife reads, the Indian chef gets out his pencil and writes recipes.
'I sketch and I doodle,' he explains. 'I write out recipes and then I draw a picture of the plate. I draw the dish. I work on it like a clock, adding items to the dish as I move round clockwise. I can't do landscapes or portraits. It may or may not be art, but at some point you'll be able to eat it.'
Bhatia then tears the pages out of his notebook and it's left to his wife Rashima, who is also his business partner, to organise and assimilate them. Back in his kitchen in London – in a Georgian townhouse in Chelsea – he works on those new dishes. 'I cook the dishes down in my dungeon,' he says of his tiny and ridiculously hot kitchen (so small and fiery that he can't have a pastry section) and then we try them upstairs in the restaurant. We challenge each other – actually she challenges me more, and she has the guest front of mind – and this very positive banter will create a new dish.'
That dish is then added to Bhatia's no-choice 12-course tasting menu. The man has travelled far enough to have the confidence to conceive and deliver it and while you won't necessarily get a finely turned-out dessert in Chelsea, his empire stretches across the world, so if you want to know how one of his dinners can end with a more adventurous sweet note, then book a table at his place in Geneva, or Bahrain, or Dubai, or Riyadh or Doha, or Mumbai…
But it is in London that Bhatia creates his more challenging menus. His fine-dining Indian cuisine surprises even the most sophisticated and well-travelled lovers of Indian food – he offers starters such as watermelon ginger sharbat and makes sorbet out of yuzu. But then
it was London that first allowed him to spread his wings.
While Bhatia grew up in Mumbai around delicious food cooked by his mother – thick, luscious breads, fritters, slow-cooked rogan josh lamb on the bone – his ambitions
lay elsewhere.
'We lived by the airport and the Gulf Air 6.20am departure was my morning wake-up call. Each day I cycled to school past the runway and I dreamed of being a pilot,' he recalls. 'So eventually I applied for training but was told I was too short. So I opted for another dream: to be a barman. I enrolled in hotel school. As soon as I could, I found the course that taught mixology. The tutor saw me standing by his bar and told me
I was too short.'
So in 1985 he went to catering college. Fortunately the work and he clicked. 'It was clean, cultured and disciplined,' he says. And as a young trainee he got his first job in the
grand Oberoi Hotel in Mumbai. He progressed up the hierarchy, but by the early Nineties he was frustrated by the unbending, unchanging menus.
Then, by chance, he discovered an opportunity in London, a job as head chef at a restaurant in South Kensington called Star of India. He got on a plane, landed in Heathrow and found a place to live nearby. The skies were filled with the noise and tremor of aeroplanes, the weather was cold, grey and miserable. Hell on earth, surely. But not for Bhatia.
'Grey, gloomy and endless drizzle and the world's biggest airport,' he muses. 'I was in heaven. The climate suited me and I could watch my beloved planes in my spare time.'
The restaurant was a different matter. 'The Star of India, and every other Indian restaurant I could find, was terrible. There was no uniform and not even valet parking for the guests. This was a curry house with 120 items on the menu and six cooks – this was not Indian food. But the English were lapping it up with joy every day.'
Bhatia looked around and meekly suggested to the owner – his new boss (one Reza Mahammad) – that the place needed urgent decorating. The paint look so tired, much of it was flaking off the walls. Reza pointed out that the redecoration had just been completed at great expense to make it look like a palatial Tuscan villa – the walls were supposed to look like that.
Still, Bhatia was given carte blanche in the kitchen and three months later he relaunched the menu. Gone were the vindaloos, onion bhajis and Bangla phals. Instead he presented a more adventurous, original and delicate cuisine.
The critics came and loved it, and he pays tribute to the openness and palates of Londoners. 'Tokyo would be too oriental, Dubai is too hot, Bangkok is too sleepy. But London was – and is – perfect,' he says.
After the success of the Star of India and a time heading the kitchen of Zaika in Kensington, Bhatia opened his own place, Rasoi, in Chelsea, now relaunched as Vineet Bhatia London. Despite an empire of consultancy and restaurants across the world, London is still where his foodie heart is – even though he can't make space for a pastry section. Perhaps he needs to sketch out a plan for that on his famous notepad the next time he takes what you and I might call a 'holiday'.
This feature first appeared in the September/October issue of Spear's which is available at your nearest WHSmiths travel store or independent news agent. To subscribe, visit www.spearswms.com/subscribe
Related