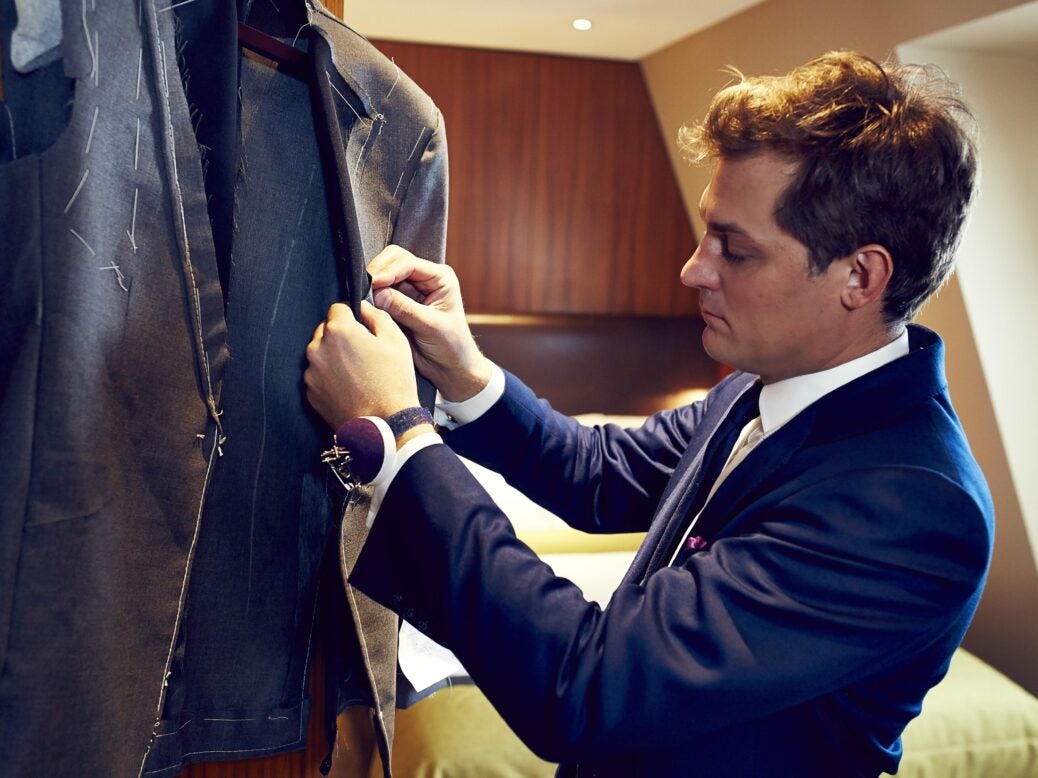 Henry Herbert Tailors is doing more than upholding the traditions of Savile Row — it's putting the 'spoke' in bespoke by travelling by Vespa for fittings with clients, writes Alba Arikha
One of the most stunning portraits in the collection of the National Gallery is a work by the Italian Renaissance master, Giovanni Battista Moroni. Painted in 1570, The Tailor depicts a man, probably in his late twenties, gazing directly at the viewer with a combination of nobility and dignity. He wears an expensive cream shirt and a signet ring on his finger, and is cutting black cloth marked with tailor's chalk.
What is most striking about this painting is the fact that for the first time in history, a tailor — an artisan — was depicted as 'one of us'. Until then, manual workers were kept behind the scenes, sweating it out in their masters' workshops.
But Moroni's tailor is portrayed as a powerful equal, blurring that infallible line between worker and artist. Could this dignified tailor have actually commissioned his own portrait, just as his richer clients would have done? It's hard to tell. One thing is clear: four centuries on, bespoke tailoring, despite the advances in technology, is still viewed as an art, a jealously guarded one at that, and remains faithful to some of those techniques our tailor would have used in his heyday. And if anything, its reach is expanding and in unexpected ways.
Charlie Baker-Collingwood, founder of Henry Herbert Tailors (named after the master of the royal wardrobe to Charles I and II), has found a new niche within Savile Row — one which, he is the first to admit, 'doesn't make all tailors like what we're doing'. The idea germinated 'with shirt making and a scooter', the dapper, 38-year-old (who wouldn't be out of place in an episode of Mad Men) tells me over a cup of tea in a Soho brasserie.
Having completed a degree in politics and philosophy at McGill University in Canada, he returned to London, where he worked in publishing at Monocle. But clothes beckoned and he soon found himself jacket making at Morley College, cementing his formal training at Central St Martin's and sewing skills at City of Westminster College. His aim? 'To offer an alternative to the methodologies and attitudes of more traditional houses.'
But the competition was stiff, and he quickly realised that if he wanted to stand out he needed to be different. 'Today it's got to be much more service-orientated,' he explains. 'You can't wait for customers to come and see you.' So he decided to go and see them instead, and Savile Row by scooter, each one named after a Royal Navy battleship, was born. The notion of combining the horse-borne tailor of yore with a multi-horse-powered Vespa proved irresistible, and it wasn't long before Baker-Collingwood understood that shirts were just the beginning. Delivering to customers all over the city, to offices, hotels and private homes (including measuring up an architect on top of a partly built skyscraper), he expanded into suits, followed by waistcoats, overcoats and morning coats, as well as an alteration service for any garment.
One trained helmet-wearing tailor quickly became five, and the fleet of custom-built Vespas became a familiar sight around Mayfair. But scooters have their drawbacks. 'It isn't always easy,' Baker-Collingwood concedes. 'You have to deal with the wind, the heat, the snow.' And the weather is only one aspect. Whereas Savile Row opens its doors at 9am, this ten-year-old company starts at 7.30am and is even at work on Sunday evenings. It all fits with the tailor's outlook. 'There is still a clear need for the personal touch in our lives,' he insists.
So how does that need translate sartorially? 'A tailor's relationship with his customer is the most important element,' he confirms. 'We want the client to feel comfortable. Once they start talking to us, we can guide them through the process, tell them about cloth, styles, anything; there is no such thing as a stupid question.' Fittings usually involve three visits (many firms advocate four), and a suit typically takes between eight and ten weeks to be completed. 'We believe the customer should have a choice in terms of style,' he says. 'Every bespoke tailoring firm has a house style, but to me bespoke is what the customer wants.'
Its house style favours slim fit ('but you can ask for any pattern, any feature you wish') and includes 'the broken suit' styling combination, where the jacket fabric is different from that of the trousers. So what does the Henry Herbert customer (whose age typically ranges from eighteen to 80) want? 'We get special requests and we adapt to that.'
With a strong emphasis on quality, Baker-Collingwood uses the finest English and Scottish cloth. 'Cloth is the foundation of a good suit,' he tells me. 'There are many British and Scottish mills left. Except for some Italian cotton, we buy all our fabrics here in the UK and are proud of it.' (Suits typically last between five and ten years, with a price tag of £1,495 plus VAT.)
Overall, Baker-Collingwood tells me, there has been a resurgence in bespoke tailoring, 'which includes new apprentices seeking employment, and customers wanting a more bespoke feel to their style'.
There are also plans for expansion: New York beckons. The allure of fine English tailoring with a Vespa twist will surely appeal in Manhattan, just as it does to us. Surely Moroni's mysterious tailor would agree.