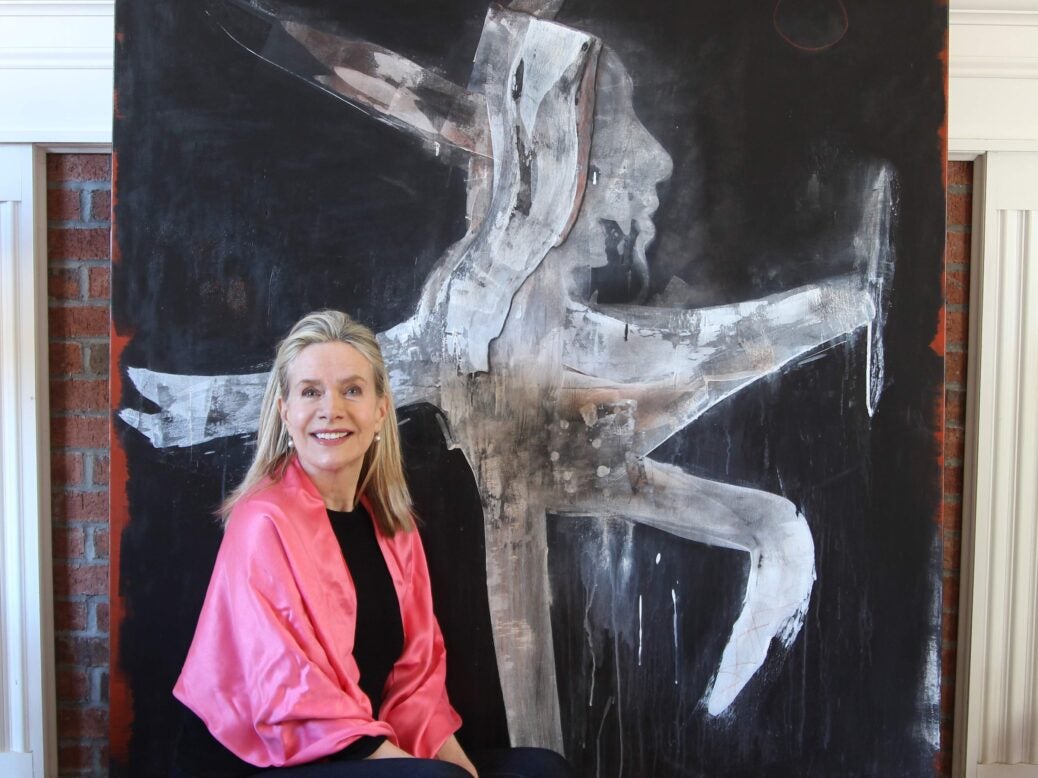 From Germany to the US via Paris and Salzburg, and from Rousseau to Street art, abstract expressionist Ati Sedgwick has taken the long route to enlightenment and success, writes Anthony Haden-Guest
Ati Sedgwick was born into a German family with extensive estates but little money in the aftermath of the war. She grew up in Garmisch-Partenkirchen, a posh ski resort, in her large family house, which the state was partially using to house elderly aristocrats who, postwar, had fallen on hard times.
She was enthralled in her teens by the early-20th-century Expressionists, Der Blaue Reiter, and was determined to become an artist but got zero encouragement at boarding school. 'The nuns did not trust me to stick to the rules,' she says. 'They suggested
I should not try art.'
She ignored this advice, and when she was in her early twenties her mother let her join a Russian artist's studio in Paris. 'It was primarily because she felt I needed to speak French,' she says. 'He lived with a red-haired model who was pregnant and barefoot. Literally!' She joined dozens of fee-paying students, who slept in boxes nailed to the ceiling, four or five to a room. 'It was a very enlightened atmosphere,' she says. 'But then I went home and got married.'
Rene von Richthofen, her husband, was from an aristocratic Prussian family that had produced such warriors as the World War I flying ace the Red Baron. They had two children and moved to Chappaqua, New York, in the mid-Seventies. Von Richthofen commuted to work at a bank. She took care of the children and painted, Henri Rousseau, the great French Outsiderish artist, now being a major influence. 'I was still wrestling with my style,' she says. 'One day I went on Madison Avenue and 68th Street to look for a gallery. Madison and 68th was on fire. On fire! I was 26. Nobody had told me that as an unknown you had to start Downtown, and then you maybe go Uptown. I had my envelope. And some shots I took with my camera.'
A gallery selling Haitian folk paintings she liked got her attention. A woman there looked through her material silently, carried it off to an office, came back. 'She said, "You can have a solo show. When will you be ready?" I was flabbergasted.'
The show sold out. So did her solo show the following year, and a third. 'I was in that typical European bankers' social group where everybody knows everybody,' she says. 'And if you buy one painting your friend from Munich or Frankfurt has to have the same thing.' But she then divorced the father of her children and took them with her to Salzburg. 'If I had stayed I would probably have gone to another gallery,' she says – a serious gallery, an entrée to the mainstream art world. But her New York career was over.
Salzburg quickly palled, though: 'It rained and rained and rained.' So she mailed her material to the Dunedin Museum in Florida, which offered her a show. She resettled in Dunedin and got back to work. 'Still in the same vein,' she says. 'Blaue Reiter, mixed with the Primitives. I painted a lot of nuns in ridiculous situations. I had a good career in Palm Beach, and it spread to California, Arizona, New Mexico. But I wasn't wild yet. I was on my way.'
Still, once again Ati had a career in what you could call the Alternative Art World, an art economy that gets no serious critical attention but can generate plenty of sales. Then she was diagnosed with breast cancer. 'Painting wasn't a good idea, with the toxic paints I was surrounding myself with,' she says. 'So I stopped.' That was in 2000. Again, her career had gone pffftt.
Ati remarried. She and her husband, John Sedgwick Cunningham, settled in Connecticut. It was 2009 and she hadn't painted in all those years. 'But I didn't stop in my mind,' she says. 'I was outside, playing with materials. I felt healthy. I felt whole.' She began painting again.
Ati no longer uses the toxic stuff, nor paintbrushes, and nor does she go to traditional art supply outlets. 'I go to the hardware store,' she says. 'I get trowels, I get rollers. I get all sorts of things that men use building. Why not? When you use unconventional tools, unconventional paintings come out. You drop the brushes and you can go into a different world. And that's what came out.'
What began to come out was wholly new, with Der Blaue Reiter and Rousseau largely replaced by vivid, distinctive images, sometimes set off by text. In due course she was turning out five canvases a month. Almost a decade went by. 'When I finally came out, I had this very solid style that I had been painting in for ten years now,' she says. Time
to make a move. How and where to sell them? 'I decided to do what so many artists do, which is try to sell my artwork without a gallery, because I didn't know anyone in the art business.' So three years ago she approached Saatchi Online and connected with Rebecca Wilson. (Full disclosure: Rebecca Wilson has been my editor in the past. A good experience. It proved so for Ati Sedgwick too.) 'She discovered me,' Ati says. 'She found me. Out of hundreds of thousands of people she found me. I don't know how. She started working with me, and then we started selling to Hollywood.'
Ati also maintains a solid selling presence on Instagram. 'We compete with galleries on Instagram,' she says. 'Right there I see galleries following me. I have almost 4,000 followers and many of them are galleries. But they don't approach me, they're just
in the background. It's funny. They congratulate me on a sale, or social diary pictures.'
How did the blossoming of her work come about? 'It worked by not mingling with other artists. Artists, when they share studios, they start copying each other; they become each other. I do not need to be with living artists that much because I feel I have been ripped off enough.'
How so? Well, there was one artist who was between studios while she was in Florida. 'We invited her, the children and I, and she stayed with me. I noticed there was a light on in my studio at two in the morning – I have a balcony where I can look down, and I saw her copying from my sketchbook. In a month or two, opening my newspaper one morning, I saw that this woman was having an opening with my paintings.
'Another time I saw one of my paintings on a major boulevard in Fort Lauderdale. It was copied from a newspaper article. And China is horrible. Not too long ago I found a website that advertised my original paintings for sale. They had stolen pictures from my website. That is the third one that I can think of right now.'
So the problem is keeping it pure? 'Yes, keeping it pure. I have been getting a little more fresh. I'm getting a little younger, I think. I feel that all the scribble and text that I do fits into what is called Street art nowadays. My Downtown boys, the artists from the 'hood, contact me on Instagram. They see my paintings and they want to visit my studio.'
Ati's favourite is Layer Cake, aka Sean Sullivan. 'He gets a lot of commissions from the city. He painted at the new World Trade Center, he's on television all the time, he weighs three or four hundred pounds… tattoos all over him… rings… oh, he's so sweet!' She quotes him: '"You paint good! How can you paint like this?"'
What about traditional media? Has she ever had a mainstream review? 'No. Never.' How would she react to an approach from a mainstream gallery? Wary interest seems to cover it. 'They expect you to do the same thing over and over and over again,' she says. 'That's what the galleries want me to do. And it's impossible. I don't like to be restricted. I like to be loose, to have the paint fly! Just go crazy.'
Anthony Haden-Guest is a contributing editor at Spear's