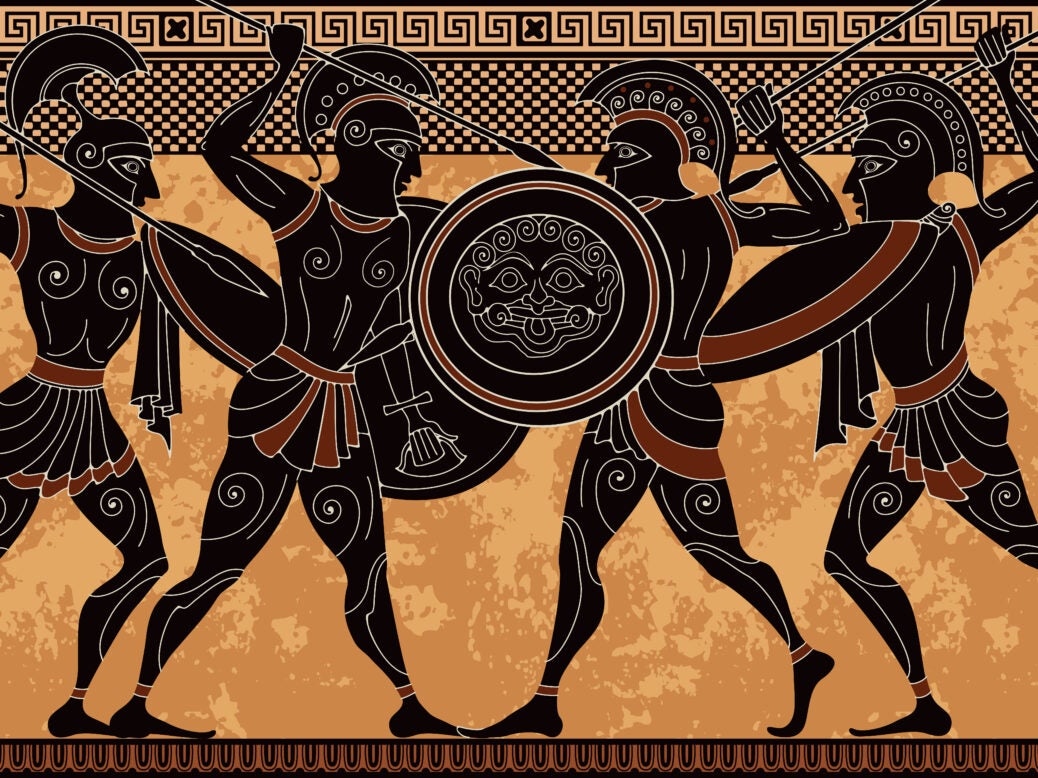 The Classics have a long history of far-right misappropriation. Resurgent interest in the subject across America could portend darker things. 
Fifteen, 20, maybe 25 years ago, classicists were considered an endangered species. Hackneyed arguments about the uselessness of studying dead languages played out against over-zealous assertions that Chinese, coding and the ambiguous 'business' would be the vernacular of the future.
Steadily, however, the pendulum has swung back towards the humanities, with the ways in which they complement other avenues of study being better appreciated. But classics has come up against a new threat, which may yet topple it from its pedestal.
The most visible manifestation of this threat came amid the riots on the US Capitol in January 2021. Footage of mobsters preparing to storm the building complex picked out heads wearing helmets of a kind usually seen in museum cabinets. Photographs shared widely online showed that these helmets were constructed to resemble ones worn in ancient Sparta.
Over the past five years or so, we have witnessed the appropriation of classical imagery by white supremacist and far-right groups. Identity Evropa, an extremist organisation operating mainly out of the US between 2016 and 2019, employed photographs of classical or classicising statues as backgrounds for tacitly racial slogans such as 'Let's Become Great Again' and 'Our Future Belongs to Us'.
Another group, Patriot Front, reminds its supporters of the Roman inspiration for the foundations of America – the Capitol, for one, preserves the memory of the ancient city and summons them to view democracy as dead. It may well be that those who wore ancient-style helmets to the Capitol last year merely wanted to evoke an example of martial strength.
The resurrection of classical – especially Spartan – material in such contexts nevertheless sends a shiver up the spines of many classicists on both sides of the Atlantic. For we have been here before.
In his Zweites Buch of 1928, published posthumously, Adolf Hitler praised the Spartans for abandoning weak and sick children to the elements as they built up their powerful military state. The following decade, prominent members of his party turned to Sparta for inspiration for everything from agricultural policy to eugenics.
Classical texts, including Plato's Republic, were mined for ideas that could be manipulated so as to appear to endorse Nazi policy. The philosopher's vision of a healthy state was exploited to make the case for euthanasia.
I have a new book out, Not Far from Brides-head, in one part of which I examine the abuse of the classical world in the interwar period against the correctives offered by some rather eccentric dons. One, an Irishman named ER Dodds who spent his student days in Oxford experimenting with seances and drugs and trying to encourage a shy TS Eliot to read him his poetry, made an interesting comment on the malleability of ancient writings. 'By making a suitable selection of texts', he said, 'you can prove Plato to be almost anything that you want him to be.'
Dodds's words continue to resonate. More and more, we're seeing texts and images and pieces of argument plucked from history and applied to fresh contexts, often to troubling effect. That the classical world is seen as such fertile terrain owes much, I would say, to the fragmentary nature of some of its sources, a misunderstanding of the societies in which they were written, and a belief that, when something is incredibly old, it is anyone's game.
Ignorance has bred an assumption that 'Greece' and 'Rome' represented the achievements of white men from the West alone. As today's classicists do their best to illuminate the diversity of the ancient world, they find themselves entangled in disputes over semantics, with some questioning whether 'classics' as a term is in itself problematic and best replaced
There are already now university courses in America encompassing the study of the classical world beneath the umbrella of 'Ancient Mediterranean studies' or similar. The intense and prolonged engagement of the Nazis with classical material did not kill the subject or make it less appealing to study in the long term. If anything, it re-awoke a passion for antiquity and an eagerness to wrest it back so that it could be studied responsibly, stripped away from the false layers hooked upon it. The subject has a future for as long as there are people willing to fight for it. Classics remains too hot to be dead.