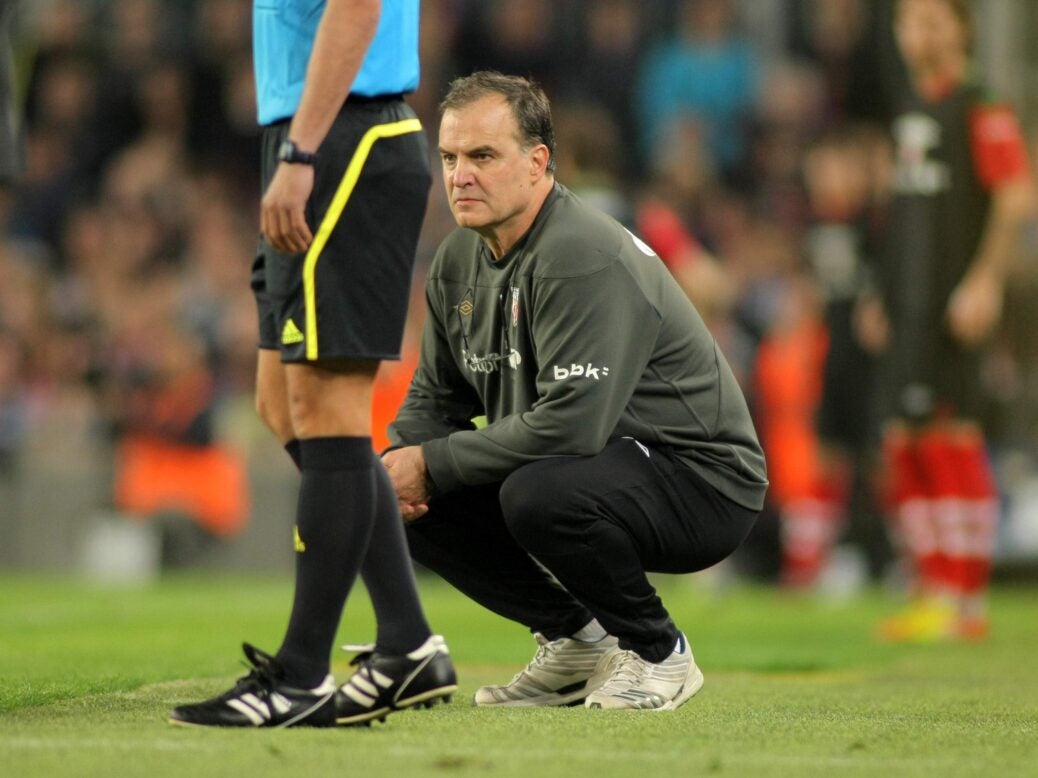 After years of failure, Leeds United finally found their saviour in Marcelo Bielsa, a sixtysomething maverick from Argentina
In the early summer of 2018, Leeds United's director of football Victor Orta had a crazy idea: the club should hire as head coach Marcelo Bielsa, the famed Argentine maverick. Leeds had just finished 13th in the Championship, the second tier of English football. Since being relegated from the Premier League in 2004 the club had been ravaged by crises: there had been five owners and 15 different managers.
The decline was deep. Managers arrived believing that they could rejuvenate one of English football's greatest clubs, only to leave disillusioned. Gulf autocrats and Russian and American plutocrats aspiring to buy a top English club looked at Leeds and then looked away. But now Leeds had a plan.
Majority shareholder Andrea Radrizzani, the Italian founder and chairman of broadcasting group Eleven Sports, understood that Leeds were more than a struggling sporting 'franchise' with a distinguished past. For their loyal, fervent supporters, fandom was a kind of act of secular worship: they suffered with and for Leeds and yearned for something better. Most of all, they yearned for a return to what they call 'the promised land'.
Leeds were the last First Division champions before the creation of the Premier League in 1992, and when I became interested in football as a very young boy in the Seventies they were still just about the dominant team.
Under Don Revie – who left in 1974 to become England manager – 'dirty Leeds' were feared and admired in equal measure for the brilliance of their play and for their cynicism. But they also had a history of near-misses: losing cup finals and narrowly missing out on league titles. In the late Nineties, the club tried to buy their way to the top table of the European game. It was a glorious gamble – they reached the semi-finals of the Champions League in 2001 – but it all collapsed in debt, hubris and overreach.
But why Bielsa – aka 'El Loco' – and why would he come to Leeds?
Revered as a tactician and motivator – Mauricio Pochettino and Pep Guardiola call him the master – Bielsa, who was born in Rosario in 1955, had enjoyed an erratic and itinerant career. He had coached the Argentina and Chile national teams with some success and had spells in France, Italy and Spain.
He never seemed to stay at one club for long. Intense and demanding, Bielsa is a singular football purist: he works in his own way and to his own rhythm. If he doesn't like what he sees or get his own way, he leaves.
It's said that he doesn't seek out opportunities, but rather opportunities seek him out. Bielsa coaches a high-energy, possession-based pressing game, with the full-backs often operating like wingers and players interchanging in intricate, fluid patterns.
His teams can overwhelm opponents with their sheer intensity. But they can also burn out. When Leeds made their approach to Bielsa, he took a while to reply. But there was something about the project that intrigued him. 'The way he changes you is more personal than professional,' Orta told Phil Hay of the Athletic website.
'His way is to try always to be better, and not just in football; to evaluate yourself and increase your standards. It's like daily learning and it becomes a pleasure because you're growing and you feel better. You detect your own improvement.' Leeds are not a rich club and do not have a notable transfer budget. They are adept, however, at using loans, and Bielsa believed he could improve most of the players he inherited through coaching and fitness programmes.
He is politically of the left and though he is remote from the players, he has a natural affnity for the administrative and support staff at the club. He lives in a modest flat close to the training ground and is seldom seen wearing anything other than his club tracksuit. He spends his free time studying performance data and videos of players.
During Bielsa's first season in Yorkshire, it was obvious that something remarkable was happening: the club and its players were transformed.
Bielsa, who watches games sitting on an upturned bucket or pacing restlessly, was soon revered as a sage and visionary as Leeds seemed set for promotion. That Bielsa professes not to speak much English – he conducts press conferences through a translator, who simplifies the complexity and richness of his Spanish sentences – enhanced the aura of mystery.
But, in the end, Leeds blew automatic promotion in 2019, losing three of their last four games to finish third, revealing all the old fragility, as if the psychological traumas of the past were too much even for those playing today. The 2019-20 season was different: Leeds won the Championship by ten points – after a mid-season wobble, of course – and now they are back in the Premier League.
We should savour their return and enjoy the presence of Marcelo Bielsa among the elite coaches. There is no one quite like him – and he might not stay for long.
Image: Credit Maxisport @shutterstock
Jason Cowley is editor in chief of the New Statesman
Read more
On the 'rare capacity' of sporting events to unite
'Football is now in serious trouble'