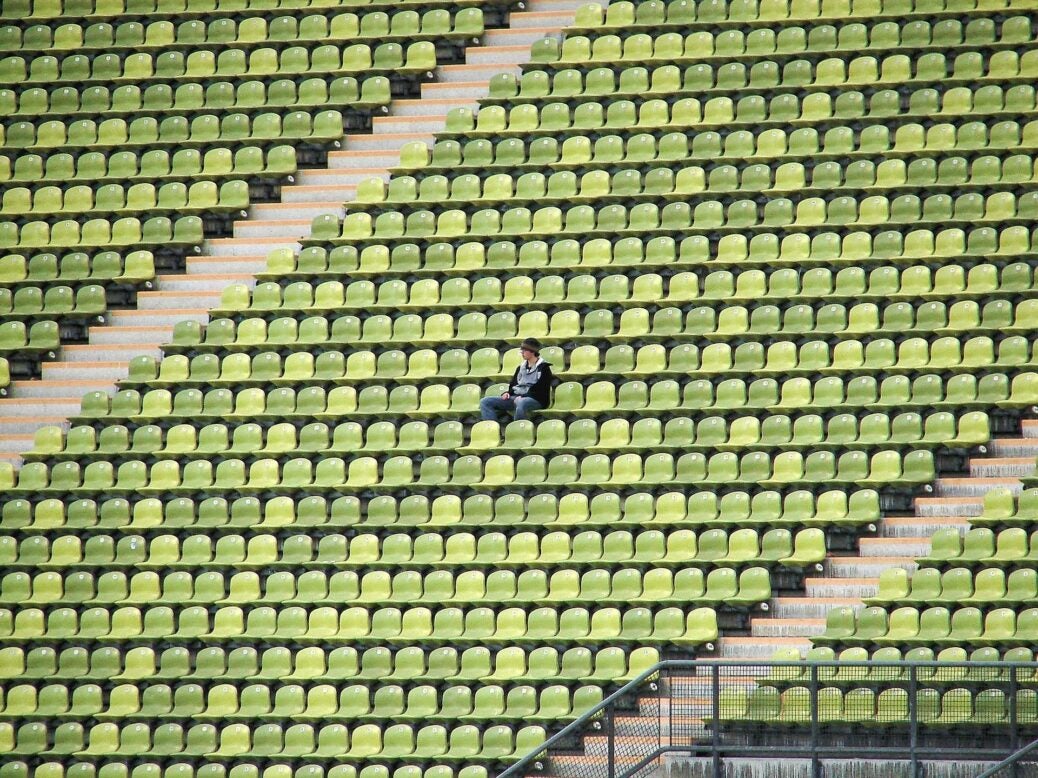 After a lost summer of sport, things will never be the same again – and in football's case they shouldn't be
A world without sport. How does it feel? What are we missing? How have the rhythms and routines of our lives been changed by the Big Shutdown, as we all try to make sense of the coronavirus pandemic and its economic and social consequences? This summer there should have been a European Football Championship – the semi-finals and final of which were to be played at Wembley – and the Tokyo Olympic Games to savour.
Now those of us who love sport and relish the sense of fellow feeling that the great occasions can foster are facing weeks of emptiness. We've watched as one by one the big spring and summer sporting events have been cancelled or postponed: the Masters, the Grand National, Wimbledon, the Epsom Derby, cricket's IPL, Formula One racing… In our quiet market town, life under lockdown means you can't even play a game of tennis with your son.
Indeed, I feel the loss of this sporting summer most keenly on behalf of my son, who is ten. He is less a spectator than a participant – and as an enthusiastic tennis player and cricketer, summer is his time. You could say, after Philip Larkin, that he is summer-born and summer-loving.
But now he spends his mornings playing FIFA 20 with his friends as they interact through their Xboxes. It's a strange, virtual half-life as they cheer goals scored on the screen and move avatars around the pitch and in and out of teams.
For me, sport is a glorious distraction and something I take far too seriously. I waste inordinate amounts of time reading about and watching Arsenal, time I shall never get back. Sometimes I wonder why I do it.
Even before the crisis, I was beginning to question what increasingly seemed like the futility of being a season ticket holder at Arsenal. The Emirates Stadium has none of the charm and intimate appeal of Highbury, which had its listed art deco stands and was deeply embedded in the community. It is a huge, soulless steel and concrete bowl, an icon of globalisation and a symbol of what football has become, defined by a rapacious corporate culture.
The match-day experience at the Emirates is charmless, even in my comfortable 'Club' level seats for which I have the privilege of paying the club as much as £5,000 a season. Ever since the Paris terror attacks of November 2015, when, among other coordinated atrocities, Islamist suicide bombers blew themselves up while trying to enter the Stade de France during an international match, security has hardened outside football grounds. So now before entering the Emirates you are body-searched as if passing through an airport checkpoint – an unpleasant experience. Inside the stadium, the terrible food is outrageously priced, as are the drinks, and everything feels like it's set up to rip you off.
Money, money, money. But football is now in serious trouble. The crisis (and the recession that will follow) has blown up the game's business model. The crazy edifice built upon the expectation of ever-increasing TV money is crumbling. Football at the highest level seemed to believe that the good times would never stop and the TV money would keep pouring in. But if history teaches us anything, it is that what is gained can also be lost. Progress is not inevitable.
History is not linear but discontinuous and contingent. Global shocks and black swan events happen and will continue to happen. In the early weeks of the crisis after the Premier League was suspended, top-flight footballers – many of whom earn hundreds of thousands of pounds a week – came under pressure to take pay cuts or deferrals, fiercely resisted by the Professional Footballers' Association.
The Premier League proposed that all players should take a 30 per cent cut – but the PFA cynically argued that the lost tax revenues would affect the NHS. It was an unedifying debate, played out in public, and at the time of writing it seemed as if clubs would be forced to act unilaterally on the matter rather than as a cartel. Some clubs took advantage of the government's emergency job retention scheme to furlough non-playing staff.
Liverpool, the world's seventh-richest club, reversed the decision after the Fenway Sports Group, the club's American owners, were stung by expressions of outrage from local politicians and fans' groups. 'We believe we came to the wrong decision… and are truly sorry for that,' the club said in a statement.
These are new times for our global game and no one knows what the consequences will be, especially if the world enters a deep recession, even depression. But this much is true: a business model founded upon the complacent expectation of ever-rising TV rights deals, as well as ripping off supporters, was destined to hit the buffers at some point.
Of course, things can only get better, as Tony Blair used to say as he championed the new era of liberal hyper-globalisation. Until they don't.
This piece first appeared in issue 74 of Spear's, available now. Click here to buy a copy and subscribe
Read more
Jason Cowley on the 'iron cage' of sports fandom
Jason Cowley on Liverpool, Arsenal and the end of the 80s
What Covid-19 is telling us about nation states