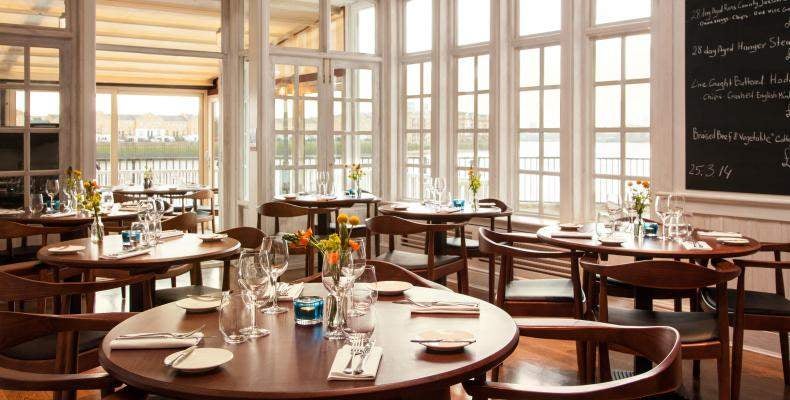 Urbanologie founder and city sophisticate Hugo Campbell-Davys walks the banks of the Thames to find us the very best lunch spots.
Summer in London brings to mind sticky tube journeys, beer gardens and…riverside dining? The Thames may not be the Riviera, but there's nothing like a river view to take a meal to the next level (particularly if the chef is spot on).
Work in an office in Canary Wharf and fancy a top-notch lunch on the river? Then Gordon Ramsey's upstream venture, The Narrow, could be a good choice for your next long-lunch. Five minutes from the Wharf sits the tempestuous chef's first gastro pub – a Grade II listed riverside restaurant, bar and terrace. The Narrow offers panoramic water views and a decent menu anchored in British ingredients, but with a splash of Mediterranean gusto. The new owners have kept the establishment's sense of history alive and this much-loved riverside local, a former dockmaster's house (which is indeed narrow), has a stunning conservatory and floor-to-ceiling windows which make the most of the scenery even on a rainy day.
Downstream lies Le Pont de la Tour – the capital's most opulent riverside destination – well known for its iconic views of the City and Tower Bridge. The restaurant combines traditional yet innovative French cuisine with thoughtful (and rather glamorous) design that evokes the Parisian chic of the 1930s and is reminiscent of an art-deco ocean liner. This extravagant interior work is housed in a former warehouse building right by the Thames. The revamped terrace is now split into two distinct areas: a lounge bar and an outdoor dining space. The menu boasts 'high French luxury' with fresh and seasonal British produce – an entente cordiale.
Alternatively visit Skylon, a modern European restaurant in London's Southbank Centre, where floor-to-ceiling windows frame river views.
As the name would suggest, the justly famous River Café, is also a riverside gem. This institution began life in 1987 as the staff canteen for the Richard Rogers Partnership, with Rogers' wife Ruth and her friend Rose Gray in charge of the cooking. By 1996, it had evolved into what the New Yorker called 'the best Italian restaurant in Europe'. This Michelin-starred establishment extraordinaire, which famously kick-started the careers of Hugh Fearnley-Whittingstall, Jamie Oliver and Theo Randall, is located on the north bank of the Thames in Hammersmith, in the former Duckhams oil storage facility. The focus is on rustic and uncomplicated Italian dishes using sublime ingredients. There is a pretty garden area with views of the river which features a variety of Italian salad leaves, vegetables and herbs, which make their way onto the daily-changing menus. It's a real slice of la dolce vita. Rumours of a more central (landlocked) outpost are still in fruition even after initial plans to open in Mayfair were scrapped following a revolt by residents.
After years of promising never to open a restaurant in London (the Cornish chef has built up an impressive culinary empire centred on the bourgeois fishing village of Padstow), celebrity chef Rick Stein has caved in and opened a residence in Barnes. Stein couldn't resist buying the riverside site upon which his new venture, Tideaway Yard, is built.
Formerly known as The Depot, the building underwent an award-winning conversion and features a renovated Victorian cobbled courtyard, south-facing entrance patio and, of course, magnificent views of the Thames. Order some of Rick Stein's most iconic dishes such as the Dover Sole a la Meunière and salt and pepper prawns as well as a few inspired new offerings.
Our final recommendation is an outpost of the Argentinian grill chain Gaucho, scenically located on the banks of the Thames in Richmond along the towpath in a low-slung, boathouse-inspired building. Inside, the glass-paneled walls offer panoramic sights of Richmond Bridge and Petersham Meadows, so you can enjoy glorious views at any time of year. And in the summer months the waterside terrace hosts an alfresco kitchen, serving up seafood barbecues alongside their authentic Argentine steaks.
Finally – and also in Richmond – is the boutique Bingham Hotel. This riverside retreat has a light, pleasant and airy dining room with French doors that open onto a breezy balcony.
And there you have it – riverside dining from East to West.
Discover Urbanologie – described by the Financial Times as "the must have VIP lifestyle app". Urbanologie has daily-updated, insider guides to London, New York, Miami, Los Angeles, Dubai, Ibiza and Mallorca, with more to follow. Discover the world according to U. We have partnered with Urbanologie to offer you FREE founder membership (saving £100 per annum) – just enter the invitation code spears at www.urbanologie.com