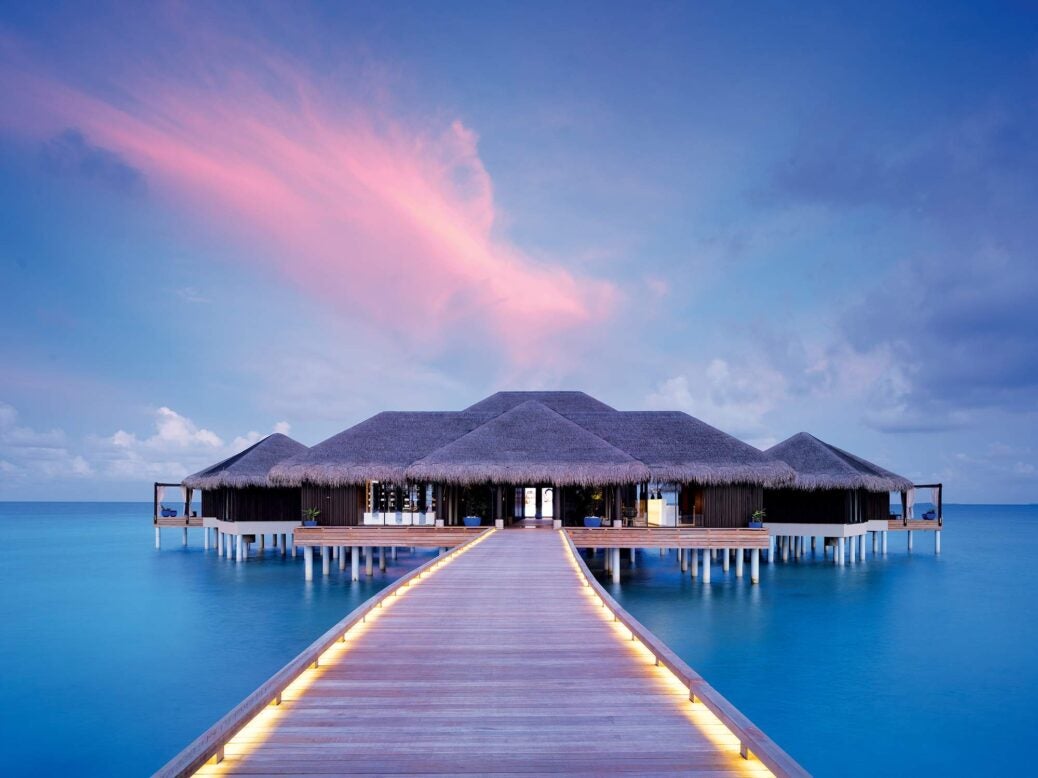 Tranquil or buzzy? Elizabeth Hurley samples two of the most indelible experiences the Maldives has to offer
It wasn't a bad call to get from my old friend William Cash, editor-in-chief of this illustrious magazine. Would I go to the Maldives and compare two of the most luxurious resorts known to man and report back? Hmmm. It was a miserable day in Herefordshire, my in-tray was boring me senseless and a two-week half-term was looming. It was a gift from the gods.
Within days, I had shed my layers of fleece, thrown umpteen bikinis into a suitcase and put wrestling with the central heating thermostat on hold. My son and I set off with notebooks, cameras and a feeling of general irresponsibility.
Once you've been to the Maldives, it's hard to want to go anywhere else. I first visited twelve years ago and thought the resorts were staggeringly gorgeous: white sands, turquoise waters, excellent food, and fabulous service. Every time I went back, the levels of luxury seemed to have risen, so it was with some sense of anticipation that we stepped off our seaplane onto the renowned Velaa Private Island.
The first thing that hit us was the feeling of tranquillity and privacy — the two things I crave most in life. We hardly saw a soul during our stay. The owner of this jewel of a resort had previously vacationed extensively in the Maldives but finally decided to create a perfect paradise that ticked all his boxes.
The landscaping was immaculate and our two-bedroom colonial-style beach villa a delight: private pool, shady gazebos, mounds of tropical fruit, a full bar, Bang & Olufsen sound systems, and divine glass atriums off our bathrooms leading to outside baths and showers.
With only 47 villas and some 400 employees, the level of service was second to none. The majority of the staff are local and have excellent English, due to the owner having craftily installed a language school on the island. I would have happily stolen our private butler, Shaheed, and taken him home with us.
Tempting as it was never to leave the villa, there was a wealth of things to do on Velaa. Phenomenal water sports, a superb library, a nine-hole golf course designed by Ryder Cup winner José María Olazábal, scuba diving galore or, if you don't dive, the lazy man's option, a mini submarine on which you can eyeball everything without actually diving. The spa has two things I've never seen before: a snow room, where you cool off after a sauna, surrounded by blocks of ice and snowdrifts; and a Cloud9 machine, with which you have the best snooze of your life. Velaa also boasts the tallest building in the Maldives, the extraordinary Tavaru tower, where you can watch the sunset and feast on Asian delicacies. Maldivian law says that no building outside the capital, Malé, can be taller than the palm trees, so the owner imported especially tall trees. Yep, it's that sort of island.
We were sad to leave, but curious to get to Cheval Blanc, a mere 40-minute boat ride away. Owned by LVMH, and only in its third year of operating, this is the jet-setter's destination in the Maldives and came highly recommended by my former husband, a repeat visitor and a connoisseur of swanky holidays.
The resort is actually spread over six islands, most of which are linked by wooden walkways. Once again, we were bowled over by the luxury oozing from every pore, and we literally gasped when we were shown to our Water Villa, perched on stilts amid the gleaming aquamarine waters. It was a villa that dreams are made of: infinity pool, ravishing decor, every amenity, and with breathtaking views of the ocean. You felt very connected to the water here, and within seconds of arriving, we had snorkelled up and plunged in.
Everything is beautiful at Cheval Blanc, including the guests. Attention to detail is outstanding. Renato, the wonderful general manager, is at the heart of the resort and personally connects with every visitor, ensuring you get everything your heart desires. The food is superb and the pastry chef made his first-ever lactose-free crème caramel for me. My greedy son liked his eggs Benedict so much that he had a double order every morning.
The exquisite spa nestles on its own private island, as does the four-bedroom, mind-bogglingly sumptuous Owners Villa. The choice of water sports and marine activities is almost overwhelming. Leaving was a wrench.
We loved these resorts and felt incredibly privileged to have experienced them. Both are at the top of their game, but they definitely have different vibes; having spent a lot of time in the Caribbean, I would say that Velaa is to Cheval Blanc what Mustique is to St Barths: tranquil versus buzzy. Which resort did I like more? Reader, how does one choose between a Ferrari and a Porsche? I recommend doing what we did and taking both for a test drive.
www.velaaprivateisland.com 
www.randheli.chevalblanc.com.en