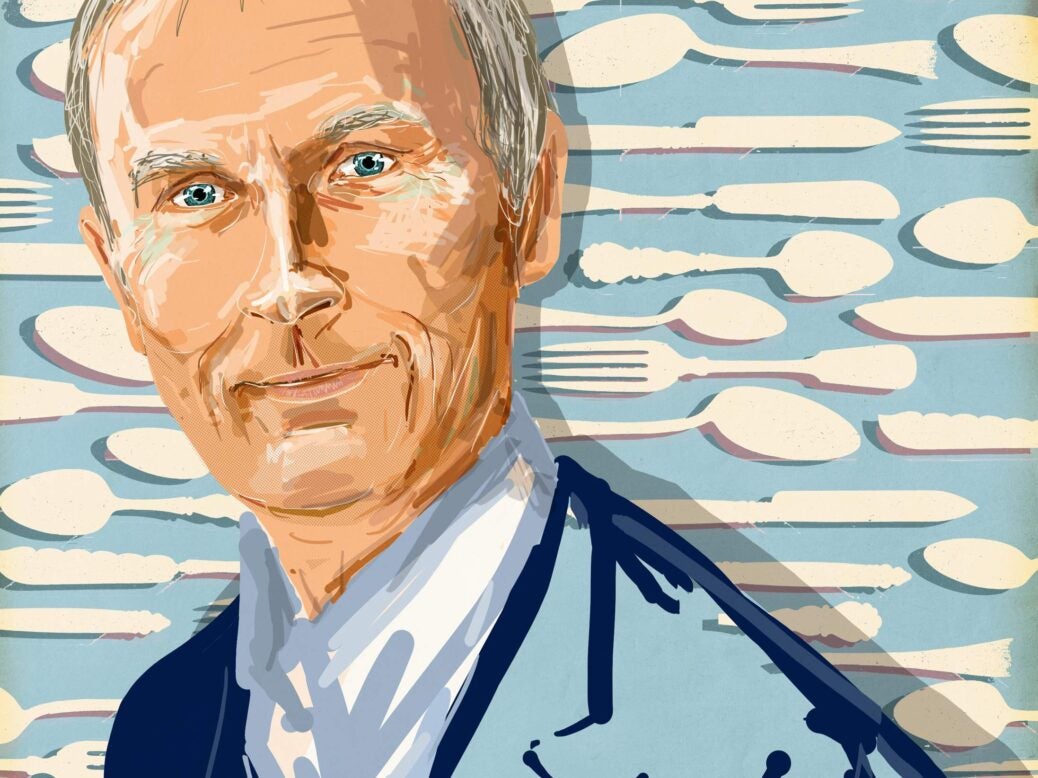 Deirdre Brennan speaks to entrepreneur Luke Johnson who is full of enthusiasm about the UK's self-starting culture, but when it comes to 'monsters' like Google he doesn't hold back…
Ten years ago, British businessman and author Luke Johnson wrote an article for the second issue of Spear's called 'Recipe for Success' — outlining the vicissitudes of being a restaurant owner and dissecting the gritty human and commercial ingredients needed to make it as a restaurant entrepreneur. So on the occasion of our tenth anniversary, we thought there was no one better than Johnson to discuss the climate for entrepreneurship in Britain today — not just in the restaurant trade but across all UK sectors, including media and small businesses.
Despite owning a significant share of Patisserie Valerie and Gail's Artisan Bakery, Johnson took us up on our invitation to breakfast at 5 Hertford Street in Mayfair. When we bumped into club owner Robin Birley in the lobby, Birley said that Johnson was one of his favourite columnists: a pugilistic defender of British business interests who refuses to subscribe to the big-business, pro-EU, globalisation-at-all-cost mantra of large conglomerates whose lobbying power so often throttles the interests of British entrepreneurs.
As Johnson dug into his fruit salad, he made an articulate case for why Britain was better off going it alone. He also revealed his contempt for 'monstrous' companies such as Google, and his verdict on The Economist wasn't terribly flattering either.
Johnson, 54, got his first taste of entrepreneurial success when he and his partners invested in Pizza Express, growing it from twelve restaurants in 1993 to more than 150 when he sold it in 1999. He went on to buy a series of more upscale metropolitan restaurants, including the Ivy and J Sheekey. While he thinks being an entrepreneur is still tough, he says it's more common today than it was when he began.
'In the early Eighties, when I left university and started in business, entrepreneurship was quite rare. Now it's much more widespread,' says Johnson, chairman of private equity firm Risk Capital Partners. 'If you want an example, just look at how many graduates leave good universities and are keen on running their own businesses almost as a first step, rather than having a more predictable career as a lawyer or a banker.'
While the current government has been friendly towards small businesses, Johnson believes the increase in entrepreneurs has been more 'culturally' than policy-driven. 'I think in so many ways it's not necessarily the regulations and taxations and so forth that matters. It's how society views these sorts of careers and occupations. I think there is more enthusiasm for entrepreneurship.'
More than 4.6 million people in Britain were self-employed in 2014, according to the Office for National Statistics — 15 per cent of the country's workforce, up from 13 per cent in 2008. Johnson can certainly take some of the credit for this public conversion. He has written two acclaimed business books, including Start It Up, which details his successes and failures and is regarded as a bible on business school campuses. Outside the private equity world he is best known for his brilliant weekly Sunday Times column.
So just how are entrepreneurs made? While Johnson thinks business schools can teach skills, such as accounting, he says the verdict is out as to whether one can be taught to be an entrepreneur.
'A single factor that I think is as important as any other in terms of determining whether or not someone will be working for themselves is whether they have a parent that works for themselves, or a very close relative or family friend, to set an example. With more people working for themselves, I think the next generations will be more likely to work for themselves, particularly for example women.' Technology has also lowered the entry barrier: 'Thanks to the internet, it's easier to reach out to the world.'
Finding funding for start-ups is still difficult, but there are far more avenues to pursue capital than there were when he began his career.
'Venture investors barely existed 20-30 years ago. Now they're quite common. You have crowdfunding, which is a high-risk but exciting and quite impactful new phenomenon; you have venture capital trusts, which didn't exist then. I'm not sure banks have ever lent to start-ups. This is a myth.'
With a personal fortune of over £120 million, Johnson hardly needs to worry about funding today. However, he says, the currency one needs to succeed is not money in the bank, but an 'animal spirit' of the mind and body. Above all, this means taking risks. 'Too many businesses are still cautious. Many businesses are uncertain about the impact of the technology and globalisation. You can't blame managers and chief executives for being wary of making a ten-year bet when the market they're serving may have changed… It's a very dynamic time, but it's also a quite scary time.'
Johnson has a role model very close to home. 'In terms of my career, my father's influence has been profound,' he says. 'He's very ambitious, I think that influenced me; he places a great deal of emphasis on hard work, I think that influenced me; he is contrarian, and I think that influenced me.'
Paul Johnson is a prolific author, journalist and historian who began writing for the New Statesman in the 1950s, later becoming its editor. Early in his career he was known for his liberal, socialist views, and his wife Marigold (Luke's mother) stood for Labour in the 1974 election. But Paul's views changed in the late 1970s, when Britain's economy was flailing. He began to advocate smaller government and lower taxes, arguing that the trade unions were destroying the country. He wrote speeches for Margaret Thatcher, eventually becoming a close confidant and adviser to the prime minister.
'He was a Thatcherist. He was a great fan,' says Johnson Jnr. 'I've got a wonderful Nicholas Garland cartoon that was drawn of him, where Mrs Thatcher is climbing the stairs like Marlene Dietrich and is talking to my dad. She says, "Come up and see me some time."'
But while Johnson may have got his strong work ethic and love for words from his father, his knack for business was not necessarily passed down through his father's genes. 'He is interested in business and free enterprise in a theoretical sense, but I don't think he's ever seen himself as a businessman; he's seen himself as a writer.'
Like his father, Johnson is a fan of small government, low taxes and self-determination. It is therefore no surprise that he supports Britain leaving the EU. And while he believes many in the establishment share his view, he says they are unwilling, for political reasons, to break ranks with David Cameron.
'I think quite a lot of those who claim to be in favour of the EU are toeing the party line. They're interested principally in their own careers and not really in the very dramatic and vital issues of the future of our nation and our freedom as a society… I think there is a lot of small-time politics at play.'
He also rubbishes the pro-EU argument that trade and therefore the economy would be hurt if citizens voted for Brexit. 'A vast majority — 85 per cent — of all the jobs created in recent times have been created by smaller companies, 90 per cent of whom do no trade with the EU at all,' says Johnson. 'If you look every week at the newspapers, it's large businesses making hundreds or thousands of redundancies. They are the ones who are actually outsourcing and automating, and not creating the jobs.'
But whichever way the referendum goes, the ever-optimistic Johnson isn't losing sleep: 'We're a civilised nation and I think whatever happens over the referendum we'll all cooperate and be friends afterwards.'
While the majority of Johnson's business interests involve the hospitality industry, as a columnist and a former chairman of Channel 4 he takes a keen interest in media. While he admits margins are dropping, he remains optimistic about the industry as a whole.
'It's gone from being an industry with fabulous franchises, enormous margins, huge cash flow, and terrific return of capital to being a much tougher, much more uncertain industry. Broadcasters have succeeded much better than many would have believed. When I was chair of Channel 4, I thought the model was fundamentally broken, but it doesn't appear to be.'
While he loves the breadth of media available, he does take umbrage with those that he says produce nothing but take all the advertising dollars.
'Google has a monopoly and is ruthless. And it doesn't give a damn about privacy; it doesn't give a damn about creative industry; it doesn't give a damn about tax; and I think it's a monster. I think it's bad for capitalism actually because monopolies always are — it doesn't offer choice. It creates anti-business feeling among a lot of people here because it's seen as a taker, not an investor or a contributor. It doesn't employ a lot of people relatively speaking, compared to its true profitability. It's trivial. It's strip-mining the UK economy for very little return.'
Another target of Johnson's ire is the Economist. Last year Pearson sold its 50 per cent non-controlling stake in the magazine, the majority of which was bought by an existing shareholder, the Agnelli family. Johnson says this has had negative consequences: 'I do think the shifting ownership has impacted the editorial team. I'm very disappointed because a lot of their leaders are pure opinion and no fact… I think that if you get Bloomberg or Reuters, frankly, they're more reliable. And you know, as a Brit, to see a British institution like the Economist debase itself is very sad.'
As Johnson reflects on his career and what makes him tick, he sums it up as any eloquent writer would — with three words. 'I look back at the winners and losers I've had and tried to analyse what I enjoyed most and what's endured, and I think it is work on projects. Three words: productive, meaningful and engaging. They're all slightly different words. "Productive": the output of it is something that you can be proud of. "Meaningful" is something that you care about, that matters as far as you're concerned, and you can morally sleep at night. And "engaging" means fully immersed, so that it's something that intellectually or otherwise is absorbing.
'To enjoy these three things you don't by any means have to be an entrepreneur, but for me, I think the drama and the satisfaction of seeing something work and grow, seeing talent flourish, and seeing ideas come to life is as important as any financial reward.'