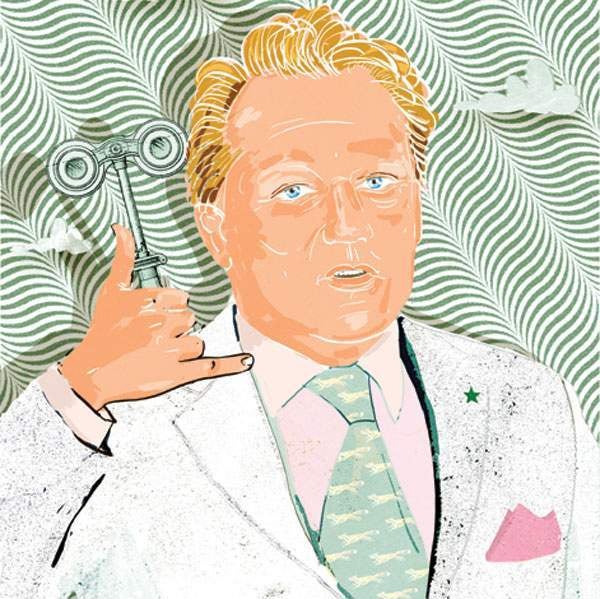 From conducting big business to creating opera companies and setting up academies, David Ross has as diverse a range of interests as any entrepreneur, Deirdre Brennan says
British entrepreneur David Ross is a staunch supporter of the Tory government, which is why it is so surprising to find out that one of his biggest influences is a former Labour peer.
Ross, who made his fortune running the Carphone Warehouse empire with his school chum Sir Charles Dunstone, recently sat down with Spear's to discuss his philanthropic endeavours, what motivates him and why we should all follow our passions. These days the 50-year-old Ross spends much of his time and money running academy schools around the East Midlands. When asked why, given all the good causes in the world, he has chosen to focus on education, he credits his good friend Lord Adonis for steering him in that direction. 'He was undoubtedly a major influence on me seeing education as a way of giving something back,' says Ross.
In 2005 Lord Adonis, who then served as minister of state for education in Tony Blair's government, asked Ross if he would visit a school in Grimsby, where Ross was born and raised. 'He had this idea that I may have some suggestions for making it better,' says Ross, who at that point was known mostly for his business acumen rather than any experience in education. He was also known as a man who could get things off the ground — something Lord Adonis was clearly counting on.
After visiting the school Ross didn't just make suggestions, he went a step further. He started an eponymous educational foundation and took over the school, turning it into an academy. 'The David Ross Educational Trust made some significant improvements to it and it has become a great school as a result,' he says. And while Ross credits Lord Adonis for inspiring him to tackle education, it's clear that his face-to-face meetings with the children at his academies — which now number 33 — are his real motivation. 'When you speak with the kids and they talk to you about how their school was and how their school is and why they are happier now, you see the smiles on their faces,' says the father of one in an impassioned tone.
Ross spends roughly three days a month visiting his schools, and he admits he wouldn't mind doing it full-time but has other obligations.
Another one of his philanthropic pursuits is the opera — and not just any opera, but his very own. One may surmise that someone who founds an opera company has had a lifelong love affair with the art form, but the Nevill Holt Opera, which is named after Ross's beloved home in Leicestershire, came about in a very unusual way.
'I ended up living in an old house that had been a school. There were a lot of old boys and old girls who corresponded with me and told me they were worried that they would never be able to come back to visit,' explains Ross. He wanted to balance that desire for some sort of public access with the fact that Nevill Holt Hall was now a private house. Ross figured the best way to do this was to organise a festival, with the obvious options being literary, culinary or musical. 'There wasn't an opera festival in the Midlands, so I thought it would be a nice way of creating a smart ambience for people to come back and visit their old school.'
While the opera festival has been going on in the garden of his Grade I-listed house for fifteen years, the past three seasons have seen it grow under the umbrella of the Nevill Holt Opera, which aims to serve as a springboard for young, aspiring musicians into the arts world. This year, the festival runs from 16 June to 3 July and will see singers perform Verdi's Rigoletto and Donizetti's The Elixir of Love.
Nevill Holt Hall wasn't just the inspiration for Ross's opera. When he first bought the house it proved to be a different kind of artistic muse. 'I decided to buy art because I had to fill the wall space,' he says. In order to narrow the pool of possible acquisitions, he focused on purchasing paintings by young British artists, or at least ones that were painted in his lifetime. 'I thought that one of the joys of buying paintings was to get to know the artists and spend some time with them.'
When asked to name his favourite artist, Ross was clearly reluctant to produce an answer, but after some cajoling he admitted that Bridget Riley — known as a pioneer in the optical art movement — features strongly in his collection.
Another of his favourite artists is portrait painter Jonathan Yeo. In 2000 'Johnny', as Ross calls him, found himself without a studio, so Ross offered him one he had in Chelsea. 'I've had a quite close relationship with him over the last fifteen years. He is currently painting my portrait,' says Ross. It was through his relationship with Yeo that Ross was introduced to the National Portrait Gallery, where he now serves as a trustee. Ross has also loaned out large parts of his private collection to various museums and educational institutions, including his alma mater, the University of Nottingham.
One need only to speak with Ross for a mere five minutes before understanding that all roads in his universe lead back to his beloved East Midlands: 'The focus of what we do in my foundation and education trust is about supporting things outside of London, supporting things in the East Midlands. It's where I was born, it's where I grew up and it's where my family comes from.'
In Ross's grand plan — though he doesn't call it that — his work running academies and his support of arts and culture in the East Midlands form their own ecosystem. Case in point is his patronage of Lincoln Cathedral and its new vault for one of this country's most prized historical documents.
'Lincoln Cathedral had a copy of the Magna Carta, but it didn't have an appropriate place to display it,' says Ross, who supported a project to build a home for the document. 'We can send children from the academies to see it, so it ticks the education box. The locals are involved, so it ticks the community box. It's also a great thing for tourism, which ticks the economic box.'
Ross — arguably one of Britain's poster children for entrepreneurial success in the past 30 years — likes to be discreet about his business dealings, which he describes as 'diversified'. He is involved in both direct and indirect investments in various companies, but don't expect to see him focusing his energies on one specific endeavour such as Carphone Warehouse.
'The twenty hours a day working in a basement on Marylebone Road when you are 25 or 26 isn't necessarily where you have that hunger and appetite twenty years later,' he says. 'I think it's good to have a slightly more balanced approach, supporting cultural and philanthropic interests as well as work interests.'
While Ross likes to stay busy and is open to perusing new projects, for now he is as keenly focused as ever on making his academy schools 'outstanding'.
'Running these schools is a way to make a serious contribution to the communities that matter a lot to me, and I'm quite happy to do that for the moment,' says Ross. 'If you are not really passionate about what you are trying to make a contribution to, it doesn't really work.'