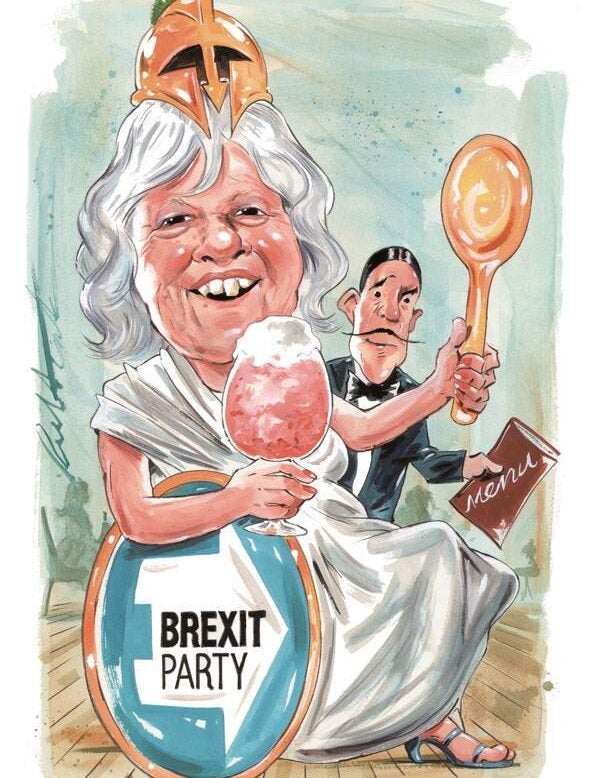 The Brexit Party MEP explains why she came out of retirement and what she expects of Boris Johnson, writes Alec Marsh
'Total wimp,' announces Ann Widdecombe, passing judgement on Rory Stewart. She's barely sat down at the Exeter restaurant where we are to have lunch and it's begun.
The Brexit Party MEP for the South West of England settles at the table and as we tackle the task of what to eat and whether to have a drink, I ask how long she's known her new party leader, Nigel Farage: 'Oh, um, since April,' she declares. 'Since I signed up.'
Didn't she know him socially, before? 'No, no, absolutely not. First time to the best of my knowledge I ever spoke to him, I was standing by a fjord in Norway. I always say I was standing by a fjord but crossed the Rubicon – and I rang him up and said, "I want to come on board." We agreed to meet the following week and that – to the best of my recollection – is the first time I ever spoke to him.'
The waiter asks if we'll have a drink. 'I will have just a small glass of white,' Widdecombe decides. 'Thank you. Are you having one?' I am, I say. 'At your age, I could split a bottle with somebody at lunchtime, but I can't now.' She opts for a Muscadet.
I ask about her return to politics, following her retirement in 2010 after 23 years as a Conservative MP. 'I thought I had left,' says Widdecombe, 71. 'I thought I had gone. I really thought I had gone. It was duty. And duty didn't call. Duty screamed and screeched and howled and I felt I can either sit in an armchair and moan about this ludicrous situation we have got ourselves into or I can try and do something about it.'
The wine arrives. We cheers. Widdecombe raises her glass imperiously, like Britannia lifting her trident.
Does she recognise that she's become more radical on Europe? 'Oh yes, oh yes,' she purrs, and I think of the Churchill dog. 'The turning point for me came when I was minister in government and I actually saw at first hand that we were completely subservient to EU law.' That was from 1990 to 1997. 'I didn't notice it so much in the Home Office but by gum, in Social Security and in Employment, it was nonstop intervention. I seemed to spend all my time going to various conferences in Europe trying to persuade my counterparts not to do things that they wanted to do.'
The crunch came with the EU referendum. When Leave won, she assumed there would be a deal. 'And then over the last three years as Britain has been turned into an international laughing stock I've steadily progressed until I arrived at the point some months ago – for heaven's sake let's just go. Do the deals afterwards. Let's just go. Get out. Don't pay the EU all this money till we've got the deal.' Her hand chops the table.
Is she ready to order? 'I'm ready,' she says, and plumps for the buffalo mozzarella, followed by salmon fish cake. And now the plan is to lose your job as an MEP as soon as possible?
'I've never looked forward to a P45 so enthusiastically in my life,' she says brightly. 'Never.'
Does she think Brexit will happen on 31 October? 'I would like to think so,' she says. 'What none of us in the Brexit Party want is rehashed May deal minus the backstop. What we're saying is give us a clean break so we can work out the future relationship. Nobody's saying, "Europe go to hell." We want to be close, but not subservient. Not ruled by them.'
Is she worried by the rise of populism? 'No. Populism is saying what you think people want to hear. That is not the same as being a popular politician by what you are saying. I mean, I would say what I'm saying on Europe now even if all the world disagreed with me,' and you don't doubt her. 'What Nigel is selling is what people want to buy. But he has not said, "What do you want to buy? Now I'll sell it to you."'
I mention Donald Trump and she says that he 'spoke to what people wanted done'. 'There is a move to the right going on,' she asserts, 'there's no doubt about that, but it's a movement of frustration, because people feel betrayed by politicians.'
Is she optimistic about Brexit day itself? The starters arrive. 'That looks wonderful,' she says. 'Thank you.' She gathers her cutlery. 'I'm calm rather than optimistic. Optimistic suggests that you are expecting jollity. I think that the calmer we stay – if we remember Churchill's maxim, KBO – then it' ll be fine. Bon appétit.'
Widdecombe's guess is that if Boris Johnson gets Brexit done in October then an election may follow in the summer of 2020. If not, there'll be an election sooner. She'll be standing for parliament – but declines to reveal the constituency. Would the Brexit Party do a pact with Tories?
'I don't want to see a formal pact because we do very well in the Labour heartlands and I don't want to become an arm of the Tory party. But it may be that in marginals where there's a real danger of a Remainer coming through, some sort of agreement is possible. I do not know. You need to be Mystic Meg to work out what happens.' Something in her emphasis and the way her eyes are closed as she talks, makes me think it's not just Mystic Meg who might know.
The main course arrives. Asked recently if Farage would make a good US ambassador, Widdecombe replied that he would be too busy being prime minister. What position would she occupy in his cabinet?
There's a glimmer of a smile that makes me laugh. 'I haven't thought of such things. Truly,' she trills, chewing. 'You are not the first person to ask me that and I say for heaven's sake, we haven't left yet, never mind had an election and won it,' she chuckles.
Is it really conceivable that the Brexit Party can break through? 'It's been done in other countries – Macron,' she declares. 'If Boris fails and can't deliver there'll be a huge boomerang to the Brexit Party. I'm not saying that we'll form the next government, but I think we could have a very serious number of MPs.'
Our plates are taken away and we receive the pudding menus. 'You know what I could demolish,' she says after a glance. 'I could demolish an Eton mess.'
Speaking of which, what about a coalition between the Tories and Brexit Party, I ask? 'We don't know what's going to happen,' she states. 'If there were a general election, and we were – say – to hold the balance of power, then, um, then – we're not going to sit on our hands and ignore that. But our price would be a proper Brexit.'
What is her sense of Britain today? 'We are much less resilient. Much less independent and self-reliant. We no longer believe in what was an article of faith for us, which was free speech. FREE speech,' she repeats. 'I mean, that rubbish I've had recently about slavery. [Her maiden speech in Brussels drew criticism over her comparison of EU membership with the oppression of slaves.] 'People seem no longer capable of following an argument. I actually said, rather rudely I admit, to one correspondent, "Look, if you'd been doing a comprehension test and you were asked if Ann Widdecombe said this, and you gave your interpretation, you would fail because I didn't actually say that."'
The Eton mess is demolished, and just as Widdecombe is about to leave our conversation returns to Johnson, whom she notes is less gregarious in private than on stage.
'I found that trying to make small talk with him during the Vote Leave campaign was quite difficult,' she recalls. But, maybe, across the cabinet table in a few months' time? 'Oh yup,' she replies. 'Well I' ll believe that…'
This article first appeared in issue 69 of Spear's magazine, available on newsstands now. Click here to buy and subscribe. 
Read more