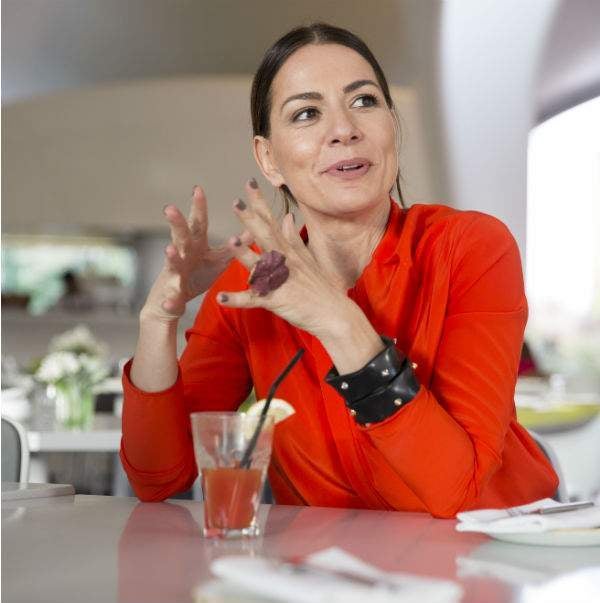 Hannah Solel lunches with Yana Peel, CEO of the Serpentine Galleries
'I always order the tuna tataki,' says Yana Peel, CEO of the Serpentine Galleries, when the menus arrive at the Magazine restaurant. In the heart of Hyde Park, the restaurant's huge sloped ceiling, curved glass walls and white interior were designed by the late Zaha Hadid, a friend of Peel. The high ceiling amplifies the chatter of visitors and the whir of the coffee machine, next to which we're sitting.
Sipping fresh tomato juice, Peel tells me her relationship with the Serpentine predates the moment she became CEO in July 2016. She joined the Serpentine's Council – an elite group of supporters – in the early 2000s. 'I had this amazing privilege of spending time with the artists,' she says. In 2015 Michael Bloomberg then invited her to join the board of trustees, which he continues to chair.
Born in St Petersburg, Peel grew up in Toronto and studied economics at LSE. After working at Goldman Sachs, in 2003 she co-founded the Outset Contemporary Art Fund, which pools private funding for museums and galleries to buy new works. She was also CEO of Intelligence Squared, an international debate forum.
Now Peel is shaping the Serpentine's next phase. She and artistic director Hans-Ulrich Obrist have overseen eight exhibitions and drawn more than 1.2 million visitors. Architect Francis Kéré was chosen to design the 2017 Serpentine Pavilion and his striking indigo-painted wood and steel pavilion garnered 200,000 visitors last summer. 'It really affirmed our evolved and expanded mission of a very socially conscious Serpentine,' says Peel. The annual pavilion project, which gives an international contemporary architect (or team) their first opportunity to build in England, is in its 18th year. 'For us, architecture is really about form and function and creating a bridge to a visitor that might not otherwise come,' Peel explains.
Her tuna arrives with sugar snap peas and a second tomato juice. My grilled salmon is served with crisp green beans, chopped hazelnuts and sea salt. What are her thoughts on London continuing to be a destination for art and culture? 'It's what we all have to fight for,' she replies. 'The current climate has made it ever the more vital for us to champion London as a centre of creativity and excellence in technology, in artistic practice.'
Peel adds that the Serpentine is focused on giving artists 'a voice in the biggest global conversations'. A case in point was Grayson Perry's show last summer, which centred around two ceramic pots, painted with colourful Brexit motifs reflecting 'Remainers' and 'Leavers'. 'He promised it would be the most popular art exhibition in the world, which is what it became, with 2,500 visitors a day.'
How does her background in finance help? 'I've always been keen to bring the worlds of culture and commerce closer together,' says Peel. 'I always thought there was a natural marriage between the resources of the city and the amazing creatives who inspire.' Stepping into the Serpentine role meant drawing all those networks together. 'Any museum director who is thinking about sustainability needs to be considering how to bring everything in his or her world into the service of that mission.'
Just 13 per cent of the Serpentine's funding comes from the government, with the rest from commercial partnerships and philanthropy. Peel highlights Bloomberg's involvement: 'He sets a very high standard for excellence, accountability, the way that we operate.' Peel has fostered partnerships with Chanel, Mulberry, Goldman Sachs, Google and Swarovski.
Between final bites, Peel tells me she first interpreted the term CEO as 'chief eternal optimist', and she talks even faster than usual when discussing her fascination with bringing digital innovations to the Serpentine, such as the Wifi tours enabled by Bloomberg Connect and virtual reality experiences. She recently launched the Innovation Circle, tasked with imagining the museum of the future and reaching a larger, global audience.
Peel reveals her excitement about the current Rose Wylie exhibition and the forthcoming presentation of environmental artists Christo and Jeanne-Claude, who have not shown in public in London since 1979. 'We're very conscious of the responsibility of offering new experiences, senses of discovery, to our audience,' she tells me. And on that note she departs to continue her mission.
Hannah Solel is a Researcher and writer at Spear's