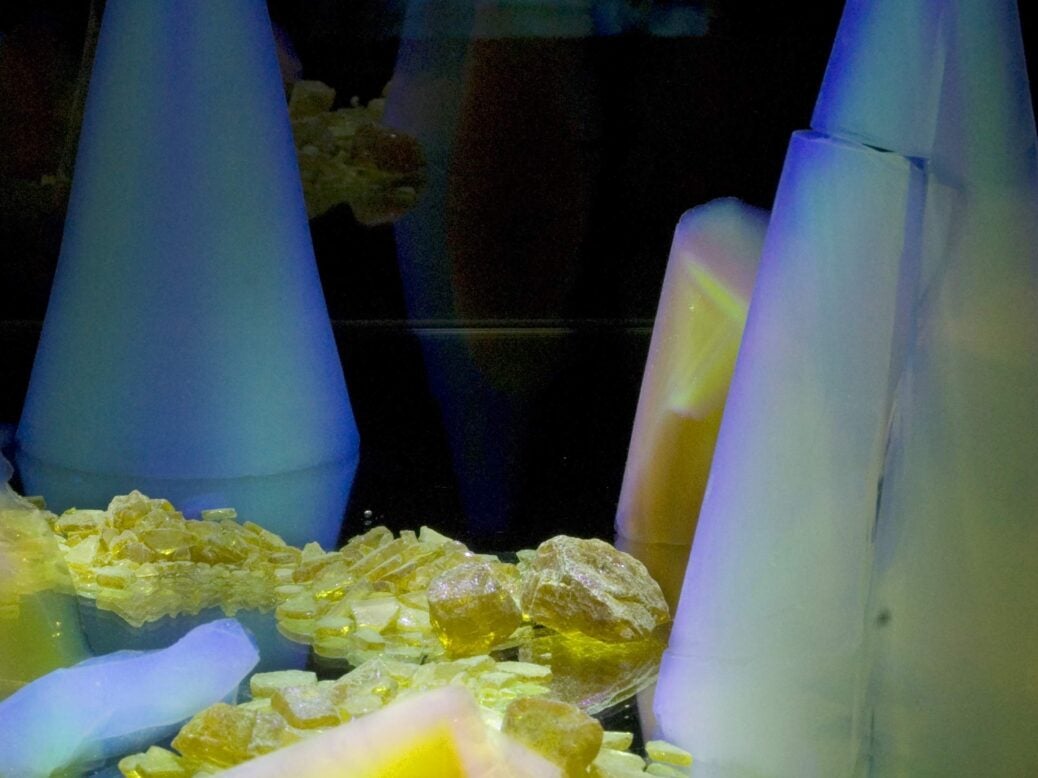 For more than half a century, the much-travelled Liliane Lijn has made the most of a fascination with science to inspire her art – and she's still exploring new horizons, writes Anthony Haden-Guest
One of the exhilarating currents that swept through the art world in the 1960s was the one that brought artists into the worlds of science, technology and advanced science fiction, which was to some extent brought into being by the space programme, the grand climacteric in the human adventure. It seemed absolutely right that Eduardo Paolozzi, the great Brit Pop artist, should be close to JG Ballard, the sci-fi maestro, or that Robert Rauschenberg should be working with EAT (Experiments in Art and Technology).
It was absolutely the right time for Liliane Lijn too – as it still very much is. An American artist, and a Londoner since 1966, she has a solo show at the Rodeo Gallery in Piraeus, near Athens, until 7 December. She has pieces in a forthcoming show on the history of kinetic art in Rotterdam and a New York show later this year, and a display of her work opens at Tate Britain on 12 November.
Lijn established this peripatetic pattern early. She was born in New York, her parents split up when she was nine, and she joined her mother in Lugano, Switzerland. In 1958, aged 19, she went to Paris to study archaeology at the Sorbonne and to become an artist, and it was there that she sensed she could find a terrain she could work in, namely the overlap between science and the arts. In 1961 she returned to the US and studied at MIT, before resuming her art career in Paris the following year.
Lijn's first attempt to introduce mechanically induced sound, light and motion into an art-making process was with Vibrographe, a device that held two cylinders engraved with lines. Her decision to replace the lines with words was sparked by being with artists and writers, who included Gregory Corso, William S Burroughs and the Greek sculptor Takis, whom she married. Thus her Poem Machines were born.
She and Takis had a son but separated. She moved to London, where she continued to work with sound and light. Asked to explain the work in 1968, she wrote: 'SEE SOUND AS MOVING LINES OF LIGHT.' And in London the gaming culture that reigned supplied her the tastiest way to repurpose language since the Poem Machines: 1974's Power Game. This was set up like a fancy/seedy/James Bond-ready casino scene, with a croupier, waitresses and a set of players, who were dealt cards, but cards printed with words. 'They had to defend their words,' she says. 'Words matter.'
Space Exploration
Lijn's interest in the further reaches of hard science continued unabated. In 2005 she had a residency at the Space Sciences Laboratory at the University of California, Berkeley, where she worked with Nasa and discovered aerogel, a material created for use in space experimentation. She has since used aerogel herself. To make sculpture, of course.
Lijn is nothing if not consistent in her enthusiasms. 'Another piece I'm making is a huge sculpture,' she says. 'Converse Column will be 9m high and 2.5m diameter. Made from laser-cut aluminium drums and light, it will be a giant "Poemdrum" and be at the new entrance to the university grounds.
'It's a series of nesting drums or cylinders, with writing – letters, words – laser-cut into the surfaces. As they spin you read through them… so you can read the text on the outside but your brain retains focal length to allow you to read on the inside, even though the whole thing is in motion. I'm lighting the inside and the outside in different ways, and changing the colour of the inside.'
One of the first projects Lijn worked on upon arrival in London was kinetic clothing. 'I'm working on these pieces they call "Spinning Dolls",' she says. For these, she has cut pieces of hemp and experimented with spinning them around. 'When I spun, say, a round piece of cloth held at the centre, it would levitate. Of course, you could say that so do skirts when you spin, but the way they did was even more amazing. They went completely flat and seemed to float.'
Then there's the Solar Hills project, which requires multiple installations of prisms to project rainbows.
'The rainbows are invisible but culminate in highly visible globes of pure light,' says Lijn. 'The project is actually up. There's one mounted on the Hales Solar Tower on the top of Mount Wilson – you can see it from Los Angeles. I have decided to call it SunStar – that, I feel, is the perfect name for it, because it empathises the point I want to make, which is that the sun is a star. To make people aware that we live on a planet, and
the sun is our star. Not to take these things for granted.'
This brings us naturally to the moon. Lijn made a piece, Moonmeme, in 2008. It is a video, which shows the moon going through various phases and upon which  Lijn, who sees the moon as the embodiment of the female power of transformation, gradually reveals the word 'SHE'.
Moonshine
In the past, when I have talked with Lijn about shining an image on the moon, she has sometimes sounded as if she were thinking of doing so. I ask her directly: Is she thinking of shining 'SHE' on the moon?
'Well, it depends on the technology. Anyway I didn't actually want to shine it; I was thinking of obscuring the moon. It would be easier to do it that way.' She adds that you could make an image with a laser. 'A very powerful laser. But you would have to look through a telescope to see it; it would be very small, whereas what I wanted to do, I wanted it to be really big.'  A comfortable chuckle.
'My thought was that if I could figure out some special type that orbited the moon, you would periodically – if we could orbit it on a 24-hour cycle, I don't know whether that's possible, when the moon is out at night, and when it's lit, and we see it – the letters would be shadows on the surface of the moon. So they would be dark on a brilliant moon.'
There's a drawback, I say. Nike and Coca-Cola could be following her moves very closely. 'Yeah! I think so too, I'm afraid,' says Lijn. 'And they've got more money.' That is, so to speak, the dark side of the moon, but when  I tell Lijn how greatly I missed the getting-together of art and science in the Sixties, she is briskly optimistic.
'I think the art world and science are probably moving closer together again,' she says. 'A lot of artists are interested, whether it's in IT or different types of science. And research is amazing now. The fact  that trees help each other, that there is a kind of social behaviour in plant life, that we are just structures made from cells, all that knowledge we  have access to today.'
Anthony Haden-Guest is the arts editor of Spear's
This article originally appeared in issue 65 of Spear's 
Image: Stardust, Ruins of Kasch