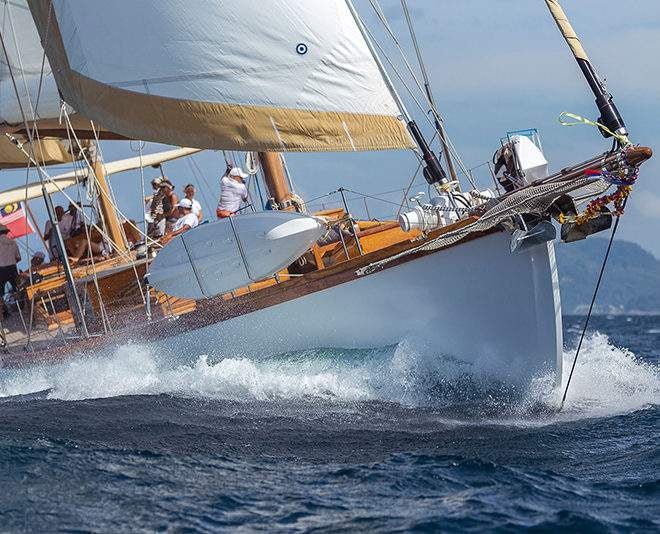 Asia's most exclusive superyacht event to sets sail in Phuket this December
Here's some Christmas cheer for superyacht owners. From 6 to 9 December 2018, the Kata Rocks Superyacht Rendezvous (KRSR) returns to Phuket. Sponsored by Infinite Luxury and in collaboration with luxury Thai Resort Kata Rocks, this unique event will see some of the world's most iconic superyacht brands come together on Phuket.
The KRSR, now in its third year, welcomed over 16 superyachts and 6 yachts to last year's event confirming its elite status as one of the fastest growing and most impressive superyacht gatherings in Southeast Asia.
By invitation only, the KRSR aims to bring superyacht enthusiasts together with a curated guest list that includes owners, industry professionals and a mix of media from all corners of the globe. The event reflects why many deem Thailand to be a world-class superyachting destination, offering exotic scenery and culture, renowned hospitality and first-rate marinas with excellent infrastructure for larger yachts.
Richard Pope, CEO of Infinite Luxury said, 'We are thrilled that guests and superyacht owners enjoy the bespoke activities, glamorous parties and social events. The KRSR is fast becoming the must-attend event on the Asian Yachting calendar.'
Kata Rocks are delighted to be welcoming back the world's leading luxury yachting brands, prestigious shipyards and the most respected brokerage houses with support coming from brands including Royal Husiman, Hemisphere Monaco, Burgess, Benetti, Camper & Nicholsons, Lee Marine, Princess Yachts South East Asia, Northrop & Johnson, and Seal Superyachts.
The organisers are also delighted to welcome Oceanco to the KRSR – a truly world class shipyard and icon of innovation – marking the first time it has officially joined the leading superyacht event in Asia. Oceanco will host an exclusive owner's dinner in a Kata Rocks Penthouse pool villa. This great partnership comes following a highly successful 2018 Monaco Yacht Show attended by The KRSR team.
Oceanco's group marketing manager, Paris Baloumis said, 'Oceanco is pleased to be joining the Kata Rocks Superyacht Rendezvous for the first time. Oceanco yacht owners are known to cruise extensively aboard their yachts and Thailand has become an increasingly popular destination for them. The exotic seascape, fascinating culture, and excellent superyacht facilities make this part of the world extremely appealing. We are proud to be sponsoring the Oceanco Owner's Dinner held at Kata Rocks this year.'
Oceanco's award-winning pedigree features some of the most sophisticated yachts on the water today. It is a world leader in building prestigious custom yachts from 80 to 140 meters, integrating timeless Dutch craftsmanship with sophisticated new world know-how and the technology of tomorrow. Oceanco's 295ft yacht, DAR, was recently launched and was turning heads at this year's Monaco Yacht Show 2018 (MYS).
Guests can expect a curated programme of experiences and a jam-packed schedule of events such as the Superyacht Captain's dinner, hosted by Benetti and Hemisphere Monaco and the Champagne media breakfast presented by Benetti.
Peter Mahony – general manager of Benetti Asia, said, 'Benetti is delighted to return for the third edition of the Kata Rocks Superyacht Rendezvous. It's been a very worthwhile experience over the last two years, with the event raising brand awareness for the region. With the amazing scenery of Phuket as the backdrop and the professionalism of the Kata Rocks' team, we deeply believe this year's event will be again breathtaking.'
Other highly anticipated events include the Camper & Nicholsons and Royal Huisman cocktail party, the private beach BBQ at The Surin Phuket, the 'yacht hop' and big boys toys by Seajet and the 'King's Cup Superyacht Experience'.
This year, Kata Rocks will launch the Rendezvous with an exclusive reception inspired by the unique Peranakan culture and Sino-Portuguese heritage of old Phuket Town.
'Phuket is a magnificent destination for yachting – not just because of the scenery but also because of the amazing Thai people, their hospitality and of course the food. People are often not aware of the unique cultural heritage of old Phuket Town, combining colourful Sino-Portuguese architecture, art galleries, cafes and authentic cuisine. We want to foster this cultural heritage and share this unique legacy with our guests,' said Michael Nurbatlian, director of marketing at Infinite Luxury.
The third annual Kata Rocks Superyacht Rendezvous will conclude on Sunday 9 December with a lavish gala party inspired by 'the journey to the Med.' theme, with live entertainment, a special stage performance, and spectacular fireworks over the Andaman Sea.
For more details on the event visit: www.katarockssuperyachtrendezvous.com