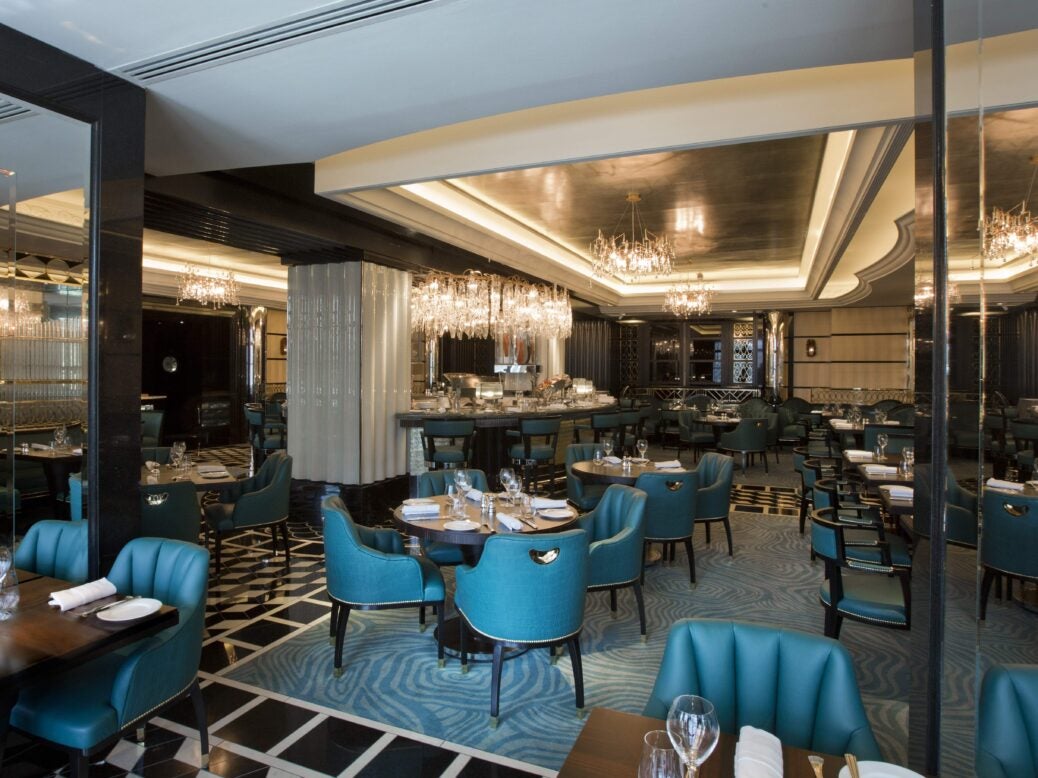 Christopher Jackson heads to the Savoy, and has a night to remember, and has particular plaudits for the lobster bisque
 Nowadays there's very little stomping at the Savoy. Indeed, the place has the feel of a museum – a place where not only stomping, but even talking might be disapproved of. This turns out to be an illusion: beneath the impressive look of the place – told in panelling and hangings, in landscape paintings and trussed-up staff – there's much fun to be had.
I went through the main hotel, passing clientele likely worth the GDP of a small country, until I was sat down in a curvaceous bar, whose overhanging crystal gives the place an ice cave feel. It is the sort of bar where James Bond might encounter the female lead: I, instead, sat with the look of a man exhausted by another year's covering Brexit, and tried not to gauge my weight for too long in any of the mirrors. My friend arrived and, announcing that business was good these days, ordered champagne.
This was absolutely the right thing to do. After a further catch-up where we commiserated one another about the busyness of our lives and vowed to do this more often, we were escorted to the corner of the room, into a nook which also served as another hall of mirrors. Seated again, I had to twist continually like someone being peppered with darts to avoid considering my own exhausted reflection.
However, soon there was much to distract me from the trauma of my own face. Principally there was some of the best food in London – and it's a delight to re-examine that sentence and discover that one isn't exaggerating.
If it had been right that we order champagne, it followed as surely as parliamentary deadlock follows from a decision to leave the European Union that we should order oysters. These came on a large platter in three varieties: Irish rock, Jersey Rock, and Maldon. We let our conversation lapse while we focused on administering sauces to each, and felt the sea rush in. The Maldon oysters were especially flavourful, and sufficient compensation for not having had the Baerii caviar, which it's now my life's ambition to try.
After this, we entered into a debate about which of us should have the excitingly-titled Kaspar's Signature of Cornish Hen Crab and Native Lobster Bisque and which should be denied. But the particulars of the lobster dish – lobster flesh, espelette, and coriander – were already exercising a fascination over both of us. The issue might well have grown heated had a solution not presented itself in a burst of light: we would both have it. It was a good choice, tasting as good as the revocation of Article 50 to a Remainer.
For main, I plumped for the truffled Brittany Poussin. This came with a glorious number of sides: Savoy cabbage and Oxspring ham in a sort of marvellous heap; truffle and chive-mashed potato, tasting like some magical forest; duck fat and rosemary chips to further expand the waistline; and a comparatively virtuous plate of Pommery and honey-glazed Chantenay carrot.
It was due to the sheer number of sides – which were added to by a couple of glasses of sommelier-chosen red wine – which made us eschew a pudding. The waiter mimed disappointment, but I think he could see we'd been routed by the kitchen's excellence – there may even have been a touch of sympathy in his protestations that we try some cheese.
This was a fine meal – one of the finest I've had in a life that according to my personal trainer contains too many such fine meals. But there's another possibility which he might wish to consider: that when they're this good it doesn't contain enough. As we stomped out of the Savoy, we vowed that we'll do it more often.
Christopher Jackson is deputy editor of Spear's