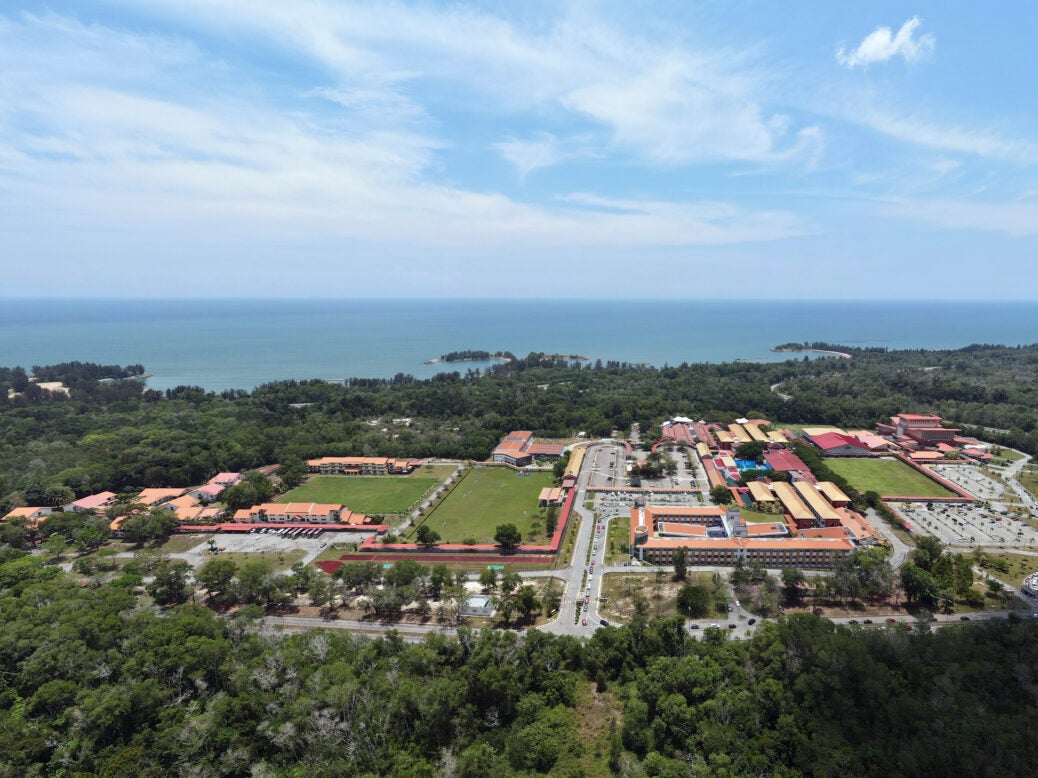 Jerudong International School combines British influence and academic rigour with a good deal of internationalism – in a unique setting
Brunei is something of an enigma — many people know little about the small Bornean nation. But the teachers, pupils and parents at Jerudong International School know that it has much to offer. The country, covered in lush tropical rainforest, is tiny (around 445,000 people live here on a landmass the size of Devon).
It may not be the place for you if you love shopping and clubbing. But if you enjoy coffee culture, value family, and are happy to get into the jungle and onto the water, then it might just be perfect.
As of July 2021 Brunei has had no recorded Covid cases since May 2020. Jerudong is nestled right on the South China Sea, within walking distance of the beach and around ten minutes from the international airport. It is surrounded by rainforest, which even breaches the perimeter at in the form of the 'Outdoor Discovery Centre' — an area of tropical heathland that the pupils are restoring.
The school was built in 1997 as part of a development programme in Brunei to cater for incoming expatriates. It would provide international-quality education for expats' children — something that it continues to do today, along with welcoming local Bruneians. There are around 1,680 pupils at Jerudong, with native Bruneians making up around 45 per cent. The other 55 per cent comprises 54 other nationalities, with British passport-holders making up the econd-largest group.
'We provide British-style education to a diverse Bruneian and international community,' says Principal Nicholas Sheehan. 'The vibe is one of a big, diverse community.'
Jerudong's student body is aged three to 18 and is split between day pupils and boarders, of which there are 231 (including 60 full boarders).
'We follow very similar models that you would see in a British boarding school,' says Sheehan. 'The way the houses are constructed, the way the matrons work, the provision of co-curricular activities that come with that. And we make sure that that provision is outstanding.'
'There's this massive, sprawling, almost university-scale campus, yet we maintain a sense of community within it,' Sheehan continues.
Jerudong sits on a 120-acre site, which it uses to its full advantage — for example, children learning physics and geography will study the site's solar panels.
There is plenty to be occupied with. Jerudong boasts a broad profile of facilities, including a 750-seat theatre, 27 wellresourced science labs, a dedicated music school with 15 peripatetic music teachers, a recording studio, and a sports complex including the 'best training pitch in Brunei'.
'A senior school child will cover quite a lot of distance in the day,' says Sheehan. 'But they are going from one world-class facility to the next.'
The school runs the British National Curriculum, or its 'own contextualised version of it'. Pupils take GCSEs or IGCSEs in Year 11, and choose between A Levels and the International Baccalaureate in the Sixth Form.
Jerudong's junior school, however, is a little more 'unique'. 'There's been a significant shift away from doing the traditional "eight weeks on the Incas", and "eight weeks on rivers", and so on, to being really child-initiated,' says Sheehan.
Whilst eachers agree on the outcomes they want for students, there is a lot more 'student choice' and inquiry-based learning. Another unique feature of the junior school, according to the head, is 'the significant specialist provision'. The classroom teacher is responsible for teaching maths, English and social sciences, but other subjects, such as art, science, design and technology, music, drama, PE, and languages are taught by specialists.
'We invest in all of the areas,' says Sheehan. The education that Jerudong provides is holistic, taking into account both academics and developing pupils as people.
This is reflected in the unique rewards system which is built around six core values in the school's 'student profile': engaging in tasks, developing resilience, effective communication, integrating into the community, critical thinking and leadership skills.
'Every time a child gets a full set of six, we give a $1 donation to UNICEF for a polio vaccine,' explains Sheehan.
Jerudong is selective and requires pupils to complete a CAT (cognitive ability test), a written assignment, and an interview on entry, although it will generally admit children of armed forces or government officials in Brunei if they meet a base standard.
Therefore, intake is 'broad and comprehensive'. Given this, Jerudong's academic profile is very strong — 'certainly the strongest in Brunei', says Sheehan. Exam results consistently beat UK averages, as well as those of the FOBSIA (Federation of British Schools in Asia).
The focus at Jerudong, says Sheehan, is 'making sure that all children have got the right qualifications to move on to the next pathway, whatever that might be'. In the last ten years, he says, there has been a significant shift towards students going on to UK universities — especially the Russell Group and Oxbridge — although Australia, Canada, and America have also proved popular.
Whatever a pupil's preference, Jerudong will provide them with a guidance counsellor to help them attain it.
'What is on offer here is high quality of life,' says Sheehan. 'As well as a top-level international education which puts us in that top tier of Asian international schools.'
Web jerudonginternationalschool.com