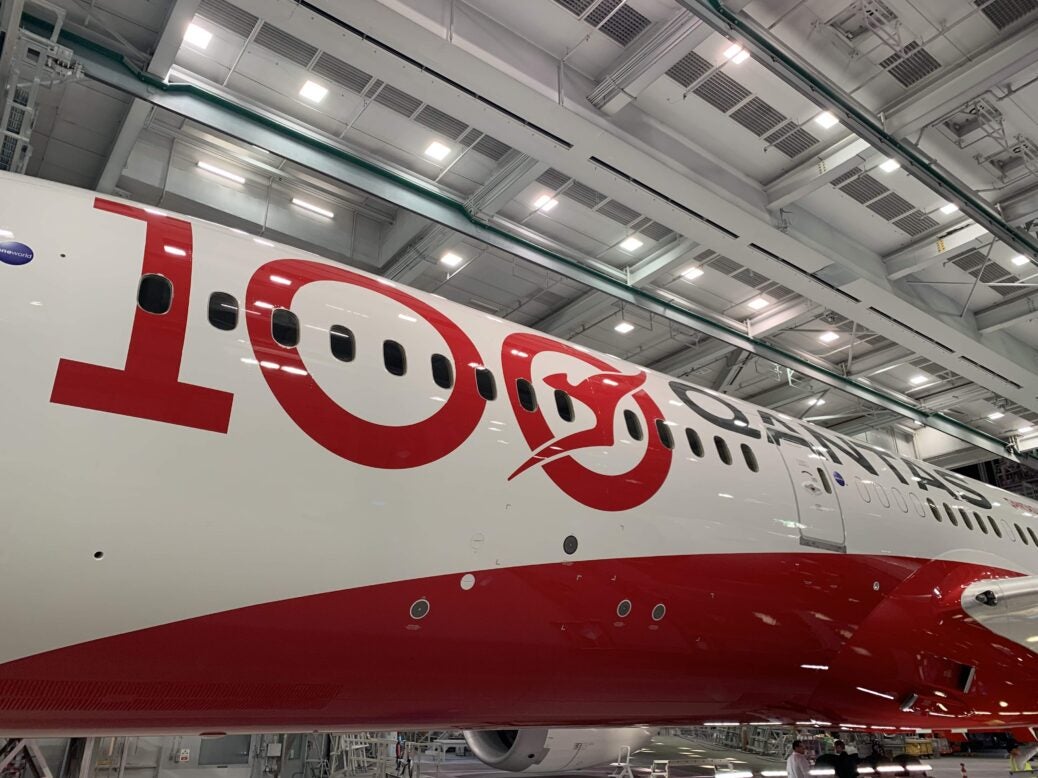 It's not supersonic (yet), but Qantas's flight 7879 – which takes passengers non-stop from London to Sydney in 19 hours – is the new 'quick plane'. John Arlidge reports from its maiden flight 
Most people would rather sandpaper their tongue than go to the airport. I wouldn't. I love flying. My wingy, worldly affair started long ago on a flight from London Heathrow to Miami. I admit it. It was those white gloves, electric blue skirts and jaunty pillbox hats that did it. When PanAm nosedived into bankruptcy, Virgin became my new love.
I was one of the first to fly VS1 from Heathrow to New York when they served – heavens above! – ice-cream at 39,000ft. One day in the early Noughties, I boarded British Airways' Concorde to New York. I managed the ultimate in aviation one-upmanship when I bumped into a colleague at Heathrow and asked if he was 'travelling on the quick plane'.
Since the supersonic time machine dipped its beak for the last time, it has been a turbulent time for the get-there-fast-and-ritzy classes.
First class almost died during the financial crisis because no one wanted to be seen sitting in the pointy end, even if they could still afford to. Airline bosses are still 'rationalising' it. Delta and United have got rid of international first class. American Airlines will soon offer first class on only 20 of its Boeing 777-300ERs. British Airways, Cathay Pacific and Lufthansa are all offering fewer first-class seats as they refresh their fleets with new Boeing 787 Dreamliners and Airbus A350s. Even mighty Emirates, the world's largest international long-haul carrier by passenger miles flown, is reducing first-class seats on numerous routes and is eliminating first-class cabins entirely on 30 of its 777s and 15 of its A380 superjumbos.
But wait! What's this on the horizon? Is it a new Concorde – with a new first class to boot? Yes, but it's a different kind of beast: a hangar-fresh Boeing 787 on flight QF7879. I'm sitting on it, next to Alan Joyce, the Dublin-born CEO of Qantas, somewhere over the South China Sea.
You won't find QF7879 on any airline departures screens yet. The flight was a test run of the 11,000-mile non-stop route from London to Sydney that took place in November, but Qantas hopes to make it a reality soon. Joyce wants the new service to become not only the new 'quick plane', shaving four hours off the journey time from London, but also, like Concorde, the last word in luxury travel.
The new jet that he's chosen – the Airbus A350 – may not be as rakish as Concorde but it's pretty enough. Its windscreen looks like a pair of wrap-around sunglasses. The tips of the wings curve up elegantly.
Smooth ride
The A350 can't, of course, rival Concorde when it comes to speed, but it trounces it on comfort. Speedbird 1 was cramped and flew so fast that you felt every stratospheric bump; the A350 has stability controls that swat away the turbulence.
Inside, the walls are near-vertical and the ceiling is high and flat, which makes the cabin feel more like a room than a plane. The windows are three times the size of the weeny portholes on Concorde and sound-insulating walls make it the quietest jet to fly on. The cabin air is less dry and set to a higher pressure, so your stomach and ankles don't explode and your face doesn't feel like it will fall off. Joyce has hired designer David Caon, a protégé of Marc Newson, to create all-new cabins, including a first class 'that leapfrogs what's there today', Joyce says.
'The future of Qantas will be even more premium, the best quality in the world. We need to re-imagine the whole travel experience.' At the front of the plane, the latest technology means Joyce could offer seats which adjust to the precise body shape of each person who sits in them, to make them more comfortable.
Each will have wireless charging pads and the ultra-HD TV screen will connect to passengers' smart-phones, enabling them to use their handsets to choose meals, drinks and entertainment, as well as control the temperature and lighting. In-air 'li-fi', transmitted through onboard lighting, will make it possible to stream any movie ever made and video conference (if you must).
Using a new, fuel-efficient twin-engine jet to cut a few hours off the usual journey time from London to Sydney via the Gulf or south-east Asia might not sound like a big deal, but it matters to business travellers – like David Jamieson, who founded and runs his own mining consultancy and has taken 7,500 flights over his lifetime.
'I've done London to Sydney more times than I care to remember, and anything that makes it quicker and easier to overcome the jet lag is welcome,' he told me onboard QF7879.
For leisure travellers, it will mean the chance to leave London in the morning and have lunch the next day gazing at the Harbour Bridge. But perhaps the best thing about 'the new Concorde' is that it will bring back the glamour of air travel for all, not just those who can afford the £8,000 first class return fare or the £6,000 in business class that Qantas is likely to charge.
The newly designed premium economy and economy cabins will be among the best in the sky. The seats will have generous leg, bottom, and arm room and you won't have to fight your neighbour for storage space.
Qantas is also considering using seats designed to extend forward and down for sleeping, rather springing back into the face of the passenger behind.
Spacious travel
There will also be a special area for passengers to chat, eat, drink and – most important – stretch. Grab handles on the wall will enable them to do a standing workout and ward off DVT. The space could also be used as a children's play area. To avoid passengers waking up their neighbours when they're peckish, they'll be able to order snacks and drinks via their TV screen.
'Getting the economy cabin right is the most important challenge,' Caon says. Food and wine in economy will be simpler than the barramundi with crisp semillon and Aussie steaks with chewy Penfolds at the pointy end, but Qantas's chef, Neil Perry, the man behind Rockpool restaurant, insists: 'We will make sure it works in all classes. We'll follow the same pattern. We can easily do simple carbohydrate-heavy foods to help people sleep – a Croque monsieur, for instance. Then spicy dishes to help them to wake up. We can add chilli to breakfast eggs.'
Best of all, at £1,000 for a return ticket, the cheap seats will be the best value of any air journey ever – less than 5p per mile.
Read more 
John Arlidge on the 'futuristic, optimistic and British' Jaguar I-Pace
John Arlidge on how long haul is getting longer
Reach for the skies: BA and Virgin Atlantic face up for a new battle