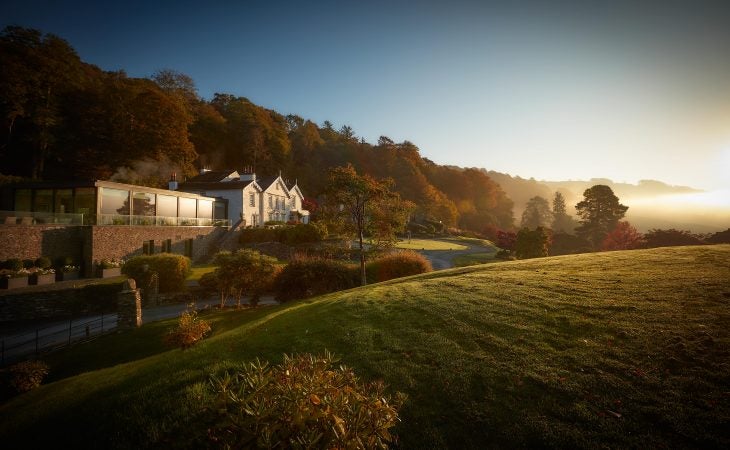 General manager Oliver Smith speaks challenges and opportunites after a year of uncertainty, writes Irenie Forshaw
As travel returns, Oliver Smith, general manager of luxury boutique hotel The Samling, discusses navigating the pandemic and what differences guests can expect to find following the reopening of this idyllic spot in the English Lake District.
Tucked away on a hillside overlooking the eastern shores of Lake Windermere lies The Samling hotel. Vast expanses of breathtaking scenery that inspired the poetry of Wordsworth and the tales of Beatrix Potter stretch as far as the eye can see.
But in the midst of this tranquil setting, the whitewashed Georgian hotel has been bustling with activity over recent months, with general manager Oliver Smith and his team hard at work preparing for reopening following a succession of lockdowns and restrictions.
'Everything's been moving at a hundred miles an hour,' he says. 'We've built outdoor decking, put the finishing touches to our wilderness experiences and launched a new website – there's been plenty to keep us occupied.'
A long journey
When news of a novel coronavirus began to break early last year, Smith – like most of us – wasn't too concerned. 'We had everyone on TV telling us there was nothing to worry about, and I guess we thought it was going to be like SARS, which didn't really impact us here in the UK,' he says. 'But then, obviously, the reality hit home.'
Smith has enjoyed an illustrious career in the hospitality industry – including a stint managing Amberley Castle in West Sussex where he scooped an Acorn award for his achievements – and has watched the sector weather its fair share of storms. But he hasn't experienced anything quite like this.
Plunged into lockdown by mid-March, adjusting to the initial closure of the hotel was especially difficult for The Samling's highly sociable staff. 'I'm fortunate that I'm living with my family, but if you're not from the UK and you're here by yourself it can be a lonely experience,' acknowledges Smith. 'I've never seen so many people want to come back to work!'
Accordingly, his employee's mental wellbeing and keeping in regular contact has been a top priority. The pause in operations has also created a space to engage with staff and deepen their knowledge of what the hotel has to offer – including an extensive wine list and cocktail offerings – while adding a range of exclusive new spirits to the bar.
Throughout each lockdown, a skeleton staff has retained a presence at the hotel and Smith visits two or three times a week to ensure everything is kept in working order. After all, he says of the sprawling property: 'We can't just hibernate for the winter and come back in spring hoping everything is going to be how we left it." With no guests on site for months at a time, The Samling has seized the unique opportunity to enhance the hotel's luxurious bedrooms.
Smith and his colleagues also faced the mammoth task of figuring out how to adapt operations to keep staff and guests safe amid constantly evolving regulations. On reopening last summer, it was clear the hard work had paid off and the hotel was busier than ever. 'Feedback from our guests was that they felt safe but without being forced to sanitize every two seconds,' recalls Smith. 'I think we got the balance perfectly on that.'
New opportunities
Eager to use the pandemic as a springboard to enhance the hotel experience, Smith has been working round the clock on a range of exciting new ventures. The Samling at Home offers people the chance to sample the hotel's award-winning wine collection from the comfort of their homes with the guidance of a sommelier. Such has been its success in bringing together friends and family for a unique experience, that the virtual tastings are continuing even as lockdown lifts.
Furthermore, Smith and his team have been hard at work launching Wilderness at The Samling, where guests are given exclusive use of the hillside, 200 feet above the hotel. 'There are two tents for the guests to stay in and then a third where our chef cooks barbeques for their dinner,' explains Smith. 'It really is somewhere you can have complete peace and quiet, and the views are incredible: you can see all the way down Windermere towards Bowness. It's still a Samling experience, but delivered in a rustic way.'
The return to travel
This sense of open space that comes with The Samling's secluded location and 67-acre estate will no doubt be a major draw for prospective guests that have been cooped up inside for much of the last year.
'You can go for a 20-mile walk in the Lake District but you can also walk to the top of our land if you don't want anything too strenuous,' says Smith. 'Some people will want to go out mountain biking or paddle boarding, while others won't leave their rooms and will just want to relax in the hot tub and enjoy a lovely dinner.'
The hotel prides itself on its exceptional fine dining and attentive but unobtrusive staff. 'You can have the best building and restaurant in the world – I think we have one of them – but if you haven't got the staff to complement them, you won't see guests coming back,' notes Smith. 'Building that rapport, knowing what drink our guests are going to choose before they order, is at the heart of our business.'
What's more, the boutique hotel – which has just 12 spacious rooms – is likely to entice wary travelers who are not yet ready to return to more crowded destinations.
Under three hours from London and only 90 minutes from Manchester, The Samling is remarkably easy to reach, and Smith is witnessing an "explosion in staycations" and longer bookings.
"We've already got some for eight or nine nights, which is a length of stay we would never normally have," he says, "but I think people have had a really difficult year and they want that freedom."
Reflecting on the last year, the general manager remains optimistic about the future and cannot wait to get fully going again. 'It's given us a chance to pause and go through each part of the business considering how we can enhance what we do, and offer our guests new experiences,' he says. 'We're looking forward to exciting times ahead.'