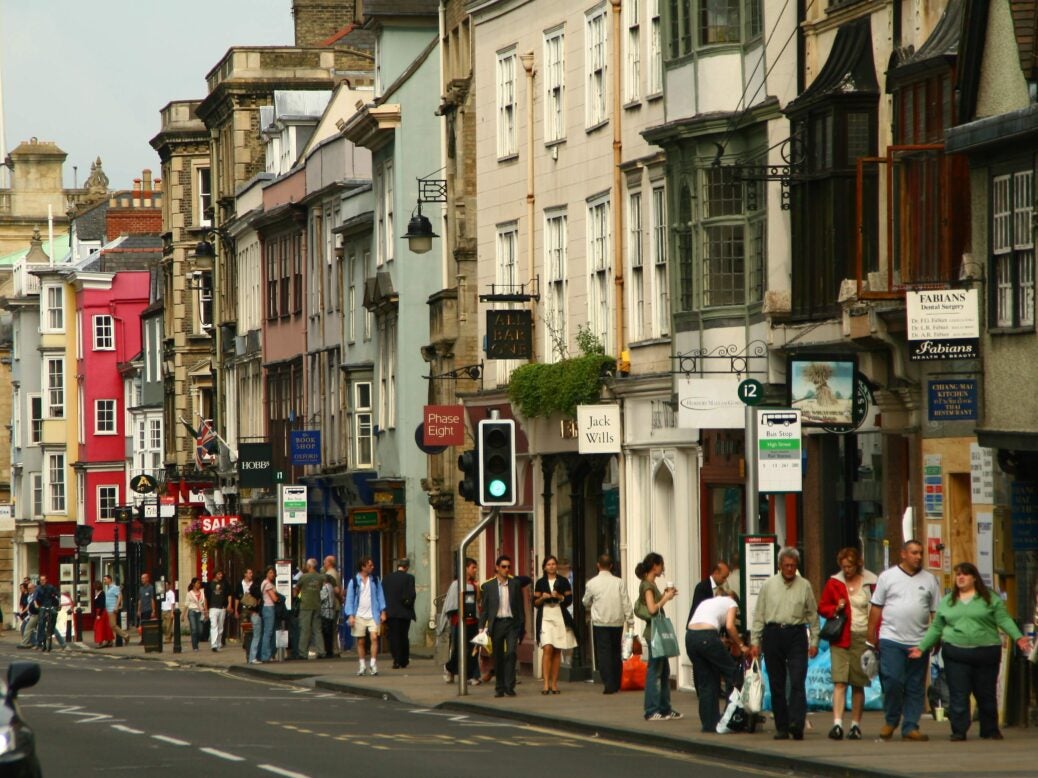 Our high streets are struggling – but it doesn't have to be that way. Some enterprising retailers are thriving rather than seeking excuses, writes Lucia van der Post
Ever since Napoleon's remark about Britain being a nation of shopkeepers entered the lexicon, the state of retailing in our great nation has been seen as some kind of paradigm for its economic health.
Checking it now, one might think we were in the last-chance saloon. Dire predictions about lack of demand, falling profits, store closures and job losses litter the business pages.
Debenhams, for instance, had losses of £491.5 million last year. At John Lewis, profits fell by 90 per cent. I could go on, but you get the picture. Retail bosses are in no doubt where the blame lies: the weather (too hot or too cold), Amazon, the internet, business rates, sky-high rents, Black Friday…
Few are as honest as Debenhams CEO Sergio Bucher, who, when announcing disastrous results last autumn, said the company had to bring the joy back into shopping. 'For way too long,' he admitted, 'we have turned stores to be like these big warehouses full of product with a till at the door. We have to make sure that every shopping trip is memorable.'
What took them so long? It has been clear for a very long time that retailing needed to reinvent itself. It's long been known that stores need to do much more than just sell products. It's no accident that the two London department stores that really know what they stand for – Selfridges and Harrods – are flourishing. Both have a self-confidence that customers respond to.
Last year Selfridges announced a record profit for the fifth year in a row, while Harrods saw pre-tax profits rising by 9 per cent and sales rising by 23 per cent. Selfridges has done it with a multipronged approach. It has injected glamour, buzz, events (more than 300 in the average year).
'You can't be passive,' owner Galen Weston told me. 'You have to stand – metaphorically – in the street and shout at people, wave at them, tell them how great you are and that if they come in they'll have a great time.'
Furthermore, customers 'want intellectual, cultural and, yes, spiritual nourishment. They don't just want to buy things.' Harrods managing director Michael Ward has taken a different tack. He has made it the place for the very finest, the very best of any category. From perfume to designer fashion, food, sports or childrenswear, the customer knows that only the very top designers' wares will be on offer. Price, it seems, is not the issue. Quality is.
Fortnum fortunes
Over at Fortnum & Mason, CEO Ewan Venters has overseen a remarkable change in its fortunes. Until he took over in 2012, it had been losing money steadily for about ten years. Sales have tripled over the past six years and last year it made £9.6 million profit.
How has he done it? By paying immense attention to detail, he says, to everything from the products themselves to the service, the environment (the ambience of the shop), and what he calls 'communications'.
When it comes to product, he has sourced small-scale producers such as Glenarm salt-aged beef from Northern Ireland (Downtown Abbey's Hugh Bonneville, who lives in Sussex, orders it every week), and specialist teas (the late AA Gill loved its special Darjeeling blend).
He's also made sure there are entry-point products so that customers can buy, say, a beautiful packet of tea for as little as £10 or a jar of potted Stilton for £14.50, yet it will still be something of the highest quality.
The other good news is that these 'difficult times' are forcing retailers to become more adventurous. The fact that the bland, anonymous high streets of yesteryear, each filled with an identical array of chain stores, are falling out of favour might be no bad thing.
In their place are coming innovative little pop-up shops, individual purveyors of quirkier wares, offering surprises and the sort of experiences the high street never provided. These little ventures can never be scaled up to become behemoths of the future, but for millennials they offer an infinitely more beguiling way to shop.
Lucia van der Post is the founding editor of How to Spend It