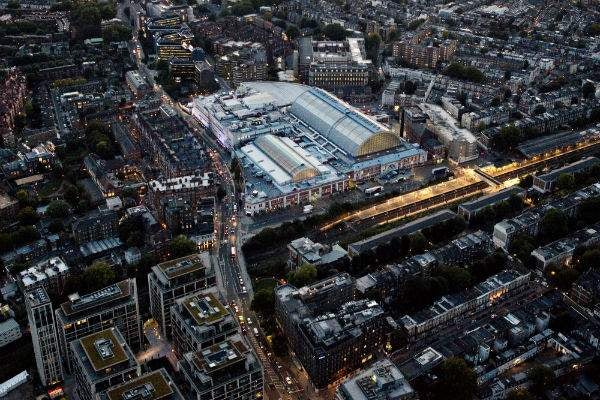 Designer Thomas Heatherwick is to transform London's Olympia into world-leading cultural hub, writes Emelia Hamilton-Russell
Thomas Heatherwick is not one to be derailed by a setback. Rather than wallowing in disappointment following the rejection of the plans for the monumental 'Garden Bridge' across the Thames, the prominent designer has taken on a new, high-profile London-based project – a 21st century transformation of the Olympia exhibition site in West London.
The vast Victorian-era halls, which have hosted exhibitions, rock concerts and sporting events for more than 130 years will form the centrepiece of an ambitious £1 billion refurbishment project that will revitalise this languishing strip of London and turn it into a 'world-leading arts, entertainment, exhibition and experiential district'.
And who better to achieve this than Heatherwick, the designer who came to public notice with the Olympic cauldron in 2012, and whose other creations include the new London double-decker Routemaster bus – a distinctive makeover of a tired British icon.
In collaboration with SPPARC Architects, he will work his magic on Olympia, best known in recent years as the venue for the London International Horse Show and the Ideal Home Show. Built in 1886, the landmark has previously played host to a Jimi Hendrix rock concert in 1967, to the 1999 Miss World pageant — as well as a notorious 1934 far-right rally, held by Sir Oswald Mosley's British Union of Fascists, which ended with violent clashes between Blackshirts and communist protesters.
The 14.5-acre site was bought earlier this year by Yoo Capital, whose chairman is property visionary John Hitchcox, and Deutsche Finance. While Hitchcox and Heatherwick are wary of being specific about their plans for the venerable London landmark, pending discussions with local residents and officials, planning permission has already been granted for the main addition to the site – a 275-room hotel on a vacant plot of land on Hammersmith Road. There are also plans for a theatre. Given the design credentials of those involved you can expect something spectacular to emerge.
'Working on Olympia is completely different and separate [from the Garden Bridge],' says Heatherwick. 'But what it has in common is a deep driving passion to make London better. It's a thrilling thing to work on.' He adds: 'My studio's passion is improving the public experience of cities for everyone.'
Photo credits: Yoo Capital and Olympia London
Emelia Hamilton-Russell is a writer and Researcher at Spear's