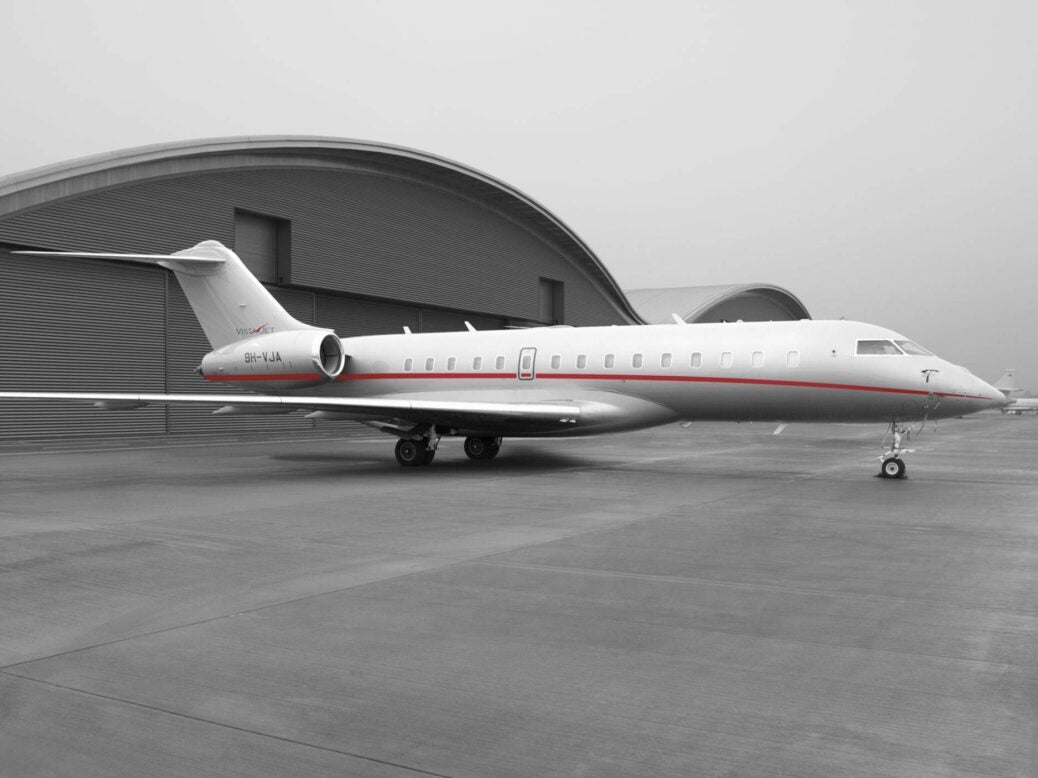 Christopher Jackson meets leading lights in the aviation industry including VistaJet founder Thomas Flohr
You notice it at take-off. This is not the usual rumble and chug, and sense of the plane groping for the sky. We glide skywards without bumps – as if on a silk thread. Once in the clouds, you can recline into a scope of leg room more usually associated with a lounge. Also on offer are the multiple consolations of excellent food, better champagne, and smiling service not spread around 200 passengers, but lasered specifically at oneself.
This is my first and – unless my finances take an incredible turn – last experience with VistaJet, the business started by former worldwide president of Comdisco, Thomas Flohr. Observing the private jet needs of his friends, Flohr noticed a gap in the market: 'I was the first entrepreneur to offer a flight hour subscription model across an entire fleet of jets flying customers anywhere and at any time,' he says.
I meet Flohr at his favourite Greek restaurant in New York, Estiatorio Milos. He is the sort of man whose success seems total. He has an intense, even monomaniacal brow, reminiscent of a Dürer woodcut; one notices also the obedience of his courtiers, who fall silent when he enters. It is like an evening with Henry VIII, if Henry VIII were only to discuss aviation.
'What we've been able to do is provide guaranteed and on-demand global flight coverage, aircraft leasing and finance, and cutting-edge aviation technology,' he explains. 'On our fleet we have over 70 silver and red business jets. VistaJet has flown corporations, governments and private clients to 187 countries, covering 96 per cent of the world.' Passengers have included the Duke and Duchess of Cambridge.
Flohr's success is particularly impressive given the crewing difficulties the private aviation industry is facing. A recent survey by Colibri Aircraft, a firm specialising in the marketing, resale and purchase of pre-owned private aircraft, found there is considerable shortage of pilots, with around seven out of ten private jet sales now experiencing difficulties in guaranteeing sufficient access to crew. 'We're finding crewing a bigger and bigger issue,' explains managing director Oliver Stone. 'We've noticed this trend happening in the last three years… now it's become critical.'
This problem is caused by the job's sudden attractiveness: 'Post-9/11, there were furloughs and bankruptcies which made piloting less desirable as a career, but it's since
become more attractive,' Stone explains. Meanwhile, the airlines – which provide pilots with greater scheduling certainty than whimsical UHNWs – have been hiring at a clip. VistaJet is immune to that trend. Flohr talks with passion about his business, offering insights into the quality clients require, with occasional detours into geopolitics – it's telling, for instance, that the company now routes around Iran.
VistaJet's 2018 figures suggest that the pilots – not to mention the clients – are coming to Flohr. 'In the first half of 2018, VistaJet saw growth in flight revenue, flight hours and number of flights by 27 per cent,' Flohr continues. 'Global passenger numbers also increased and in H1 2018 VistaJet flew over 30,000 clients around the world – a 23 per cent growth against the same period last year.'
It's a success achieved by paying attention to market specifics: at a recent briefing in the Arts Club, the firm's Jet Traveller Report in association with Wealth-X found that the US still makes up 75 per cent of private jet ownership among the Top Ten markets, a figure which represents a growth of 34 per cent from 2006 to 2016. Crucially, this increase is less steep than the amount of UHNWs created during that time: the conclusion is that UHNWs – especially young billionaires – are less interested in ownership, but prefer the fractional ownership or membership models.
The aviation industry remains fascinating because it holds a mirror up to the global economy. 'Our business is extremely cyclical,' explains Stone. 'Private jets boom when the economy booms – when it doesn't, nor do we. Private jets are the last thing to pick up and the first to go down. But the last years have seen a significant increase in transactions.'
This health in transactions can be taken as a sign that the long-standing bull market will continue. In Stone's words: 'People only buy these things when they feel financially stable enough.' Stone also notes that Trump's tax reforms, passed at the end of last year, contained major incentives for buying pre-owned planes: 'The administration extended a series of depreciation laws which allowed companies buying equipment used for business purposes to write off 100 per cent of the purchase price of the pre-owned asset in a year. It used to be 20 per cent a year.'
There are other trends in the Jet Traveller report: one intriguing finding is that the number one reason for private jet usage is 'maximising time', by which the report means 'getting through security in a relaxed fashion, and being able to travel easily with children and pets.'
UHNWs seek to avoid the typical purgatorial airport experience: with Flohr's company I am escorted with maximum speed from plane to helicopter pre- and post-flight. But if the commercial airports were to improve their offering, would that continue the move away from ownership?
Glyn Jones, chief executive officer of Stobart Aviation, explains the speediness of things at Southend Airport, which he is responsible for running: 'I'm in the air traffic control tower – there's an A319 with 155 passengers on it, and I'm watching them disembark. They will be at the railway station five minutes after landing. Outbound, 100 per cent of our passengers are through security in ten minutes – every hour of every day.'
The Jet Traveller report is also unequivocal about the rise of the private aviation industry in the Far East: 'China achieved the highest growth in private aviation ownership out of the top ten markets, with a 347 per cent increase over the ten-year period, compared to an UHNW population growth of 840 per cent,' it says.
That, according to Stone isn't about to solve the pilot shortage ('it's actually a pretty localised industry'), and Jones sees more passengers from the Indian subcontinent come through Southend.
Flohr also takes an optimistic view of the future: 'We expect to see continued and sustained growth,' he says. So what does the future hold? 'I welcome the opportunity to facilitate the education of the industry and advise those who fly privately of the best flying solution for their individual needs,' he says. One suspects that in Flohr's opinion that will mean VistaJet. But this is an industry which, after much stagnation, is beginning to move.
Christopher Jackson is deputy editor and head of the Spear's Research Unit