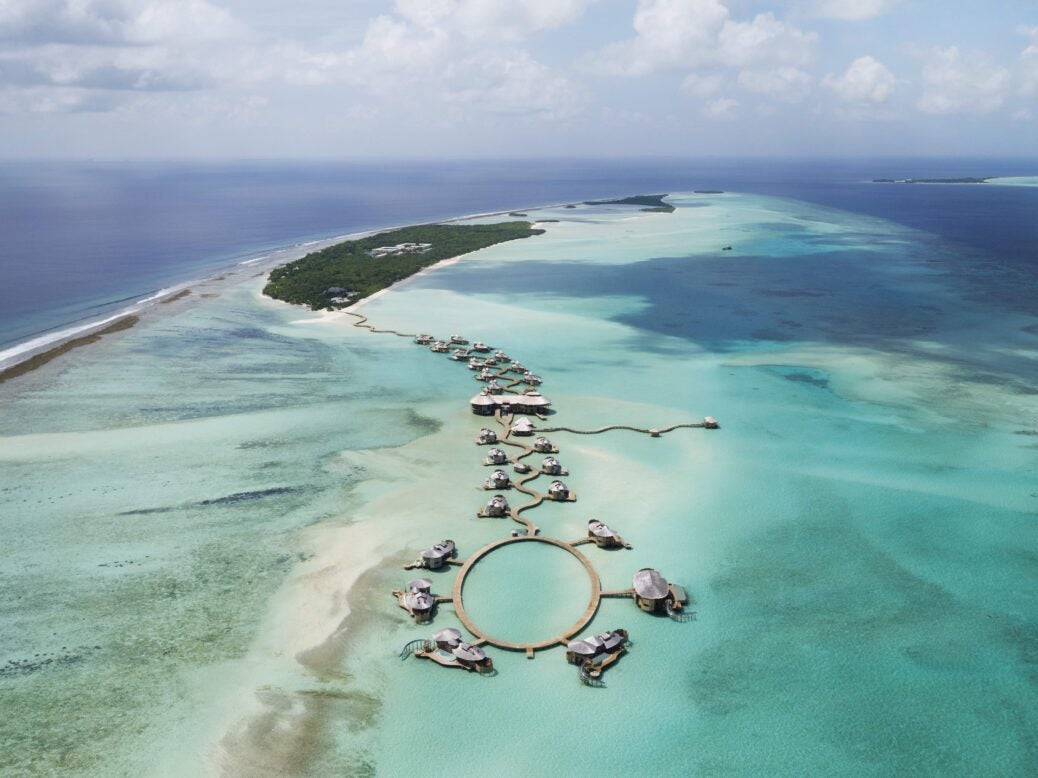 Sonu and Eva Shivdasani, the creators of Soneva, made the modern Maldives — and now they're doing it again, making intelligent luxury even sharper, writes John Arlidge.
New. It's what we want and what all manner of purveyors of snazzy, shiny things want to sell us. Sadly, it rarely lives up to its billing. How many times have you been promised a fresh experience, only to find it's a half-hearted re-bake of something same-old, same-old? But occasionally — just occasionally — something genuinely refreshing does come along.
Before most people had heard of intelligent luxury, Sonu Shivdasani and his wife, Eva, who grew up variously in India, England and Sweden, combined their names and talents to create it. Soneva resorts are not flashy. The dress code is 'No shoes' (they kidnap your footwear). They are green. Rooms and villas are made from sustainable wood, including local coconut trees. Motor vehicles are banned in favour of bicycles and electric buggies. Boats run on electric motors where possible. Even the fire engines are electric.
Sonevas serve largely organic food, grown locally, sustainably caught fish. Standout dishes include savoury mango gazpacho, tandoori feta cheese salad, yoghurt and basil sorbet with fresh passion fruit. Thursdays are meat-free. (No exceptions, burger addicts.) The resorts make their own drinking water, instead of importing expensive bottled stuff.
Activities and experiences offer simplicity, quality and 'wellness' — nature walks, dolphin cruises, diving, including freediving, fishing and picnics on deserted islands, plus more kinds of massage than you ever knew existed. Service is personal and hop-to-it, with a twist. Each guest has their own 'Mr Friday' or 'Ms Friday' butler-cum-concierge.
Soneva started in the Maldives at a time when tourism there was three star at best. Thanks to the success of the first Soneva (Soneva Fushi, in the Baa atoll), it is now mainly five star. LVMH (under the Cheval Blanc brand), St Regis and Four Seasons have all opened recently. It's time for Soneva to respond and update the barefoot chic it pioneered. And that's what Sonu and Eva are doing.
About twenty minutes by seaplane from Soneva Fushi and 40 minutes from Malé, the Maldives' capital, is Soneva Jani, in the Noonu atoll. Jani means wisdom in Sanskrit, and this place is smarter than the average resort. It comprises one island, 150 acres (or half as big again as Soneva Fushi), plus four other, smaller, deserted islands, all set in a lagoon 3.5 miles by one mile. Thirty-odd villas, a more modern take on those at Soneva Fushi, are rising on the island. Meandering off one end are 24 of those villas on stilts over water that are obligatory on all advertisements for the Maldives.
Look closely at those promo shots and you'll notice that the villas are tiny and, to save money, cheek by jowl. Not at Soneva Jani. One of the water villas has four bedrooms and a 20-metre swimming pool. Many have water slides that run from the upper floors straight into the lagoon. They are all at least 20 metres apart.
The interiors are modern rustic, with sandblasted pine from sustainable forests in New Zealand, offset with plenty of glass. The bathrooms are inside — and outdoors. You can swim under a screen straight into the bathroom for a shower after a dip.
There's simple fun. The mini kitchens have popcorn makers. There's natural fun. Glass panels cut in the decks allow you to peer down at the rays and the odd reef (i.e. safe) shark swimming underneath. There's hi-tech fun. Press a button on the bedside table and the roof above the master bed opens, Bond villain lair-style, so you can stargaze as you fall asleep. (Rain sensors close the roof automatically if the heavens open during the night.)
The most powerful telescope in the Maldives in the new observatory offers pin-sharp stargazing. Images are broadcast on to screens that form bar and restaurant table tops, so you can dine on the stars, under the stars. After dinner, you can watch a private screening of your favourite film at the overwater cinema.
Halfway along the string of water villas is the biggest building ever built over water in the Maldives. The Gathering is three storeys high and has restaurants, bars, a wine cellar, library, gym and spa and den, plus Soneva's signature 'rooms' for cheese and cold cuts, chocolate and ice cream, where you can help yourself any time. 'There will be a real buzz here but you will still be able to come barefoot,' Shivdasani told me when I visited in October.
Like Soneva Fushi, Soneva Jani will have its own time zone to make the days as long and sunny as possible, without having to get up at 6am. Sun-up is always at about 7am and sundown at 7pm. The vibe will still be 'it's OK to do nothing at all'. One of the 'activities' listed is 'lying on the beach'.
Maybe it's these touches. Maybe it's the warmth and sense of mischief of general manager Olivia Richli, who was tempted away from running the Aman in Venice. Maybe it's simply the blissful absence of golf. Whatever the reason, the de-stress is instant and complete. You want proof? Look at the gym. If Soneva Fushi is anything to go by, the gym at Soneva Jani will be deserted. You'll be hard-pressed to see mobile phones, either. Most people stop using theirs a day or so after arriving.
Soneva is now not only over the water, it is on the water. Soneva in Aqua is a new Maldives-based 65-foot yacht, which is half Asian-inspired sail-powered junk and half hi-tech motor yacht. There are two large bedrooms and kids' rooms so that the whole family can set sail. The bath has a glass bottom for au naturel fish fancying. The crew comprise the captain, a Mr or Ms Friday, an engineer, a divemaster and a spa-therapist-cum-housekeeper, so you can dive and have a massage on deck, all before breakfast.
Expanding so heavily in the Maldives is risky, thanks to the island nation's fraying democracy, short leases for property ownership, and rising sea levels. But Shivdasani reckons the super-rich will continue to prize the area above its rivals, notably the Caribbean, thanks to its superior location and far better service and food. Current performance certainly supports him. Sonevans are even more dependent on their fix than Aman junkies. More than half of visitors to Soneva Fushi are repeat customers. The top 100 clients spend between $80,000 and $1 million a year.
Even if you're not super-rich, I'd go anyway. I'd recommend a few days in a water villa at Soneva Jani, a few days on Soneva in Aqua, and a few days back on the mother ship in a beach villa on Soneva Fushi. If you're not relaxed after that, seek medical advice.
cazenove+loyd (www.cazloyd.com / 020 7384 2332) can offer a 7 night stay at Soneva Jani on a bed and breakfast basis, as well as seaplane transfers for £5,705 per person based on 2 adults travelling in May 2017