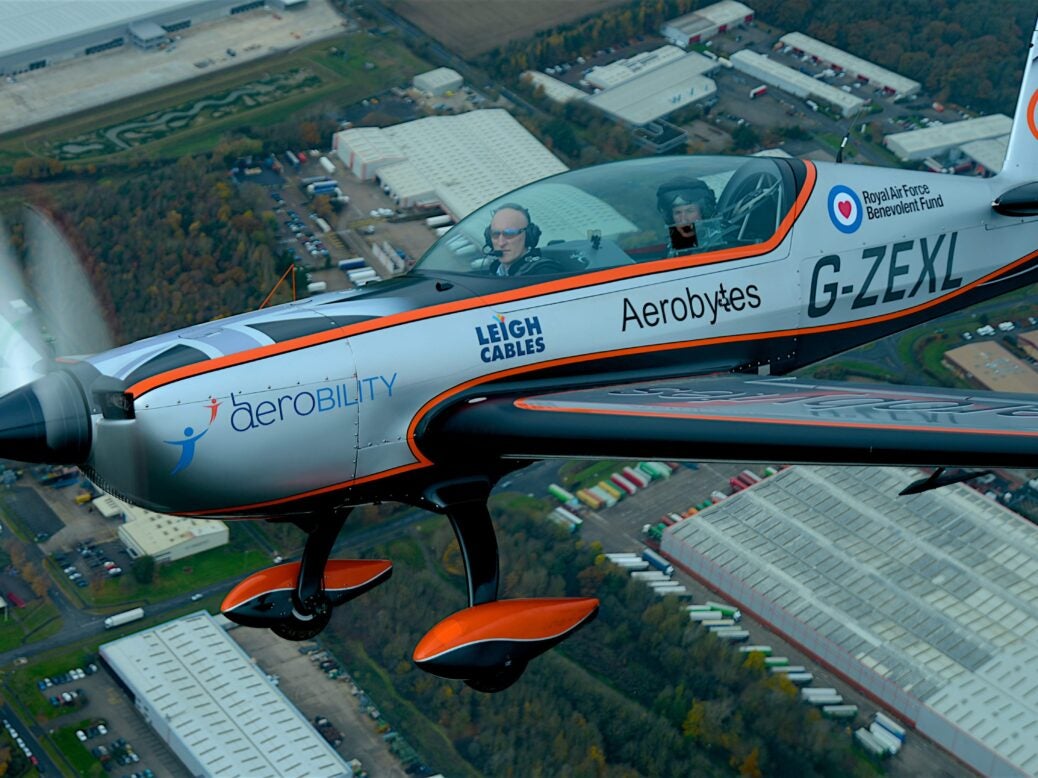 Flying a loop is easy – all you need is a nimble plane, a Red Arrows pilot to train you, and clenched buttocks, writes Ben Griffiths
Few things in flying are as thrilling as performing aerobatics in a high-powered machine like the Extra 300. Stressed to withstand plus and minus ten times the force of gravity – known as G-force or 'G' – the little stunt plane can provide more than enough punishment for the average pilot, even after extensive training.
Extreme manoeuvres are possible thanks to Walter Extra's design, revolutionary in the Eighties, which created the optimum structure using advanced materials to give the aircraft low weight, great agility and high performance from its 300 horsepower Lycoming engine. This combination makes for something of a rocket ship. Being invited to take one aloft sets the pulse racing, so imagine what it might feel like to go flying in one of these machines with the former leader of the Royal Air Force Aerobatic Team, better known as the Red Arrows!
Ben Murphy is an ex-Harrier jump jet pilot who flew on operations around the world during his air force career. Today he leads the Blades aerobatic display team, based at the beautiful art deco Sywell airfield in Northamptonshire. Having served as a Red Arrows team pilot for three seasons from 2006, Murphy was asked to stay on to command the team as well as lead its displays from the coveted Red One slot.
The Red Arrows are seen by millions of people every summer, and a Red Arrows sortie would top any aviation fan's bucket list. It's no coincidence, then, that Murphy reveals one of the ideas behind the Blades was precisely this: to make the experience of flying with a Red Arrows pilot readily available to members of the public.
Besides continuing his display flying having left the RAF, Murphy will be competing in the 2018 Red Bull Air Race Masterclass series at eight venues around the world. The aerial equivalent of Formula One, it has become a recognised sport in its own right and can attract upwards of a million spectators. The light and nimble aircraft zip through 25m-high pylons set out in a slalom course at speeds of around 250mph. Needless to say, their pilots are highly skilled. Who better, then, to teach me what this Extra 300 can do.
A low cloud base looked ready to scupper our flight, but a sudden break in the weather lasted long enough to get airborne and turn ourselves upside down alongside another Extra flown by Blades member Mark Cutmore, a former RAF Jaguar pilot and another ex-Red Arrow, with photographer Ian Black, another former fighter pilot, to record it.
A comprehensive safety includes, crucially, what to do in the event of having to bail out of the aircraft. Parachutes are provided but fortunately have never been required. Once kitted out with black flight suit and headset, I was helped to strap into the front seat of the Extra. This aircraft is captained from the rear seat. In contrast, the front cockpit has just three basic dials, including a G-meter so we can see just how much stress we're putting our bodies under.
Engine started and a short taxi to the runway, and we were ready to take off with our formation partner nestled in very close behind and to our right-hand side. With a nod of heads and full power applied, the aircraft accelerated quickly down the tarmac, wheels rumbling briefly before the wing took flight. The take-off distance was tiny, so powerful is the massive engine and whirring propeller.
Looking back over my shoulder, it was immediately apparent this is a view unlike any you get from the window of a commercial jet. Our partner zipped past to take up the lead and we closed in close to begin the aerobatic routine. Starting with a few gentle wingovers and turns, the pilots gradually wound up to some steeper moves and then the call came: 'Ready for some loops?'
I had been warned to brace for the onset of G. In essence, as we walk or sit around normally we are subject to 1G. During a loop we would be pulling about 4G, so my body effectively weighed four times its normal weight. Additionally, all the blood is forced into the lower half of your body. As the Gs increase, this can lead to blackouts. G-straining techniques such as clenching your buttocks, thighs and stomach help to keep blood in the upper part of the body longer and ward off the adverse effects.
Now it was my turn to take the controls. I'm happy to report that anyone can fly a loop well when being coached by the former boss of the Red Arrows, particularly in such a capable machine as the Extra. The controls are feather-light, so it's a simple case of making sure you are at the right speed (about 160 knots), then pulling back on the control stick until the dial registers 3.5-4Gs. As the aircraft's nose rises, look out one side of the canopy to check your wings are level as you pass through the horizon. Next, look above your head to see the ground coming back into view.
Eyes back to the front now (at this point you are pointing directly at the earth!), anticipate levelling out and ease off the back pressure as the nose comes back to the horizon. In theory, at least, we just described a perfect circle in the sky. If you get it right you can even feel the disturbed air as you fly back through the wash from the propeller in the spot you started from.
All too soon, it was time to head back to the airfield for a smooth landing, tea and biscuits. It was hard to stop grinning for hours afterwards.
The best thing about the Blades is that anyone can purchase a VIP day out, whether for a high-end corporate team building or entertainment package or as an individual. The
team are even opening up a behind-the-scenes experience that will showcase new pilots undergoing training this winter. It is safe to say there is nothing like this available anywhere else.
'Our customers are individuals who want to experience it for themselves or companies who want a client day or to book us for leadership training – we can cater to all styles of event,' says Murphy. 'There is no such thing as a standard day here.'
As a certified airline, the Blades lay claim to be the only UK display team able to take passengers aloft to fly precision close-formation aerobatics. It's not hard to see why the team are renowned for their dynamic flying, and having personally enjoyed their aerial skills and expert tuition I'm already longing to go back.
Web theblades.com