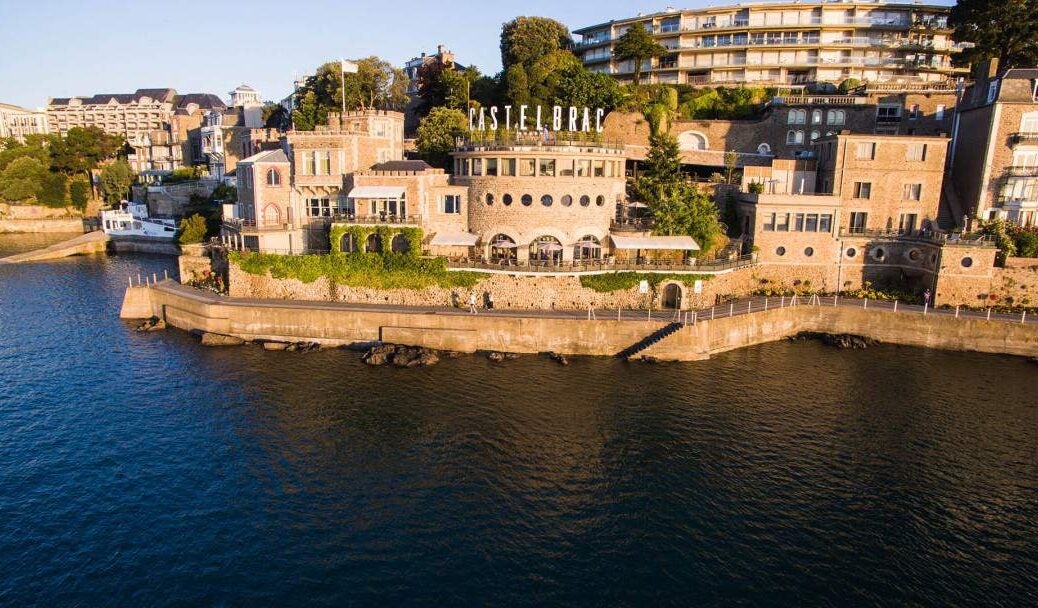 One charming corner of Brittany has a peculiarly long and deep connection with its neighbours across the channel, writes Christopher Silvester
Although it is quintessentially French and a favourite seaside retreat for the Parisian elite – LVMH owner François-Henri Pinault and his wife Salma Hayek have a home here – Dinard, on Brittany's Côte d'Émeraude (Emerald Coast), might have remained a mere fishing village in a stretch of countryside had it not been for the English.
The Faber family of Tunbridge Wells came here in 1852, decided to build a house of their own, the Villa Sainte-Catherine, encouraged their friends to visit, and started buying up properties for development in order to meet a growing demand. Three English successive vice-consuls to the port of Saint-Malo, which is a ten-minute boat ride across the bay, chose to reside in Dinard, and it soon began to attract wealthy families from around the world, notably Mrs Hughes-Hallett of Philadelphia, who was the town's pre-eminent hostess from the 1890s until the early 1920s.
A favourite destination of the British aristocracy and gentry, Dinard was visited by Winston Churchill, and Lawrence of Arabia came here as a child. It has streets named after Edward VII, George V, and Churchill, there is an English church, St Bartholomew's (built by Lyona Faber's son, William), even a statue of Sir Alfred Hitchcock; and as a concession to the moneyed tourist trade the town's casino is open on Sundays. There is an annual British film festival here every September.
In the path of the Gulf Stream, this stretch of the Emerald Coast almost never freezes. In the spring and autumn you can even see dolphins following mackerel into the bay.
Castelbrac, the cliffside hotel where I stayed, is the new incarnation of the Villa Bric-à-Brac, bought in 1869 by Colonel Robert William Hamilton, Lord Hamilton, a veteran of the Crimean War, who said upon seeing it: 'My God, what a bric-à-brac!' His appellation caught on. He built a greenhouse on the property, which was later purchased by the French National Natural History Museum and converted into a marine research station by Commander Jean-Baptiste Charcot, an Antarctic explorer, complete with labs and scientists.
Abandoned in 2002, it was bought in 2012 by the current owner, Yann Bucaille, and opened as a 25-room boutique hotel in 2015. All the rooms have a sea view. Room 19 has six windows, with the bathtub and bed in front of them. There are six prestige terrace rooms and six prestige rooms without a terrace. You will probably see a handful of cockle diggers at work when the tide is out.
Designers Sandra Benhamou and Léonie Alma Mason have combined the contemporary with the nostalgic. The lounge-library, with its preserved wooden roof and burnt-orange velvet tub chairs, is inspired by 'English spirit with Hitchcockian style'.
There are aquatic references in all the bedrooms. Portholes that once supplied daylight to the aquarium have been preserved in the space, which has been converted into a chic cocktail bar. The walls of the corridors are adorned with fin-de-siècle prints by Givré.
The hotel even has a small, unconsecrated, ecumenical 'chapel'
or 'soul haven' for meditation. And clinging to the cliff outside is a narrow, one-lane lap pool that stretches for 46 feet. From the hotel you can walk through the town or along a coastal path which takes you past several Belle Époque mansions towards the town's main beach (about a quarter of an hour's brisk walk). A couple of the houses are not far removed in character from that of Norman Bates's mother in Hitchcock's Psycho.
The hotel's 300hp open motor boat, a 'beacher', was made in Arcachon by Dubourdieu, the oldest shipyard in France. It is available to take guests out into the bay, where you can glimpse the island where the writer Chateaubriand is buried, and another island with a gloomy mansion which is said to be owned by Robert de Niro (though no one claims ever to have seen him).
Bucaille, an energy entrepreneur, is chairman of Emeraude International. He lives in Paris but likes to visit Dinard as often as possible, since he spent much of his childhood on this coast. His grandfather was a founding member of Dinard Yacht Club in 1928 and one of the original shareholders in the golf club. His grandfather operated the boats ferrying passengers between Saint-Malo and Dinard, and, together with Yann's father, founded Emeraude Ferries, which took passengers and vehicles between Saint-Malo and Jersey.
Continuing this nautical tradition, Bucaille is an experienced sailor, having competed in ocean races, and his foundation owns the catamaran Ephata, which takes disabled, disadvantaged and socially isolated people on cruises, 30 at a time.
Bucaille told me about this project over dinner in the hotel's 'Pourquoi Pas' restaurant, which specialises in seafood with some intriguing twists, such as 'the pig from Brittany and blue lobster cooked together from head to feet'. It serves only French wines, but given that it names set menus after Lord Hamilton and Lyona Faber, perhaps it should stock some English wines as well.
In keeping with Bucaille's other business, Castelbrac is committed to having a low carbon footprint. It has its own electric-powered Tesla for taking guests around the area (to and from the airport, to Saint-Malo, to
the station at Rennes).
Before the 19th century, Saint-Malo was home to corsairs and privateers who raided English shipping in the Channel. It was also the port from which many French Huguenots had embarked for Canada. After D-Day in 1944 it was bombed and shelled to smithereens by the Americans and British, who mistakenly believed it was bristling with German soldiery, and from 1948 to 1960 it was rebuilt to the same specifications as before, with multi-storey courtyard houses, as in central Paris, that make excellent apartments. Today its population swells from fewer than 50,000 in the winter to more than 200,000 in the summer.
We had a delicious late lunch on an outdoor table at the all-day brasserie Le Lion d'Or, known for its handsome waiters, where a band plays accessible rock 'n' roll in the evenings. A couple sitting at an adjacent table, two British lawyers who live in Jersey, had popped over on the ferry that morning. Just opposite, a staircase led up to the city wall and we walked along the wall back to the gate where we had entered the city, gazing down at all those rebuilt apartment blocks.
The joy of visiting Dinard is in the gentle-paced atmosphere of the town, although there is a definite buzz on Tuesdays, Thursdays and Saturdays when the closed market is augmented by an open-air market. On Saturdays in particular, the denizens, including weekenders from Paris, sit outside and gossip loudly over drinks and coffee. By way of contrast, the action in Saint-Malo is an all-day and late-night affair, whereas Dinard is quiet after dark. This proximate combination is irresistible.
Web castelbrac.com