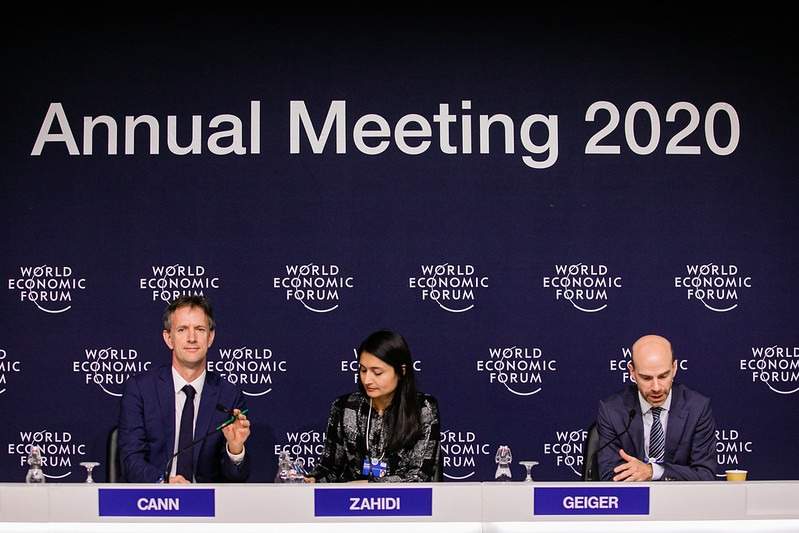 Greta versus Trump, Africa's climate conundrum and modest gender equality targets: Paul Blanchard reports from the first day of the World Economic Forum's annual meeting in Davos
An economic environment
It was snowing on Saturday as I took the train through the Swiss Alps on my way to the 50th edition of Davos. But by the time I registered on Sunday, the skies had cleared. No doubt the World Economic Forum's (WEF) founder Klaus Schwab will be hoping for some inspired blue-sky thinking: the weather is top of the agenda given this year's focus on climate and sustainability.
Speaking to those already here, you feel there are clouds on the horizon. A lot of the media are speculating on a corridor clash of egos between Greta Thunberg and Donald Trump (and who wouldn't want to see that), but Davos is more than a simple breakdown of who believes in climate change and who doesn't. Writing last week, one of the forum's 'global shapers' Cameroonian lawyer NJ Ayuk declared: 'We cannot expect African nations, which together emitted seven times less CO2 than China last year and four times less than the US – to undermine their best opportunities for economic development by simply aligning with the Western view of how to tackle carbon emissions.'
This year it feels like the time for talk is over; we'll see sparks fly as delegates try to forge a path between economic growth and ecological destruction – but hopefully we'll have some meaningful solutions at the end.
Deepfake yourself
One of the speakers this year is 'deepfake artist' Hao Li, associate professor of computer science at the University of Southern California. For those uninitiated with the nefarious potential for this technology there's the chance to 'deepfake yourself' using a computer here in the village. I had a go at replacing my face with those of Leonardo DiCaprio, Will Smith, Michelle Obama, George W Bush and Theresa May.
The result was either a vast improvement or completely terrifying depending on your point of view. But the main takeaway was how little time and effort it would take to use the technology for whatever reason you wanted – to sell a political agenda, endorse a product, or gain security clearance. So far so scary, especially as I haven't yet found any software here that's able to tell an original from a deepfake.
Diversity university
Davos has gone all out this year to shatter the stale, pale, male billionaires-only image. The management are overseeing the most inclusive and diverse Davos ever. There's still a long way to go though: the WEF have committed to make sure 44 per cent of attendees are women by 2030 (it's currently around 22 per cent). Forgive me but surely this could be a little more ambitious? I'd love to see Davos setting the pace for diversity in the boardroom and along the corridors of power. Let's get it to 50 per cent of attendees being women by 2022 – if not before!
Friendship bench
Davos is a serious place but it's also a lot of fun. I don't know of anywhere else where you can meet so many people from all walks of life and with such varied interests. It's probably the richest possible place in terms of knowledge and openness. In that spirit, I commend the Davos friendship bench!
Looking ahead
Tomorrow the forum starts in earnest and we'll see if climate talks dominate as many have predicted. Today's press conference has already looked at the risks and the 'structural change' the global economy needs in order to save the environment. These are daunting themes, but equally compelling is the potential for change that could reveal itself.
Paul Blanchard is a 'PR consiglieri' for global leaders, CEOs and HNWs. He is the founder and chairman of Right Angles.
Read more: