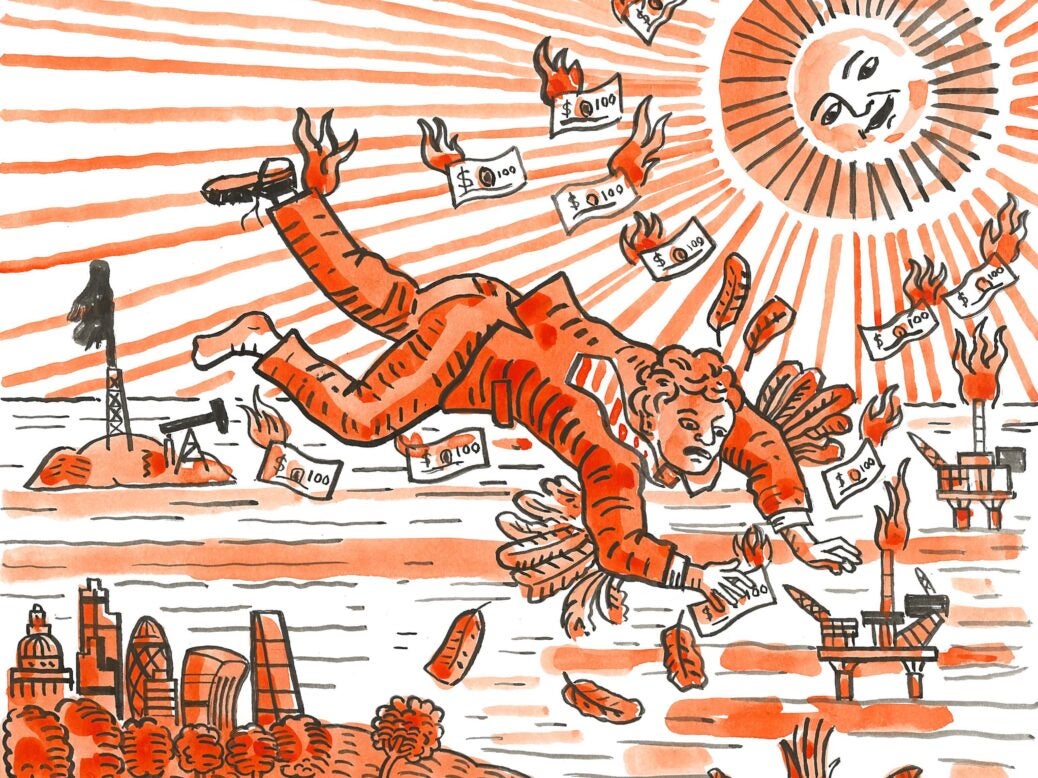 The planet is under serious threat, say climate change experts – but with crisis comes opportunity, and there is now a growing feeling that business could benefit from the low-carbon revolution, writes Alec Marsh
It is more than  a million years since mankind learned how to control fire. Since then our seemingly inexhaustible passion for burning wood, coal, oil, natural gas – and anything else we can get our hands on – has helped us build a global, human civilisation: we have fed, clothed, warmed and educated billions of people over the generations thanks to all those kilowatts of combusted energy.
We have reached the Moon thanks to it, and now work towards going even further. Let's hear it for carbon. But if you look at a graph of the quantity of carbon dioxide in the earth's atmosphere – covering, say, the last tens to hundreds of thousands of years – the value remains level until you reach about 1800.
@AdamDant
Then the line soars, roughly describing the trajectory of a space rocket during take-off. In the past 200 years, man has doubled the amount of CO2 in the atmosphere by releasing hundreds of thousands of years' worth of stored CO2 from fossil fuels. It's amounted to the biggest scientific experiment in the history of the world, and quite possibly the cosmos. And evidence is mounting that in so doing, we've potentially sown the seeds of our demise. In case you hadn't noticed, our planet is starting to feel the burn.
At December's UN climate change summit in Katowice, Poland, UN secretary-general António Guterres told delegates from 200 countries that 'climate change is running faster than we are and we must catch up sooner rather than later before it is too late'. He added: 'For many people, regions and even countries, this is already a matter of life or death.' Just two months earlier, the UN Intergovernmental Panel on Climate Change (IPCC), represented by a group of scientists meeting in South Korea, had warned that the aim of the Paris Climate Change Agreement of 2015 (the one that the US federal government has rejected) to limit our planet's temperature rise to below 2°C wasn't enough.
We're going to need to keep it lower, they said, because the impact of climate change is worse than we thought. In fact, they said, the world needs to keep climate change below 1.5°C, otherwise the consequences won't be worth thinking about.
'Every extra bit of warming matters, especially since warming of 1.5°C or higher increases the risk associated with long-lasting or irreversible changes,' warned Hans-Otto Pörtner, one of the IPCC scientists. Specific irreversible differences by the year 2100 in the event of a 2°C rise include the sea level rising by 10cm more than it would with a 1.5°C rise (consider if you will St Mark's Square of tomorrow); the likelihood of sea-ice-free summers in the Arctic Ocean at least once a decade (rather than once a century with a 1.5°C rise); and the virtual extinction of coral reefs (compared with the retention of perhaps 30 per cent of them at the lower mark).
And all this is but the tip of the iceberg. Pressures on food systems and the forced migration from the parts of the planet most affected (such as sub-Saharan Africa) to those least affected (such as Europe) will just get worse with every millimetre the mercury rises.
Against the Clock
When I caught up with Professor Johan Rockström, the world-leading Swedish climate change expert who is now co-head of the Potsdam Institute for Climate Impact Research, he told me that we have just 'one or two years' to 'contend with the current level of emissions to stand any chance of going below 2°C'.
'That means things have to happen very quickly,' he said over the phone. 'It's no longer about incremental change; it's transformation. Between 2020 and 2030, we need to reduce global emissions by half to have a 66 per cent chance of being on a pathway that can take us below 2°C and coming closer to 1.5°C.'
By 2040, he adds, we need to cut total emissions again by another half, so that we have a 'zero-carbon economy by 2050-2060' in order to keep global warming to manageable levels. Rockström is an optimist: with a price on carbon (which we have in Europe already – about €10 per tonne) and the right policies in place, and the adoption of the right technology, the above is achievable.
'It's not Utopia,' he insists. 'We can actually do it.' But so far we've not done very well: the world's carbon emissions did level off in 2015 and 2016, but they increased in 2017.
'So far we've merely reduced the rate of increase,' warns Rockström. 'Renewable energy systems [are] so far not replacing fossil fuels. It's helping us to reduce the rate of increase.' Around a quarter of countries are on a pathway to decarbonise – but the US, China, Germany, Australia, Canada and others need to sign up
'The UK already has turned a corner,' says Rockström, as have France and the Nordic countries. Calling for 'a kind of Marshall Plan for a new future', Rockström says we need 'a political stepping-up, a price on carbon, and a time-space regulatory framework for the enddates for different fossil-fuel-based technology and practices, which together will send the right signals to the financial sector that now is the time to step away from putting money in fossil fuels'.
Instead, capital needs to move to the solutions, he says: 'Today I would say science is providing the insider information that it's a bad bet to put money in coal, because you risk actually having a stranded asset, which means you will not get any profit back for that investment.'
The Right Track
That's certainly what the green financial visionary Mark Campanale believes. Named one of 2018's most influential Londoners, he set up the Carbon Tracker Initiative with 'the goal of aligning global financial markets with climate change'. Having watched policy-makers agree various limits on emissions, he was baffled by the amount of capital still flowing into fossil-fuel industries.
So he set up the think tank to work out how much CO2 was in the reserves and resources of the top 200 publicly traded coal, oil and gas companies, and compared that with the amount of actual carbon that could be burnt if the planet were to keep to a 2°C increase (which we now know isn't good enough).
'What we discovered is that the reserves and resources of people like Shell and BP – when taken together with governments – there's enough there to blow the carbon budget by five, six, seven times,' Campanale tells me over coffee at the Conduit Club in the West End, a new private members' club for people interested in sustainability. 'We called it the carbon bubble and said that all those reserves that couldn't be burned would be stranded assets, and that financing the development of even more would be a waste of shareholder funds.'
The concept of 'unburnable carbon' was born. That was 2011. The report went viral and suddenly a lot of people started noticing – including the Bank of England. In 2014, Mark Carney told a World Bank seminar that 'the vast majority of reserves are unburnable'. But for bankers like him – as he explained in a now famous speech to Lloyd's of London a year later – the direct challenge was not so much how to prevent climate change, it was how to prevent a meltdown of financial markets: in Brexit terms, it was about how to manage an orderly transition to a carbon-free future.
That was then, this is now. In 2017, financial institutions responsible for managing $80 trillion of assets – the same as the world's GDP in a year – supported the Task Force on Climate-related Financial Disclosures (TCFD), a global body set up at the behest of the G20 which creates a framework for financial reporting of climate risks and obligations. In a speech in Amsterdam in April 2018, Carney pointed out that 'investment managers controlling over 45 per cent of global assets under management' now backed 'shareholder actions on carbon disclosure'.
This includes two of the world's largest: BlackRock and Vanguard. Also in 2017, another new world body – the Network for Greening the Financial System – was born, with members comprising eight central banks aiming to coordinate a response to a carbon-free future.
'Financing the transition to a low-carbon economy is a major opportunity for investors and creditors,' Carney said in that Amsterdam speech. 'It implies a sweeping technological revolution, including investments in long-term infrastructure at roughly quadruple the current rate.'
So what's that future worth? 'There are some very thoughtful economists who are estimating that this is a $26 trillion economic opportunity over the next ten years,' says David Blood, senior partner of Generation Investment Management in London, which has $20 billion AUM. 'It's huge. We fundamentally believe that the intersection of technology and innovation, which we're calling the sustainability revolution, will be the most significant economic opportunity in history.'
Blood, a former Goldman Sachs partner who set up Generation IM 15 years ago along with six fellow partners (its chairman is former US Vice President Al Gore), adds: 'Those who think the challenge of addressing climate is about negative trade-off, they're mistaken. Everything that you have done today will change over the next five to ten years. Mobility will change, food and agriculture will change, energy will change, the built environment will change.'
At the vanguard of change will also be changes in agriculture as we struggle to feed all the extra mouths in the world, even as pressure on land increases and yields fall due to climate change. As well as growing more and different food in new ways, there's also the small matter of how we waste less and move to a more circular economy, which will challenge businesses and open up the space for challengers.
'These are good changes: changes that will make us live in a much more pleasant place,' explains Blood, a gently spoken native of Michigan in America's Midwest. 'As investors and as business people, to be able to be aware of the risks but also the opportunities is absolutely critical in terms of how one will navigate capital markets and business over the course of the next decade.'
Opportunity Knocks
One reason Blood has agreed to speak to me, I perceive, is the urgency of the situation: 'Business people and policy people recognise that actually we're running out of time.
They're not frightened because the opportunity is really enormous.' But investors are behind business leaders, he believes: 'All of us who are blessed with voices or resources have an obligation to do whatever we can over the course of the next five to ten years. The urgency is upon is. But it's also about the opportunity. I think increasingly wealthy families will look to mobilise capital into that transition to a low-carbon economy.
That's happening already.' Back at the Conduit Club, Mark Campanale, whose backers include a string of highly influential, globally recognised philanthropists, estimates that 40 per cent of capital markets is still invested in the carbon economy – from combustion engines and cars to the oil and gas business and highstreet mechanics. Hard to imagine, but that's all going to disappear over the next decade or so. And it needs to if we're going to get to 1.5°C or under.
'Everybody likes to think they can predict the pivot point or the moment when it's time to recalibrate your portfolios,' says Campanale, who has 25 years' experience in sustainable financial markets, including firms such as Jupiter Asset Management. 'Everybody gets it wrong. And we're going to see this happen in the case of the fossil fuel industry.'
Just before we talk, he's been meeting a private equity fund manager raising £100 million 'exclusively focused on the electrification of aeroplanes', which he describes as the most exciting deck he'd see all year. (Don't forget that in April it emerged that Rolls-Royce had filed patents for electric jet engines.)
The shift is happening. For instance, the UK and French governments have banned the sale of fossil-fuel-powered cars by 2040, and the UK's last coal-fired power station will close by 2025. Britain's emissions are down to 1850s levels. We have much further to go to meet our Paris commitment, but in marathon terms the UK is with the runners at the front of the pack.
The $26 trillion business opportunity is here – and the business giants of tomorrow's world will be the ones who embrace that opportunity. Campanale reminds me that at the turn of the last century another revolution was under way – not the sustainability revolution, but the automobile revolution.
'From the launch of the car in 1900, it only took 15 years for the car to take all of the growth and to pass by horses as the main source of transportation, and then the next 20 years for horses to essentially disappear,' he says. 'The adoption rate on electric cars is faster and quicker, and is scaling quicker than the car replacing the horse.'
The key for the visionaries I have spoken to in this article is that the world must kill coal quickly in order to buy more time to unhook itself from the more convenient and marginally less polluting siblings, oil and gas. But this has to happen fast.
'What will move the needle in the next couple of years is innovation, business and capital,' Blood asserts. 'We don't have ten years to sort this out. We have to get at it right now. The ability to deploy capital into this transition is extraordinary.'
Alec Marsh is editor of Spear's 
This article originally appeared in issue 66 of Spear's magazine. Click here to buy. 
Illustration by Adam Dant
Related…
Interview: Lloyd Dorfman on UHNWs: 'You don't see a huge number giving'
Interview: Guy Hands, reign of Terra
Interview: Yanis Varoufakis on the end of Europe — and capitalism