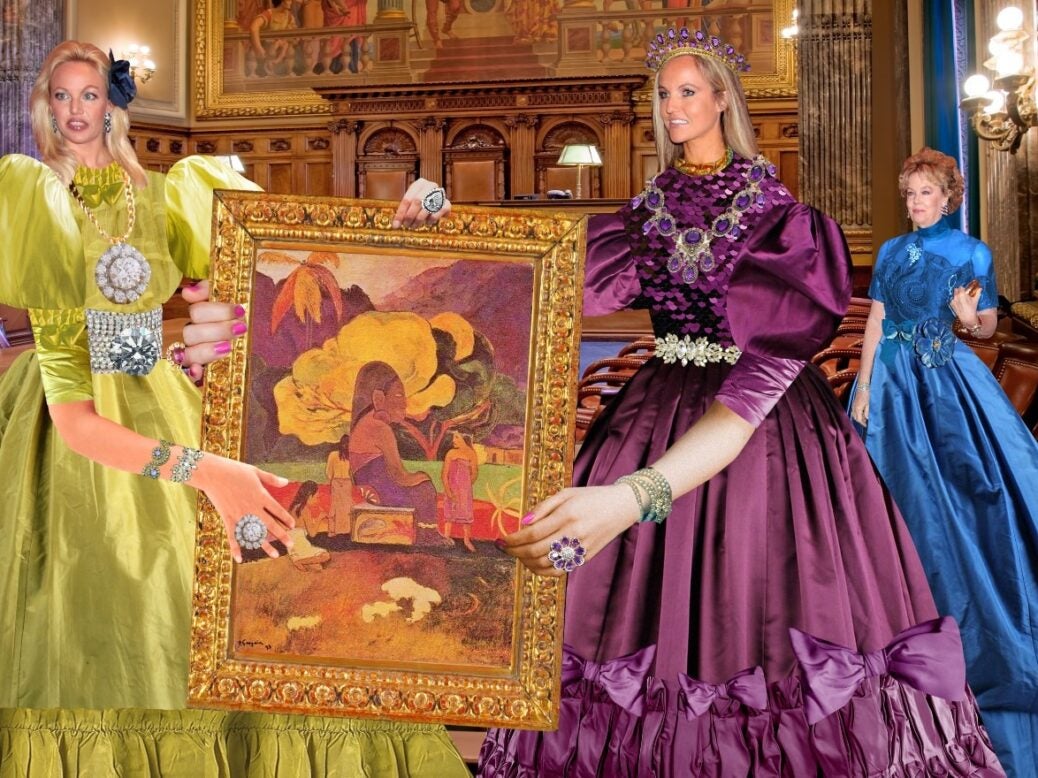 A high-profile family feud over a trust – and a missing Gauguin painting worth £50 million – is a salutary lesson for HNWs, finds Alec Marsh
Trusts –  understood as a means of arranging wealth for future generations or for those unable to do it for themselves – date back to the time of the Crusades a thousand years ago. But it's doubtful that in all that time, any has inspired a battle quite like this.
The Grand Trust of which Princess Camilla Crociani de Bourbon and the Two Sicilies and her sister, Christiana Crociani, are equal beneficiaries has been a veritable bloodbath of litigation and rancour.
Ructions began with legal action launched after the sisters' mother, the Italian film actress Edoarda Crociani, who created the trust, removed investments and art worth £100 million from it in 2010.
In 2017 Edoarda was ordered to rebuild the trust. Since then, trustees, including BNP Paribas in Jersey, have been sued and one of the daughters, Princess Camilla, has been ordered to reveal the whereabouts of a Gauguin painting, Hina Maruru, owned by the trust and insured for £50 million. She took the decision to launch an appeal against a £2 million fine levied by the Jersey Royal Court for contempt of court.
In a separate development, it's reported that Princess Camilla's daughters are now due to take matters to the Privy Council in London in yet another legal move concerning the trust.
Spanning decades, generations and jurisdictions – as well as the pages of newspapers – this expensive legal row is surely the last thing that Edoarda Crociani wished for when she settled the trust for her then-teenaged daughters in 1987. However, her case is not unique in every respect. The heady mix of intergenerational discord and changing family structures has seen more people beat their way to the courts.
From 2012 to 2016 the number of trust disputes going to the High Court in London more than doubled from 98 to 201 cases – according to a freedom of information release in 2017. Nonetheless, the Crociani case stands out for the sums involved, the duration of dispute and the high-profile nature of its combatants; the family's social circle includes Prince Albert of Monaco.
Moreover in the matter of trusts, cautions Natasha Stourton, a partner in the trusts, estates and inheritance disputes team at Withers, it's a 'very clear example of the steps that can be taken which turn out to not necessarily help the family'.
'A case like Crociani could have been avoided if there had perhaps been clearer advice or more strong-willed advice at the beginning, so that [Edoarda] really understood what she was doing,' says Stourton.
Anna Gaston, trusts expert and counsel at Maurice Turnor Gardner, notes the large personalities involved and the reported change in family dynamics.
'On the face of it, it appears [Edoarda] wasn't supposed to be a beneficiary and she wasn't supposed to take money out of the trust,' says Gaston. 'But her argument was that she had set this trust up with the intention that she would be able to benefit through some indirect means.'
As a result, says Gaston, much of the legal argument has been about 'working out what really was intended' when the trust was set up back in the Eighties – what its remit was, who the beneficiaries were, and who the trustees should therefore be thinking about when making decisions about what to do with the assets held in it. Perhaps unsurprisingly these sorts of issues are the ones that come up in a vast number of trust disputes.
'Often a family will set up a trust one day, thinking it'll work forever, and perhaps circumstances change,' notes Gaston. So how does one future-proof a trust? 'The main advice when you are setting up your trust with your lawyers, your team and your family, is to war-game it,' says Gaston.
In other words, look at every eventuality and be sure you can live without the money you want to settle into the trust, and that you have a back-up plan if something goes awry with your other sources of wealth. 'Have your emergency strategy for as many different scenarios as you can think of so that your trust can adjust to your life,' cautions Gaston. Once a trust has been set up, you must abide by 'the rules that were created'.
Moreover, she advises that everyone involved in that process – the trustees, the settlor, the beneficiaries – fully understand what they can expect from the trust to avoid the type of consequences that have arisen from the Crociani trust.
Trustees will retain the 'ultimate power', notes Stourton. But there are some ways that settlors – that is, those that set money into trusts – can retain some control. 'You can shape the trustees' power,' she adds. For instance, the levels of distributions that trustees can authorise may be capped at a certain level, above which they may require consent for an authorised 'protector', who could be the settlor themselves.
Alternatively, if a settlor would like to set up a 'plan B' in case of changing financial circumstances, they could also be named as a beneficiary.
'But ultimately the decision of whether to make [a] distribution has to be the trustee thinking what is the best decision in favour of all the benefi ciaries,' adds Stourton. And just as the lives and needs of settlors and beneficiaries change, so too should the management of trusts.
'It's an ongoing process,' advises Stourton. 'Even if the trust is air-tight at settlement,' there may be a time in the future when it's worth considering once more 'whether the trust is still working in the right way'.
In essence, things change and trusts need to be able to change with them. The Crociani case also shows it's vital for trustees to keep a close eye on high-value items held in trust. 'Things do go missing,' says Gaston, who notes that it is common for items such as artworks to be loaned by trustees to beneficiaries.
'Trustees are very conscious of the difficulties of holding an asset like an artwork which can have huge value and not be under your control,' she says. Perhaps, however, the overriding lesson from the Crociani saga, is the most glaringly obvious one of all.
Trusts are not a 'personal piggybank', says James Quarmby, tax partner at Stephenson Harwood. 'The courts in most respectable jurisdictions, like Jersey, will not take kindly to trust law being ignored, no matter how wealthy the settlor,' he warns.
'I have no idea who is right or wrong in this case, but it is a salutatory lesson that if you create a trust then, unless it is a revocable trust, you have to accept that you have lost control of the money settled, even if you later change your mind.'
More from Spear's 
What charities and trustees can learn from Kids Company
On tax returns in ancient Rome
The sanctuary for global wealth that you've probably never heard of