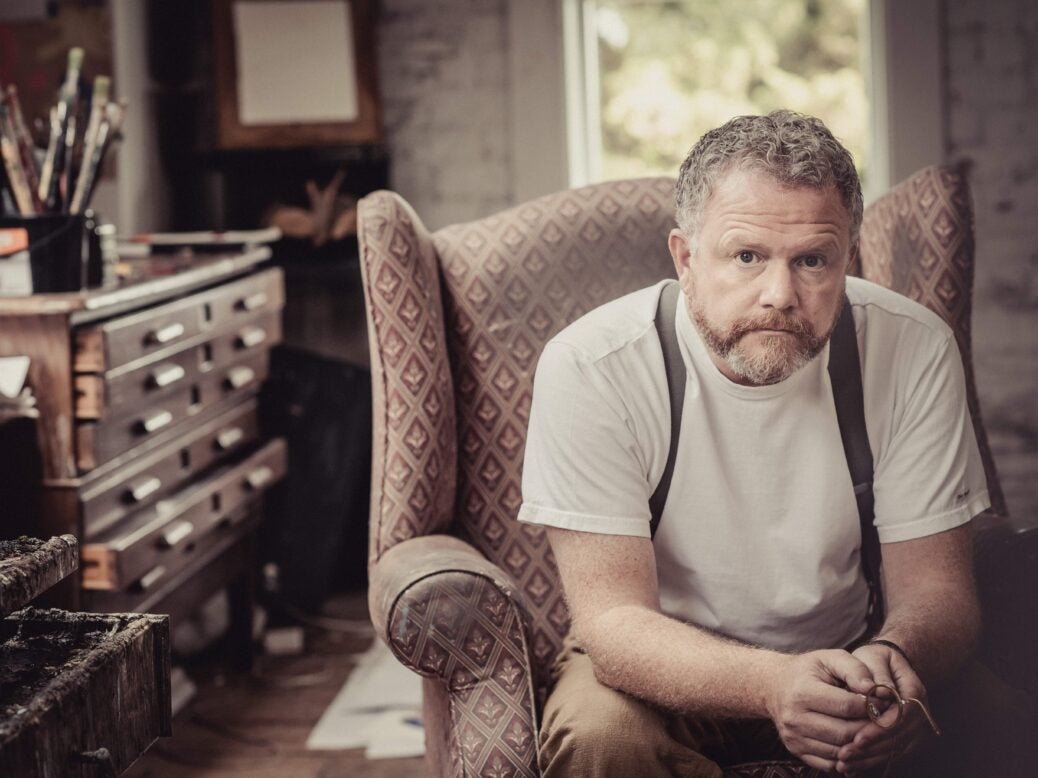 Whether he's painting the Queen or locals in Belfast, Colin Davidson brings a unique twist to his portraits. Emelia Hamilton-Russell asks him how he does it
At the age of seven, Colin Davidson produced a crayon drawing of a farmhouse which shocked the class, the teacher and himself. There was something he says he 'couldn't lay claim to' in the drawing. It's that feeling – of trapping in an artwork the spirit of a place, or a feeling, or an encounter – that drives him.
Forty-odd years later, Belfast-born Davidson is one of the world's most renowned portraitists. The challenge of his work continues to enthrall him.
'Making a good painting of a human head is hard enough. But a good painting of a human head that has to look like the person you're painting is infinitely more complicated,' he laughs. 'That's part of the thrill and the buzz of getting a painting right. It's part of the struggle. There's no point setting myself up for something easy, that I know I can do in my sleep.'
After an art and design degree at the University of Ulster, Davidson set up a successful design business, but felt he wasn't going to achieve anything big or new in painting while in full- time employment. He quit in 1991, giving himself ten months to see if he could make it as a painter.
He could. In 2013 – by then established after some successful solo exhibitions – he got a call from a lawyer saying they had an American client who was spending a few months in London and wanted to learn to paint. Davidson declined, because he hadn't done much teaching, and because he's based near Belfast, not London. As it turned out, the 'American client' was Brad Pitt, who'd seen and admired his work. They called again, insisting Davidson was the man for the job. This time he agreed.
From there, his career surged. Time magazine commissioned a portrait of Angela Merkel for its 2015 Person of the Year cover. Then, in 2016, he was commissioned to paint a portrait of the Queen for Co-operation Ireland.
Does he ever get star-struck? 'I think… yes. Sometimes with people who are really well known.' Of painting the Queen, he says, 'I suppose there's an element of it being a "pinch me" experience. There is a feeling of being completely out of one's depth.'
Sketch show
Davidson's process is to invite his sitter to his studio near Belfast or go to their home. He sits with them for two to three hours, making sketches and taking photos. 'I want the person to move and allow me to see how their face works. I'm trying to notice all of that… the movement and the muscles of the face.'
In most of his portraits, the sitter is unguarded, looking away from the viewer, their face relaxed. The paintings tend to be most detailed around the eyes, the brushstrokes growing larger and more abstract as he works towards the edges.
In the privacy of the studio, he wants his sitter to move, to chat, to get bored and go into themselves and to 'allow me to see what their face looks like in different states, and as they experience different emotions'. He describes the 30 or so drawings he does as 'automatic', a sort of brain dump of impressions that will later serve as an aide-memoire for the final painting.
While he does take photos of the sitter too, he never relies on those. 'Often when we have a camera in front of us, we attempt to show what we deem to be our best look,' he says. 'What I'm attempting to do is see what that person looks like to the people who know them best.' Important, too, is what he calls the 'encounter' with the sitter. 'There's a certain intensity to it. They're very aware of you concentrating on them – it's quite a vulnerable position to be in.'
Stolen glances
Davidson's informal style is in many ways the antithesis of classical portraiture, where the sitter stares directly at the viewer – aware of being scrutinised, wearing their Sunday best and most imperious look. His paintings, with their thick, expressive brushstrokes incorporating techniques used in landscape painting, are almost voyeuristic. The viewer gets the feeling they're stealing an encounter that wasn't meant for them. The Queen herself unveiled Davidson's portrait of her in front of patrons.
'I sometimes wonder why I choose to be in the same room as the person when the painting is unveiled,' he says. 'I'm always aware of how difficult it must be to look at someone's interpretation of you, and then have to react appropriately in public.'
Particularly moving are his Silent Testimony paintings, a collection of 18 portraits of people either bereaved or injured during the Troubles. Painting these, he says, shaped him more than any brush with royalty – Hollywood or otherwise – ever could.
'That was something that I had wanted to do for a long time,' he says, 'and in meeting people who had suffered loss, it felt like I was being brought into another world.'
His goal when painting is always to get back to that feeling he experienced as a child, when he realised there was something in his drawing that he couldn't take full responsibility for.
'Good art is more than the sum of its parts,' he says. 'I mean, what makes people stop in front of a piece of cloth with some paint put on it and be moved to tears? There's another magic going on, some mystery. That's why there's only ever been one Rembrandt. When the artist's eyes and hand are working in harmony, it allows something else to occur.'
Image: Chaz Oldham Photography
This first appeared in issue 71 of Spears, available now. To buy and subscribe, click here
Read more