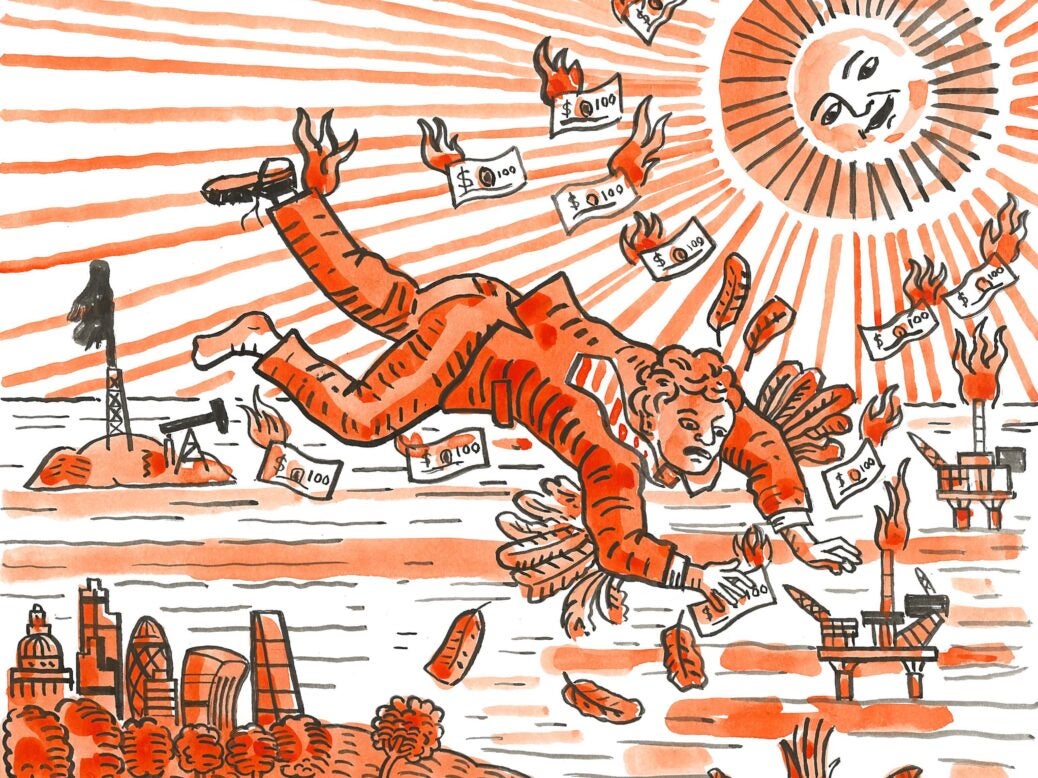 Money makes the world go round, and nothing will curb carbon emissions quite like starving it of the money it needs to thrive.
In 1965, US President Lyndon B Johnson was presented with scientific evidence that man's burning of fossil fuels was causing climate change. 'Through his worldwide industrial civilization, Man is unwittingly conducting a vast geophysical experiment,' his panel of scientific advisers warned. 'Within a few generations he is burning the fossil fuels that slowly accumulated in the earth over the past 500 million years… The climatic changes that may be produced by the increased CO2 content could be deleterious from the point of view of human beings. The possibilities of deliberately bringing about countervailing climatic changes therefore need to be thoroughly explored.'
Move forward 50 years and the quantity of carbon dioxide in our atmosphere has soared from a little over 300 parts per million (ppm) to 413ppm. At Paris in 2015, the world signed up to working towards keeping global warming to 2°C above pre-industrial levels (it's already 1°C above). However, current pledges aren't doing enough, and on present trajectories we're heading towards a temperature rise of 3°C by 2100. This really matters, as the world's leading scientists – and not just David Attenborough – have been at pains to point out. Moreover, many now believe that 2°C is too much, and that there's quite literally a world of difference between 1.5°C and 0.5°C more.
Take sea levels. These rose globally by 15cm during the 20th century but are now rising twice as fast – 3.6mm per year according to the UN body responsible. 'It could reach around 30-60cm by 2100, even if greenhouse gas emissions are sharply reduced and global warming is limited to well below 2°C, but around 60-110 cm if greenhouse gas emissions continue to increase strongly,' they warn.
That more than 600 million people live in coastal regions that would be affected by this doesn't bear thinking about. Nor do the countless millions who will be driven from the world's equatorial belt by hunger and agricultural collapse. It will make the horrors of the recent migration crisis in Europe look like a corporate away day.
The sight of hundreds of men and women loafing about the streets of London and other cities– bedecked with lurid flags, and appearing to be a sect paying homage to gaudily painted sailing boats or tractors – will doubtless elicit a range of responses in the minds of Spear's readers. Many will be of the mind of the prime minister, Boris Johnson, who described Extinction Rebellion protesters as 'crusties'.
But the chilling fact is that the crusties have a point.
Only die-hard at-earth theorists seriously contest the fundamentals of the hard science behind warnings over carbon-fuelled man made climate change. That we might not approve of the methods of Extinction Rebellion is beside the point. Calling for nations to be carbon net zero by 2025 is laudable, if fantastic.
Calling for governments of the world to regard this threat as akin to armed conflict is appropriate, because that is precisely what will happen when tens of millions of climate refugees from countries that have not been polluting the world for the last 200 years hove into view.
We can't wait until 2050 to be net carbon zero. You might not like the crusties. You might, with justification, regard the extreme left-wing, Marxist views of some of their number with contempt. You can certainly condemn their targeting of public transport. But when it comes to carbon emissions, they are on the right side of history. And no one wants to be on the wrong side. It's a bit like being one of the 16 MPs who voted to preserve the slave trade in 1806.
When it comes to climate, not only is there an intrinsic moral imperative to behave and use wealth in a way that does not do known harm to others, but there is an extrinsic benefit too that comes of having investments in the industries of tomorrow – and not the past. Spear's hails the ordinary folk who have taken part in the Extinction Rebellion and exhorts readers to get stuck in, either in person or with their portfolios. Money makes the world go round, and nothing will curb carbon emissions quite like starving it of the money it needs to thrive.