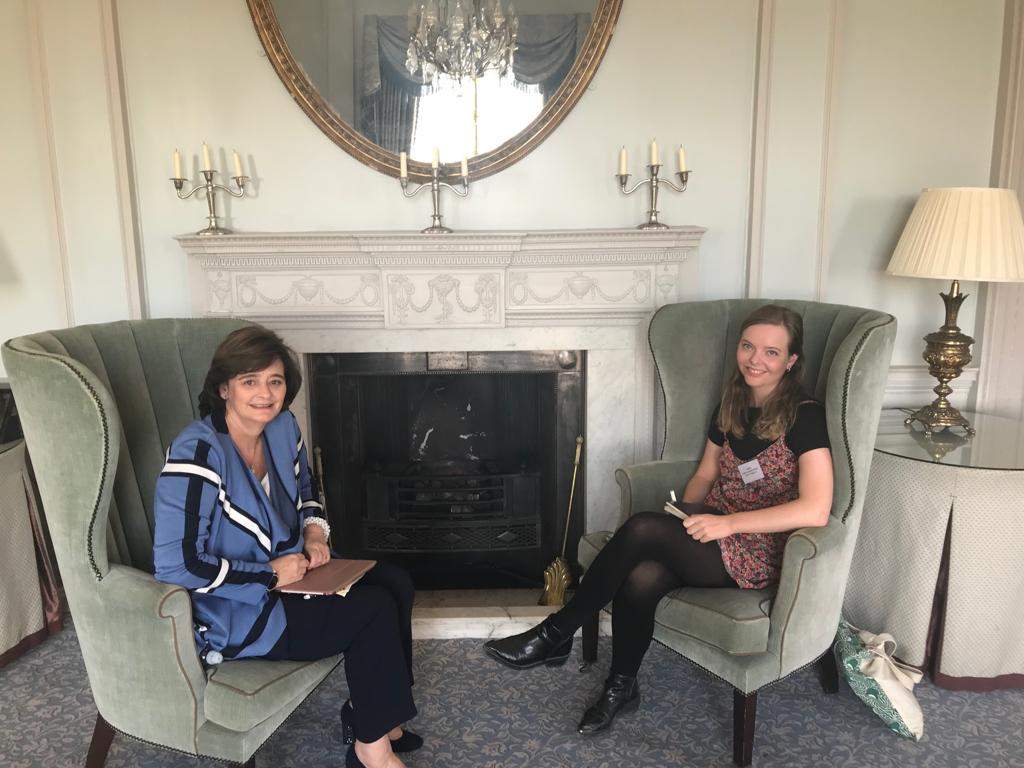 Cherie Blair on how international mentoring can help women flourish in business in developing nations, as told to Emelia Hamilton-Russell
I think  the most important thing about philanthropy is it has to be real. It has to say something about you and your passions. In my case, I've always been passionate about women's rights.
Working with women in the emerging and developing world, and helping them have a source of income so that they can stand on their own two feet and make their own decisions, seemed like a natural fit for me. My mum, like so many other women, had to go to work.
Her husband had abandoned her, and who was going to feed her children if she didn't work? My mother made a huge number of sacrifices so that my sister and I could go to school, and I think I wanted to succeed because of that, because I wanted to repay her and let her know that it was all worthwhile.
What I want for every woman in the world is that they have the right to make a choice – whether that's to stay at home with children or go to work. Financial independence means women are free to make that decision. Our mentoring programme works by matching together women entrepreneurs from developing countries with our mentors – as one of our mentees put it, they have 'an invisible friend who walks alongside me'.
Our mentors will evaluate business plans and help them take their business to the next level. For mentors, all we ask is that people have had seven years' experience in business.
Companies like partnering with us because it gives their staff an opportunity to volunteer, and to learn something about what it's like to run a business in a market where there's no guarantee that the electricity will be working. We have some mentees in Sierra Leone, for example – I met a woman who had a hotel in the capital, and then when Ebola broke out no one was coming. Her mentor helped her through that, and she switched to selling bottled water and was able to keep earning a living.
You really need to have a proper strategy for philanthropy. Of course, every little bit of money that you give – whether it's a coin in a tin for Guide Dogs for the Blind or a huge donation to endow a wing at Oxford University – will make a difference.
However, if you get the right organisation, with good structures, good governance and good programmes, you're likely to make more difference than an organisation that doesn't have such good governance. I firmly believe that charities and foundations should be run along business-like lines. I was going to say it's like a 'business with a heart', but then I believe that these days the most successful businesses do have a heart.
In my foundation, we get 70 per cent of our donations from corporations who are interested in our mission of helping women with financial literacy, with making networks and mentoring. I remember one woman who was 36 and had two children, and she had sliced off her left hand while working in the family shop.
She was quite depressed for several years and her earning potential had dropped.
She got on to our mentorship programme, and as a result of that, and with the help of a small business loan and some business training, she went back into the shop, bought some cows, and started to sell milk along with the usual goods. When I met her some years later, she was able to fund her daughter – who wants to train as a doctor – through school.
When I asked her what her day was like I was astounded. She got up at 5am to milk the cows – ten cows to milk with one hand! At 8am she went home, did the housework, fed everybody, and at 10am she opened her shop. From 10am till 6pm she worked in the shop.
At 6pm she went back to milk the cows again. At 10pm she was back to feed the family. And you just think: 'What a life!' But, as a business owner, she was looked up to in the community and her family were well provided for – she felt good about herself.
This article originally appeared in issue 66 of Spear's magazine. Click here to buy. 
READ MORE
ANALYSIS: Wealth managers react as eurozone 'recession' looms
Switzerland: Stuck in the middle with EU.
Lloyd Dorfman on UHNWs: 'You don't see a huge number giving'