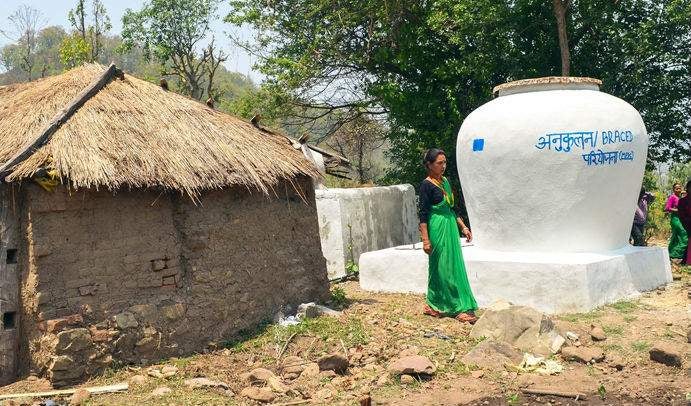 Spear's meets the new UK Chief Executive of iDE, the global NGO on a mission to help rural communities out of poverty
Five months into his role as Chief Executive of iDE in the UK, Iain Hunter has just returned from a trip to Nepal and Bangladesh, where he saw first-hand iDE's work and the impact it has on rural communities.
'I saw for myself, especially in Nepal, the quiet smiles of confidence because they'd learnt from us, and there was this entrepreneurial spirit,' says Hunter, who comes to iDE from a career in marketing and advertising. 'They were saying we want more technology, we want to learn more, we know we can. I can look you straight in the eye and say I know how well this is working. We have a very measurable impact.'
iDE, a US-based global NGO, which has been operating for 35 years and in Britain for 18 years, focuses on helping the poorest people in the world, many of whom are farmers, through agriculture and WASH (water, sanitation and hygiene) and by encouraging entrepreneurship. 'It's not us giving money but providing tools, expertise, tutelage and encouragement,' Hunter explains.
They target those rural areas around the world where poverty has been most difficult to eliminate due to geographical or political circumstances. In Cambodia, for instance, where nearly 60 per cent of rural households do not have a lavatory, which leads to the spread of disease, iDE set about developing new and affordable latrines, which were easy to make for local concrete manufacturers, who then managed to sell over 200,000 latrines in five years.
Another region is a drought-ridden west Nepal. 'iDE comes in and propels the suggestion that they may care to think about using a solar powered water pump that we have helped design,' explains Hunter. 'They buy it locally, and through our training and intervention they use it more effectively, the land becomes more arable, and so the quality of the produce is higher, they take more to market and a positive circle starts. Instead of just one crop, they discover multi-cropping through the growing season.'
And the special thing about iDE is that they almost only engage locals to train the farmers and help them to implement their schemes across 11 countries in Asia, Africa and Latin America. 'Our teams are so popular, it's all about wide smiles and welcome. They speak the language and know the local traditions and that's very important. We have minimal if any expats,' says Hunter.
In their first 29 years iDE claimed to have had a positive impact on the lives of 20 million people. 'It's a big statement to make but we can claim that genuinely,' says Hunter. 'We have case studies where we look specifically at numbers of individuals that have been positively impacted. It's important that we can demonstrate what their money is doing. Donors love that because many other organisations cannot claim that satisfactorily.'
iDE's aim is to convert every £1 donation into at least £10 in increased incomes for the rural poor. According to their most recent measurement and evaluation cycle, their latest agriculture program delivered a return on investment of 14:1, while their WASH program delivered 18:1.
So how can we help? 'The provision of unrestricted funding- that's the optimum circumstance, because all organisations like ours need it for operations: marketing, business, communications, research, impact studies, that doesn't come just out of the ether,' says Hunter.
'However, you may have an interest in a particular country or mission: agriculture or water pumps. The entry points are many and varied. We listen very carefully to what they want to do and then identify an initiative that would suit their needs.'
The aim now is to crank up the pace and help 20 million more people by 2020 to build and strengthen their communities by offering them more time, technology and resources.
Go to ideglobal.org to find out how you can help