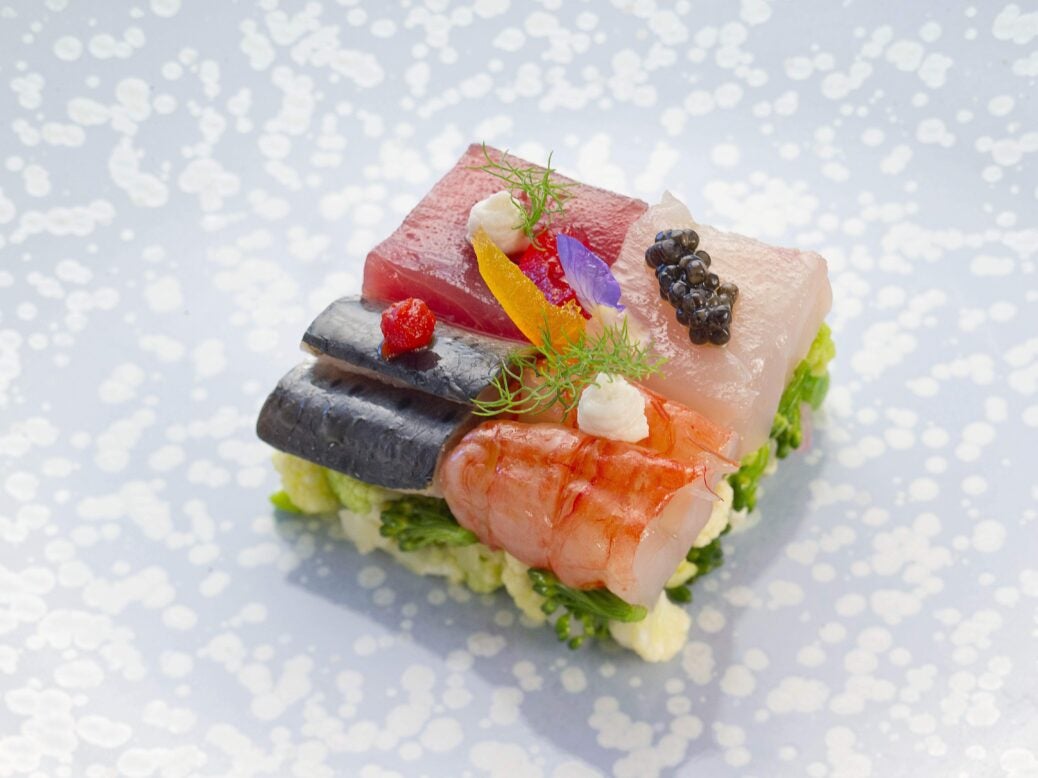 Hidden in a sleepy South Eastern orner of the island, Corsica's only two Michelin-starred restaurant is truly something to savour, writes Andrew Harris
For some of us, when the urge to be somewhere else takes hold, that invariably involves a particular restaurant, even a specific table. A place of revered sensorial memories flitting into the mind's eye at a moment's notice. I've got one or two. I think I've just acquired another one.
In the sleepy South Eastern corner of Corsica dangling down onto a Mediterranean bay of petrol-blue perfection lies the 34 room independently owned Casadelmar hotel, one of the most coveted destinations in Corsica.
Looking out across to the little town of Porto Vecchio, framed by its unruly mountainous backdrop stabbing into crystal clear cobalt skies, Casadelmar, an ultra-contemporary understated haven of style-infused seclusion, boasts the only two  Michelin starred restaurant on the island.
The Italian chef, Fabio Bragagnolo, has been at the property since its inception in 2004. A modest, mild-mannered man, Fabio has a beautifully presented chef's table inside his kitchen, an alluring space where diners are able to watch the close-up culinary magic unfold. He speaks little English but I'm pretty sure what he was trying to get across was something like; 'you just park yourself in there while I gastronome you to within an inch of your life'. So, I did. And so did he!
The Gastronomic Restaurant, as it's simply called, is usually experienced on the hotel's terrace, absorbing that fabulous view, while a star-studded canopy slots slowly into place overhead. Fabio's cuisine is extremely refined, inventive and delicate; as intricate and detailed as it is powerful and punchy.
Corsica, half of which is national park covered in maquis, a wild aromatic amalgamation of shrubs, serves as an amazing organic provedore. From ultra-fresh seafood and goat's cheese, to olive oil, honeycombs and produce from the restaurant's kitchen garden, the quality of raw materials underpinning Fabio's artistry is unassailable. 
A plethora of exquisitely presented canapes represents the vanguard of the culinary assault: marinated mackerel with muscat, fried octopus with sage pesto, and tomato and raspberry gazpacho with an olive oil bubble. Exquisite, minute works of culinary art, each and every one.
A grilled fillet of local red tuna, it's explained, has been produced using the Ikejime technique; no, not a form of Japanese birth control, but a centuries-old method of despatching fish in Japan intended to produce better tasting ones and minimal distress at time of death. An increasing number of French chefs now source ikejime produced fish. Served with chestnut honey (chestnuts figure prominently in Corsica and there is even chestnut beer), and oysters, I am an immediate Ikejime convert.
Less skilled hands attempting dishes such as ravioli of minced quail, wild nettles, and smoked consommé, or John Dory poached in olive oil, pink lentils, mozzarella and clouds of tomato water, could come unstuck pretty quickly. This, it very quickly transpires, is haute cuisine of the hautest order. Without any doubt, an experience to seek out and to savour. 
Casadelmar boasts an extremely well-rounded wine list showcasing Corsican wine but also incorporating rare bottles such as Domaine Romanee-Conti. The Corsican pairings were impressive; a 2017 single-field white from Domaine Alzipratu in Calvi (100 per cent Vermentino, Corsica's predominant grape variety) was dangerously good.
Desserts, produced in a separate kitchen by fellow Italian Claudio Pezzetti, proved no less refined compliments to the gastronomic excellence that goes before.  
There have never been three Michelin stars awarded in Corsica, and it is no secret, Bragagnolo would welcome the accolade. Who knows precisely what those secret agents of gastronomy look for when they creep furtively around Europe's top-tier restaurants deliberating over a three-star decision? On the basis of my experience, where the cosy alcove inside the Casadelmar kitchen has just attained cult status, they can probably stop creeping. Fabio Bragagnolo is creating Franco-Italian contemporary cuisine at its absolute best. 
Casadelmar (private helipad/mooring/beach), rooms from 490 euros: casadelmar.fr Air Corsica has more flights from London and to more Corsican destinations than any other carrier: aircorsica.com
Read more