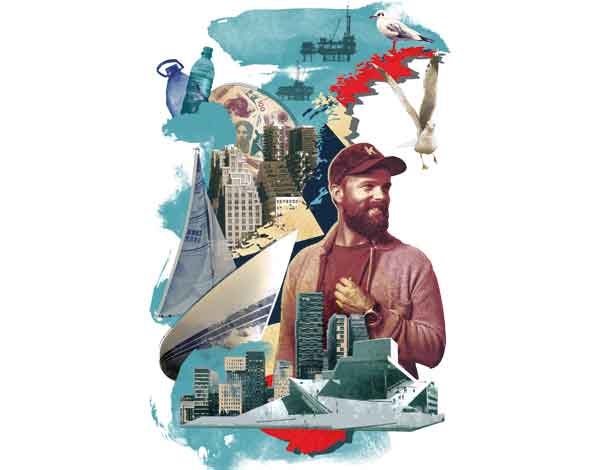 Is Norway's unique relationship with Europe something the UK could emulate? A visit to Oslo reveals a nation blessed with oil wealth but already preparing for life after the wells dry up, writes Christopher Jackson
Norway is profoundly connected to the sea. In Oslo, the opera house slopes towards the water, like another aspect of it, presiding over a busy harbour. There you'll find a refitted 1986 X-Yacht, which has been converted from diesel to electric by Johan Brand, the founder of the educational learning tool Kahoot!, which now has more than a billion users worldwide.
Brand is sometimes referred to as Norway's Zuckerberg, but it's a misleading label. In his beanie and with his warm and sporadic train of thought, he is more an embodiment of a term specific to Scandinavia – namely Janteloven, or the Law of Jante. This code of conduct permeates Norwegian society: it means you mustn't show off. 'I decided to call this EntrepreneurShipOne,' Brand says, pointing to a model of the boat. 'It's a self-sufficient system – a model of how energy can be. We're going to fill it with energy technology and we're going to have fun and connect.' The ship's first voyage, this autumn, was to Copenhagen. 'I thought, "The ship needs a purpose." Let's sail the ship to a tech festival.'
If this sounds clichaic, it's not lost on Brand: 'It's a cliché, it's a symbol,' he admits. In fact, the ship would be unlikely to work without Brand's infectious personality to cohere the project: backed by the glamour of his success, it rises to a metaphor about the headwinds businesses face. 'It's about the energy you create on board,' he says.
For half a century, the conversation about Norway has been about energy in a different sense: the country's discovery of oil in the late Sixties transformed one of the poorest countries in Europe to a place of near-ludicrous wealth. It now has one of the world's largest sovereign wealth funds: Norway owns on average around 1.7 per cent of every company in the world. This bonanza saw great wealth spread across the country's five million people. In addition to the Law of Jante, the government – Conservative for the past six years – has one of the most generous safety nets in the world.
It's a unique social experiment – and a remarkably happy one. 'Oslo is, in a word, compact,' the mayor of Oslo, Raymond Johansen, told me. 'Here you will find everything you need within easy reach. The city is surrounded by the forest and the fjord.' But the dip in the oil price in 2013-14 changed things, acting as an opportunity for a thoughtful population to think about what might come next.
The answer? A start-up culture to rival those of Stockholm and Tel Aviv. Johansen explains: 'Norway is absolutely oil-dependent, but few seem to know that more than 70 per cent of new jobs are created by young, fresh-faced companies, many outside the petroleum industry.' Indeed, it's not too much to say that whenever you're impact investing, you're to some extent mimicking an attitude which originated here at the fringes of Europe.
The move away from oil is sometimes presented as a seamless pivot. But Marius Mørch Larsen, a senior journalist at Finansavisen (the country's equivalent of the Times), explains that the shift in Norway's economy was the result of economic pain: 'People lost their jobs in 2013 and 2014: you had the equivalent of £10 billion suddenly out of work. These ships weren't wanted any more, and got laid off. We needed to diversify risk: we're still going to be an oil nation for several years.'
Even so, oil will run out one day. I speak to Anders Lier, executive chairman of Nordic Impact and co-founder of Katapult Future Fest, who explains the current mindset: 'Oil has been a gift for this country, but the petrol economy is not sustainable. Going to renewable is an amazing business opportunity – you make money, and save the planet.'
Photo credit: KRiemer @ Pixabay
To a Norwegian, that means saving the oceans. On Brand's ship, for instance, there is Christine Spiten, co-founder and chief global strategist of Blueye Robotics, which sells an affordable underwater drone – 'a portable Blue Planet', as she calls it. I also meet with Kjetil Bøhn, the founder of Quantafuel, who has taken advantage of the hydrocarbon basis for life in order to create a way of turning plastics back into oil. Bøhn explains this trend: 'We're a seafaring nation that's trying to fix the seas. It's where our values come from. New generations are coming up and it's natural to revisit our link to the oceans.'
At the same time, one wouldn't want to restrict the sheer range of Norway's creativity. While in Oslo, I also meet the brilliant Mathias Mikkelsen, who has created Timely, a more efficient timesheet. I also meet Karen Dolva, founder of No Isolation, whose business 'helps people previously unconnected to be connected'. No Isolation's main product is an avatar which can be used by the half a million or so children in the world who can't participate in school because of illness – whether cancer, chronic fatigue or other conditions. The child is represented by the robot in the school room: the children continue to interact with it, transporting the sick child into the room to participate alongside their classmates. 'How else would you reach out to people you haven't talked to for months? Until you're 14 or 15 you don't have extended sympathy,' explains Dolva.
In the UK, of course, we've come to think of the 'Norway model' as a source of hope, as the period for negotiation looks increasingly tight, and the need for compromise urgent. One starts to wonder whether this burst of creativity could be linked to the country's position outside the EU.
Ask the country's leading business figures about that, and you get a variety of answers. Lier refers to the country's three referendums on the issue, each resulting in a 'no':
'We felt we could stand on our own. That's bad as you don't integrate with the global community: it's a protectionist mindset. At the same time, we managed to develop the country in a very nice way without being inside.' Meanwhile, Mikkelsen is unequivocal that the Norway option isn't applicable to the UK, pointing to his country's unique wealth: 'The UK is kidding themselves if they imagine this is replicable.'
But how desirable is the current arrangement? Norway is still that miserable thing in the Brexiter's parlance – 'a rule-taker'. Bøhn cites Quantafuel's present predicament: in order to grow its business the company must await the results of the new renewable energy directive (REDII), which will decide whether Quantafuel's conversion of plastic to oil will qualify as recycling for the purposes of European law.
It's not a process they can influence. Is that frustrating? He laughs: 'We have good training in that now. We have to take all the regulation, but being outside we can't influence it. We have a presence in Brussels but we are standing outside, screaming and shouting. It's kind of stupid.'
Yet the question arises. In some respects at least, David Davis and Liam Fox would love us to be just this sort of country – entrepreneurial and globally minded. Johansen explains: 'The EEA agreement has served us well. We have full access to the EU's internal market, with all "four freedoms". Currently, this does not seem like an option that would be acceptable to the UK.'
Absent some gigantic discovery of oil here, or a decrease in the UK population beyond the wildest dreams of Nigel Farage, it seems the UK will, at the very least, need to find its own version of the Norway model. There's much to learn in Oslo about how that might look. The following day, I head to StartupLab – formerly owned by Oslo University and now owned by Norwegian corporates eager to encourage the next generation of tech entrepreneurs – to meet one of its founders, Rolf Assev. Genial and full of the bohemian entrepreneurial energy which typifies the Oslo business community, he flags the momentous importance of the place: 'Just over there was the first internet connection into Norway.'
At first, the lab seems a place of casual hanging out. People are milling about or laughing: it seems likely they are having a good time. But beneath it all, it's highly competitive to get in – last year only 8 per cent of applicants made it through the process – and of course everyone knows the start-up market dynamics beyond are notoriously tough.
Assev explains: 'We have 82 companies across two floors: people are encouraged to mingle. If I see someone come in with dollar signs in their eyes, I'm not interested. They will sell out too early. If people say, "I want to learn and I want to teach," then they come here.' When I ask him about Europe, he thinks it doesn't matter: 'It's as easy for us to sell to Korea as to Europe,' he says matter-of-factly.
It's here, coincidentally, that Kahoot! began. What's next for Brand's EntrepreneurShipOne? Interestingly, Brand plans to make his next voyage to London. That will be another gesture of friendship, and one which, in the event of 'no deal', we may sorely need. Meanwhile, we'd be foolish not to board the good ship Norway. There is a can-do spirit and a belief in the power of imagination which the UK will need – whether in the EEA or outside it.
Illustration by Ben Challenor
Christopher Jackson is deputy editor of Spear's