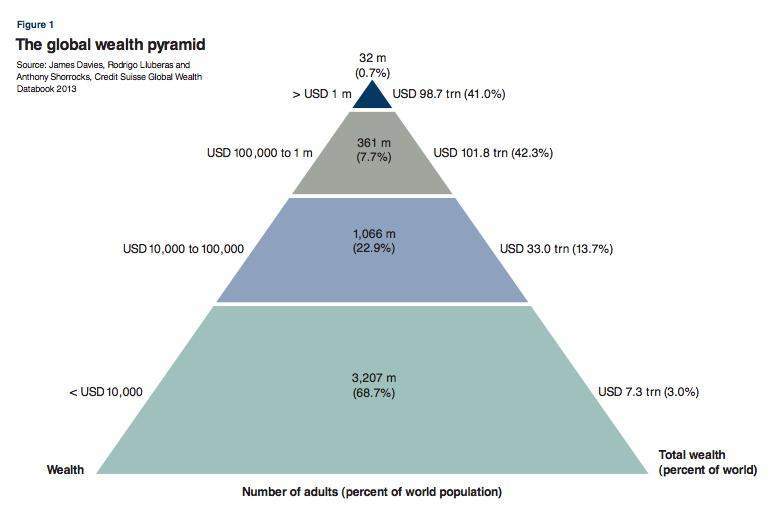 Global wealth has reached an all-time record of $241 trillion but wealth concentration remains high, with less than a tenth of the world's adult population controlling 83 per cent of the total wealth.
That's according to the 2013 Credit Suisse Global Wealth Report, which found that worldwide private wealth increased by 4.9 per cent during the year to mid-2013, with the US accounting for 72 per cent of this growth.
All global regions recorded growth in wealth in 2012/13 except for Asia-Pacific (ex-China and India), which saw a 9 per cent fall thanks to a fall in the yen-dollar exchange rate.
Despite (or perhaps because of) the growth in wealth – 12 per cent in North America, 1.2 per cent in Africa – in the long term inequality could decrease. Assuming that wealth will continue to grow at current rates and that the world's population won't increase too much, the wealth gap will start closing in the next decades, the research said.
In 60 years' time, only about 20 per cent of the adult population could have a net worth of less than $10,000, while millionaires could represent 20 per cent of the total population. In this scenario, billionaires would be more common than they are today – Forbes estimates there are only 1,426 billionaires at the moment – and there could be eleven people with more than $1 trillion.
Average wealth per adult rose to $51,000 – another all-time high – but there were significant differences across the world.
Switzerland was the richest country in the world, for example, with an average net worth of $513,000, followed by Australia ($403,000), Norway ($380,000) and Luxembourg ($315,000). The UK's average wealth was of $244,000, below the US at $301,000.
However, Australia and Luxembourg showed the lowest levels of inequality worldwide, with median wealth per adult – defined as the middle value between the net worth of the richest and the poorest individual in a country – of $220,000 and $183,000 respectively. This was compared with $112,000, $96,000 and only $45,000 in the UK, Switzerland and the US respectively.
According to the research, the world's wealth gap remained high, with 3.2 billion adults controlling only 3 per cent of the world's total wealth, or less than $10,000 each. A further billion, representing 23 per cent of adults, had between $10,000 and $100,000 on average and controlled 14 per cent of the world's total wealth.
The remaining 393 million people (8.4 per cent) controlled 83 per cent of the world's total wealth, and had personal net worth of more than $100,000 each. Thirty-two million of them – the famous 1 per cent, or more properly 0.7 per cent – were millionaires.
According to the study, global wealth will rise by almost 40 per cent to $334 trillion in the next five years, with emerging markets accounting for 29 per cent of that increase.
The US is likely to remain the wealthiest country, with total wealth of about $100 trillion in 2018, followed by China, which is expected to overtake Japan as the world's second wealthiest country in 2016. (Note: this is not in terms of GDP, where China is already second.)
The eurozone, which currently accounts for 24 per cent of the world's total private wealth, will see its wealth rise by more than 29 per cent in the next five years. However it won't grow as fast as other countries and it will account for 23 per cent of the total wealth worldwide in 2018.
Don't miss out on the best of Spear's articles – sign up to the Spear's weekly newsletter