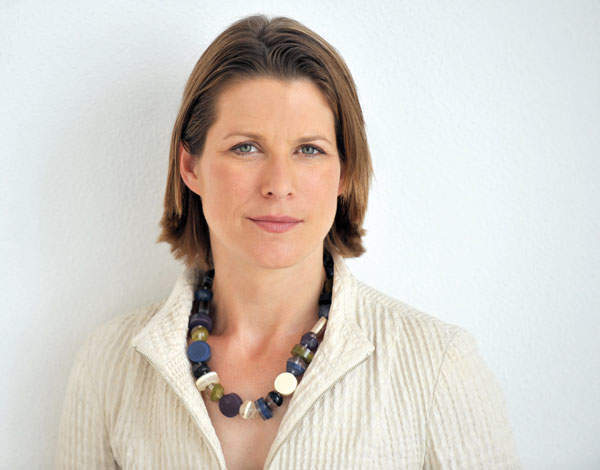 COFFEE BREAK
The day I decided to leave the BBC for J P Morgan, a friend of mine dreamt that I had arrived for my first day to find champagne coming out of all the coffee machines. No such luck. My swanky new life in the City involves a faded desk in a grim open-plan office in Moorgate. The coffee machine is free, but it only produces coffee and even that is not very good.
You probably thought J P Morgan lived in a commanding tower on Bank Street in Canary Wharf. Alas, that's for the Masters of the Universe at the investment bank. We in asset management don't have any of our own money, strictly speaking — we just look after other people's. That is probably why we got stuck with Finsbury Dials, which feels like it was built by someone who was told what a Seventies office building looked like but was never given any plans.
In the many weeks I spent deciding whether to join the company, I was never invited to see the London office. Now I know why. We're moving to better digs in Blackfriars later this year. That day cannot come too soon.
GREETINGS, CARD
In other respects, though, life in the private sector does make a nice change after a career spent in journalism, academia and the US government.
I spent my first formal day in the job on a plane to New York, to talk about Europe in a seminar for senior clients. The speakers were top-notch and the questions sharp and to the point. I found out afterwards that the not-very-large roomful of people collectively managed more than $4 trillion.
All very impressive. But, for me, no more impressive than the fact that my new corporate ID card — delivered by special messenger to my home the day before my flight — worked first time on the electronic gates into the New York office. It also worked first time in London.
Hallelujah. I can already say after two months that this is the most professionally managed institution I have worked for. Then again, it is also the first place I have ever worked that was created with the express purpose of making money. As an economist, I can't help feeling there's some connection.
FRINGE BENEFITS
The US National Sales conference in San Diego was another eye-opener for one not used to US corporate ways. The content of the sessions was high-brow — as you might expect. No one wants to think that their asset manager is having too much fun.
There was also a self-congratulatory air to the proceedings. Again this is not surprising, given that the asset management side of the business has more than doubled its assets under management since the start of the crisis — a period when most US banks have either got out of the funds management business or seen heavy outflows. Last year saw a record amount of money come in the door, for the fourth year in a row.
But that was only the formal events in the hall. At the BBC, team-building involved going out to the pub (and later getting a bill from HMRC for '£17.20 in taxable fringe benefits'). At J P Morgan it involves three hours of brutally competitive physical exercise under the instruction of US Navy Seals.
Alas, I was poorly dressed for carrying logs up and down the beach and doing press-ups in the freezing waves. I hadn't got that far in the detailed clothing instructions for the event, because I had been mesmerised by the dress code for the gala dinner on the final night. Men were to wear 'smart dinner suit'; women were to wear 'cocktail dress or after-five pant suit'.
If you don't know what an after-five pant suit is, you're not the only one. It turned out my new female colleagues at the conference didn't have a clue either. Certainly, my new boss Mary Callahan Erdoes wouldn't be seen dead in one. She is not much older than me, with three young children. In 2011 she was fêted by Forbes as 'Wall Street's $1 trillion woman'. Now it's well over $2 trillion.
CAMERADERIE
My partner John Arlidge and I have two young kids aged five and seven. People ask how I could give up one ball-breaking job for another. I'm probably not going to work fewer hours at J P Morgan – money never sleeps. But they will be a lot more predictable. At the BBC I haven't been able to plan weeknights for eleven years. So what if we don't actually go out anywhere?
Some things haven't changed – like appearing on the Today programme talking about interest rates. I still do that. But now I can do other things as well. I can also have a point of view.
The other week I was on Channel 4 News on Monday night and CNN at 9pm on Tuesday. Both happened at fairly late notice. It got me wondering whether life in the new job was really going to be so different. But there is one big difference: I can say no. As BBC economics editor you can only say no to the 10 o'clock news if you are giving birth – or having dinner with Mervyn King. Preferably both.
Maybe Jamie Dimon will call me late one evening, asking for a two-minute briefing on the UK housing market – or an entirely impartial one-minute summary of economic arguments for and against leaving the EU. But I suspect he has other things to do. Thank goodness.
Stephanie Flanders is chief market strategist for UK & Euope, J P Morgan Asset Management