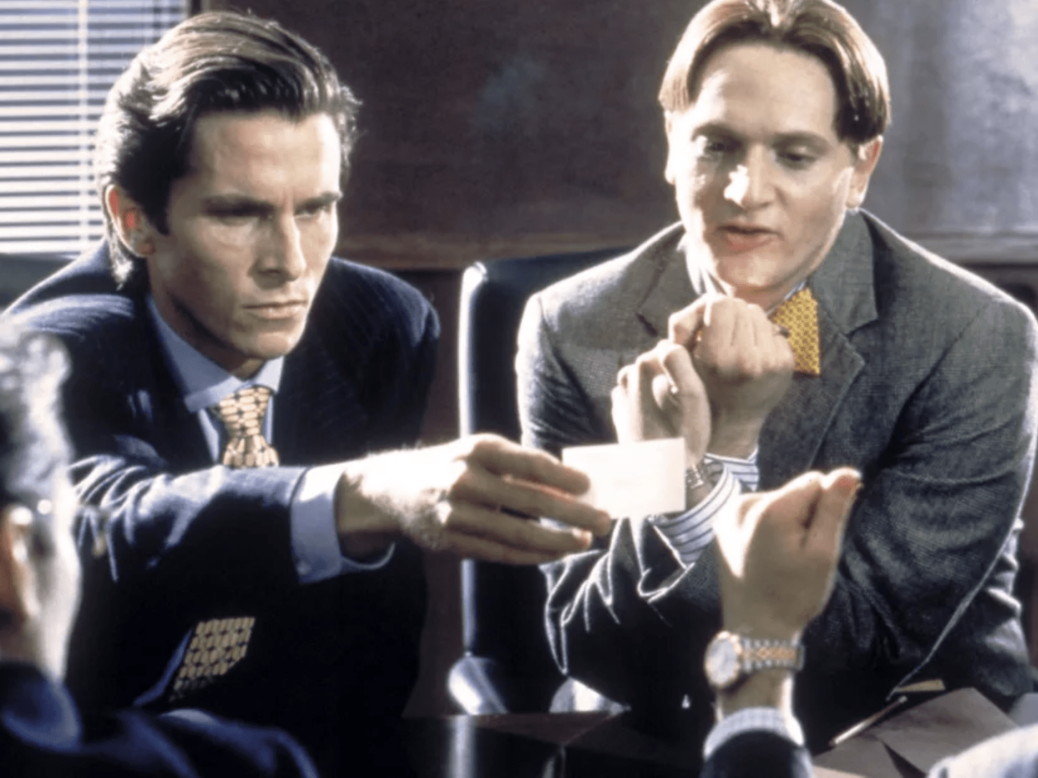 As we return to the office and establish a 'new normal' of workplace etiquette, don't underestimate the power of the humble business card
It may have been the film version of Bret Easton Ellis's 1991 novel American Psycho that first awakened me to the power of the humble business card. You know the one – where the antihero, Patrick Bateman, is forced to stifle a panic attack when he realises that his new bespoke cards – rendered in a colour called 'bone' and with type in the fictional font 'Silian Rail' – have been trumped by those of a more tasteful colleague, whose cards look almost identical.
American Psycho is satire, of course, but it chimes with Freud's observation about the 'vanity of small differences' – and the importance that some people place on such details. And it is these, really, that I have been thinking about as we return, staccato, to a world in which we may come into close physical proximity with people and exchange business cards with them.
Will the 'new normal' of remote or 'hybrid' working mean that in-person meetings and all things physical are less important? Or more significant, because of their rarity? If, like me, you suspect the latter, then you should pay a visit to the headquarters of Barnard & Westwood – holder of a royal warrant to provide printing services to the Queen and the Prince of Wales.
At the firm's headquarters in Clerkenwell, several artefacts prove that if you care about details, this is where you should come. There are beautiful, tactile invitations, cards, envelopes, books and presentation boxes that have been produced for the great and the good – from a maharaja, to Burberry, Claridge's, Sotheby's and the Supreme Court.
There is even an order of service for the funeral of Princess Diana. Many of the most impressive effects are achieved with antique equipment. At 101 years old, the die-stamping press used to emboss designs into paper and card is one year older than the company.
Using it is expensive, explains company director Alasdair Abrines, who says business cards can cost as much as £15 each. And it takes a long time, especially compared with digital methods of printing that Abrines says have precipitated a 'race to the bottom' on quality and price elsewhere in the industry.
Peruse the internet for business card design inspiration and you will come across novelty examples such as the version for Lego employees that consists of a plastic figurine bearing the owner's likeness, or the US divorce attorney, whose perforated card could be torn in two.
Before settling on your own design you may also like to give some thought to the information it will display. A Mark Zuckerberg card from the early days of Facebook read: 'I'm CEO, Bitch.' According to the Economist, the Chinese entrepreneur Chen Guangbiao, adorned his with epithets such as 'China earthquake rescue hero', 'Most prominent philanthropist of China', 'China's foremost environmental preservation demolition expert' and, simply, 'most influential person of China'.
Discretion and subtlety may work just as well. If you have any doubts, the designers at B&W can help. For one recent client, a supercar vlogger, the firm produced a neon-yellow card with a reverse-printed image of a supercar in blue.
When they get their hands on it, the vlogger's contacts will, I imagine, inspect it somewhat enviously, much as they might admire a new McLaren 720S or Lamborghini Huracán.
To me, that thought – and the expertise of B&W – is as good an argument as one could need for the survival of business cards. So, when lockdown does finally end, I may celebrate by ordering myself a new set.
Image credit: LIONS GATE FILMS
More from Spear's